2015 World of Wearable Arts
Kathleen Kinney reports from The World of Wearable Art Awards Show held in Wellington.
A sartorial expression of architecture is the supreme winner of the 2015 World of Wearable Art Awards Show (WOW), which was launched this week in Wellington.
The winning creation Diva's Dreamscape, by Nelson-based designer Peter Wakeman, was entered in the 'Creative Excellence Section: Architecture' and is an exquisite interpretation of the Art Deco era of design. Made of stainless steel, wood and Wakeman's trademark material fibreglass, it joined 19 other entries in a portion of the show that was presented as a memorial to the iconic New Zealand architect (and long-time WOW supporter) Sir Ian Athfield.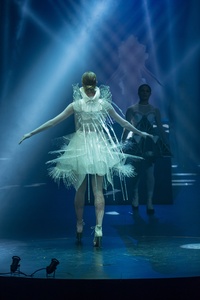 The decision to make architecture the subject of the 2015 Creative Excellence section was made early last year and, after Athfield's untimely death in January 2015, WOW founder, Dame Suzie Moncrieff asked the Athfield family for permission to turn that portion of the show into a tribute. "It was a big ask, I knew that," explained Moncrieff. "But Clare (Lady Athfield) said, 'Oh, he would love that!'"
The brief to the designers was to "make the connection between architecture and fashion for 
the human form. Take the lines, curves and patterning created for landscapes by the world's celebrated architects, from ancient structure to the ultra-modern buildings of today."
Taking each garment individually, some architectural influences are obvious – there are clear references to Manhattan's Guggenheim Museum (and Georgia O'Keefe's flower paintings) in the white, structural layered forms of Judith Clemett's The Walls We Build (New Zealand); and Dance With Death, by Jiefei Wang (China), echoes the angles and geometry of Coll-Barreu Arquitectos buildings in Spain. But, perhaps, thanks to the timing (selecting architecture as a category long before Athfield's death), the Creative Excellence section avoids being a series of pale imitations of Athfield's iconic style.
Instead, the section opens with performers wearing Athfield's signature suit-and-bowler-hat ensemble, appearing as silhouetted ringmasters cavorting among a field of colourful laser beams that play across the audience, while fantastical creations proceed down the runway. There are also homages to Gehry, Hadid, Foster, Mughal mosques (Templa Mentis), the classic Kiwi breeze block, bees and sea anemones.
Peter Wakeman's winning design, Diva's Dreamscape, will resonate with anyone familiar with the Manhattan skyline. "It's stunning," said WOW international projects manager Ali Bostwijk. "It's like the model is wearing the Chrysler Building."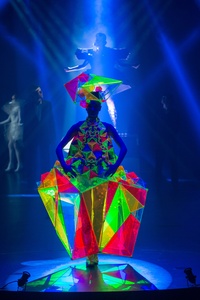 At first glance, viewed from the audience's perspective, Diva's Dreamscape is not the most colourful, complicated or visually impactful entry. But, up close (we were lucky enough to see and touch the garment during a backstage tour), the impeccable craftsmanship is evident. This is a work that truly does get better upon considered inspection.
Most impressive is the delicacy and precision of the construction. What initially appears to be sharp pleats of fabric or other lightweight material are, in fact, layered folds of stainless steel, wood and fibreglass. The joins between the materials are seamless and the mirror-like finish is no illusion. "Diva's Dreamscape really is a stunning piece of art," commented Moncrieff. "It has a strong simplicity that works perfectly from every angle. The use of such hard materials to create a sophisticated garment demonstrates great skill and creative ability."
The architecture section of the show runs about 15 minutes and closes with a single figure – in Athfield's recognisable ensemble and, again, silhouetted by laser beams – slowly walking away from us. The music fades and is replaced by Athfield's voice musing about memory, creativity and connection.
The 2015 World of Wearable Art Awards Show (WOW) runs until 11 October at the TSB Arena, Queens Wharf, Wellington. Tickets are available here.