2016 Auckland Architecture Awards
A repurposed heritage building, a small yet stunning masoleum and a bright pink cycleway were just some of the 32 projects that were rewarded at the 2016 Auckland Architecture Awards evening, held at Onehunga Heliport on 28 April. Following 2015's trend, the residential categories, including alterations and additions, were extremely strong, with nearly half of the total awards going to housing projects. 
The jury for the 2016 awards comprised of Michael O'Sullivan, Briar Green, Anne Salmon and Patrick Sloan. In total, 112 projects were entered into the awards, with the jury visiting all 48 that were shortlisted. 
"Our part of New Zealand is blessed with a landscape full of potential for architectural work relevant to its surroundings," O'Sullivan said. "We really don't know how lucky we are. The variety of the region's topography and the transitions between landscapes are the starting points for much of the great work we saw."
Full list of winners and jury citations below:
COMMERCIAL ARCHITECTURE AWARDS: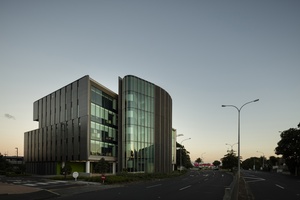 Central Park One, Ellerslie by Architectus
This project, which completes the edge of an established business park, is positioned next to an unrelenting main arterial road. The architects' responses to the challenges of the site were based in straightforward planning strategies and bold, formal compositions that generate a confident and uncompromising gesture to Great South Road. The restricted colour palette combines well with a series of crisp external treatments, junctions and material applications to deliver a confident and well resolved urban presence.
Brothers Brewery & Juke Joint BBQ, Kingsland by Metropolitan Architecture Studio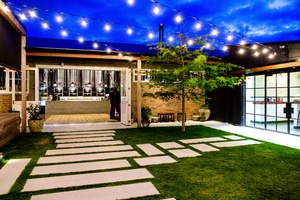 This design seamlessly fuses manufacturing and production processes – the literally fluid process of brewing beer – with the occasion of hospitality and entertainment. It is a superbly understated addition to an otherwise bleak and inhospitable fringe of the city. The scene is set with an intimately proportioned external courtyard and main entrance framed by veranda seating to one side and a delicatessen-style food dispensary to the other – a very well conceived moment of arrival and pause prior to the main event. The main volume of the re-tasked warehouse is seemingly untouched, yet the environment has been enhanced immeasurably by an elementary series of spatial, structural, material and aromatic interventions. This intricate – and almost impossibly carefree – interior simply invites relaxation.
EDUCATION AWARDS:
Augusta Building, Auckland Grammar School, Epsom by Architectus St Cuthbert's College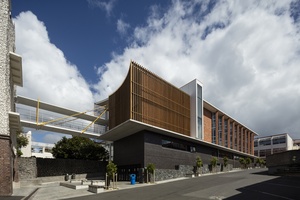 Inserted into the heart of Auckland Grammar School's campus, the Augusta Building connects diverse architectural styles, bridges levels and creates comfortable learning environments integrated with essential technical infrastructures. The building's balance of confidence and tact is illustrated in a number of ways: by an upper-level bridge that makes a gentle connection to the heritage fabric of the main building; through materials, colours and design elements drawn from the pre-existing palette to ensure a considerate integration; and via the transparency and texture of a curving timber screen that respectfully defers attention to the great tree at the heart of the courtyard the building overlooks.
Centennial Centre for Wellbeing, Epsom by Architectus and Architecture HDT in association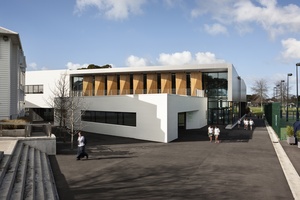 This exceptional building illustrates the architects' unhindered diligence in seeking simplicity, sophistication and flawless precision. In the main volume the resolute structural, spatial, material and modular rigour provides potential for either a serene individual experience or the more electric atmosphere of competition. One unexpected yet superb architectural move is worth singling out: the pool enclosure opens across an external laneway to adjoining courts and a seating area, expanding the main volume and amplifying the spatial experience. This building will motivate users and their families for generations to come.
ENDURING ARCHITECTURE AWARD:
Lush Family Home, Remuera by John Goldwater Architect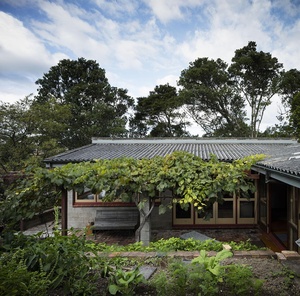 The house passes the great test of great architecture: endurance – a quality also required, although at different times, of owner, builder and yes, even architect. This home has successfully weathered 57 years and two generations of family. It is, as the owners call it, "original to the core". Although a modest and humble piece of work, it has, across time, performed admirably and efficiently for its occupants. It is like a well-made pair of leather work boots, increasing in comfort with age. Within this house is a bay window that John Goldwater saved from his own home in Grafton, demolished for the motorway, which reinforces the idea that enduring architecture does not have to lie on one piece of land.
HERITAGE AWARD:
The Orange, Newton, by Crosson Clarke Carnachan Architects & Tonkin Zulaika Greer Architects in association, and Dave Pearson Architects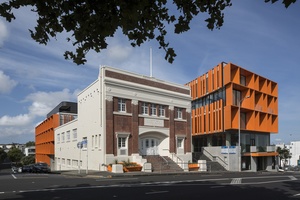 It was a wise decision to retain the Orange Coronation Hall and make it the centrepiece of this new development: it has given the old building new potential, reduced the dominance of the new structure. The new, mixed-use building and ground-level public spaces flow around the hall at a respectful distance. Further consideration and respect of the past can be seen in gentle interventions – including steel windows and doors that bring light and open up to a new raised courtyard – that ensure traces of the hall's former use remain. All that is missing now are tenants. When they arrive, the potential of the hall and adjoining spaces is sure to be fully realised.
HOUSING AWARDS: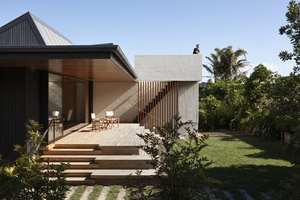 Number 5, Waiheke Island by Architectus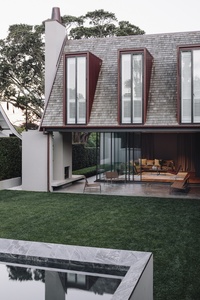 This last house in an assembly of established buildings successfully extends the long-standing architectural dialogue between a 'family' of structures. A concept of dual personality is at play: on one side, a communal terrace of decks, stairs and veranda is orientated towards the main homestead and the sea; on the other, a group of spaces fold back and down into private areas suitable for a perfect Waiheke getaway. The materials, construction and quality of the spaces are calmly detailed and seamlessly gathered together. Here, occupants can – and should – do nothing but relax.
Omahu Road, Remuera by Fearon Hay Architects
The roof of this house picks up on the characteristics of the surrounding Arts and Crafts neighbourhood and artfully reinvents them. It is the perfect foil for the lightly articulated living spaces upon which it hovers. Upstairs, sleeping spaces fold down into a traditional 'attic' through which full-height, shafted windows provide slices of sky views. Through tailored, aristocratic detailing and material selections a discreet, Chinoiserie quality has been achieved. This house appears to have been effortlessly 'painted' into its neighbourhood, but unlike its brooding neighbours, it is a picture of openness and light.
City Beach House, Takapuna by Fearon Hay Architects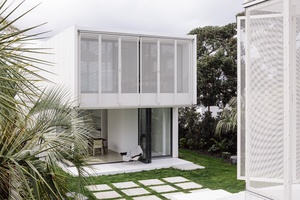 The white box is revisited in this restrained, consistent and delightful suburban beach house. Permeable walls ensure the outside is as much a part of the living experience as the interior. When fully open to the environment the houses achieves an experience akin to the covered veranda. The simplicity of the design is enhanced through texture: rough-sawn painted cladding to interior walls and the white filigree of the expanded-aluminium mesh screens, which filter the light and provide shade, privacy and security. The white-on-white palette is well controlled, calm and ethereal.
Resene Colour Award: 
Any colour so long as it's white? The colour-enhancing properties of 'white' are well recognised, and this house, surrounded by a sea of green, and with carefully chosen moments of natural colour within, reinforces this adage.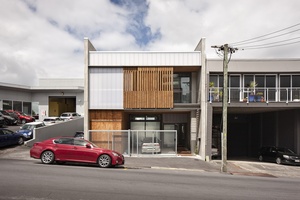 Maidstone Studio, Grey Lynn by bell + co architecture and Andrew Kissell
The atmosphere of a converted warehouse pervades this new building, a home for two architects and their children. The future-forward, flexible design keeps options open for future habitation – and potentially even a change in typology to retail or hospitality. Light, from full-height windows or filtered through polycarbonate walls, permeates the interior's simple and generous spaces and the robust selection of materials – fine black steel, plywood and concrete – is offset by surprising city outlooks and a 'walled lawn', a secret garden, sunny and private, that is a haven from the inner city.
Bramasole, Waimauku by Herbst Architects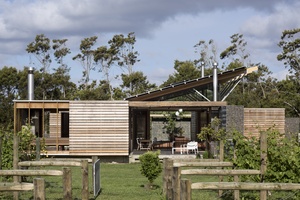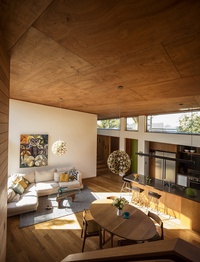 This long, low house, structured within the gabion walls that intersect the site, is a composition of carefully placed cedarclad boxes that enclose bedrooms and create courtyards and living areas. Moving through the house, the experience is one of controlled transition: from open to closed spaces, from gabion-walled courtyards to covered, slatted verandas, and from dark woody interiors to open sunny decks. Raising the house just above the surrounding landscape has improved outlooks, and these views have been carefully framed. The architects have used their familiar palette to great effect on this rural site.
Tawini House, Titirangi by Megan Edwards Architects
In close response to its Titirangi bush setting, this house delivers an interior world within the trees. Under a kite-like roof-to-ceiling plane (a kite caught in the trees, perhaps) are gathered interior spaces with surprising geometries. Moving through light to dark, the volumes are deftly modulated, thoughtfully conceived by the architect and carefully constructed by the owner-builder. This house has a spatial geometry that provides a sense of ease to its occupants in bush surrounds that can sometimes be unnerving.
E-Type House, Grey Lynn by RTA Studio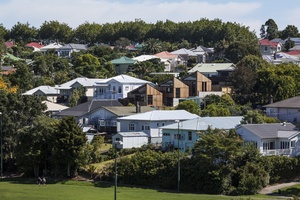 This house is thoughtfully scaled and sited to sit comfortably in its Grey Lynn context. The three cedar-clad forms step up the hill, allowing each to access outlooks and sun while creating sheltered north-facing courtyards and sunny garden rooms. The circulation to the south connects and separates the pavilions and provides a gallery for the owners' art collection. Rising through the house from shared to private spaces, this hallway extends outside at each level, and at each instance the scale of the spaces has been beautifully controlled to provide openness and intimacy. The selection and detailing of materials is consistent, robust and appropriate.
Resene Colour Award:
Against a backdrop of warm cedar and concrete block, a passageway doubling as gallery provides a canvas for blasts of colour.
Te Hihi, Karaka by SGA – Strachan Group Architects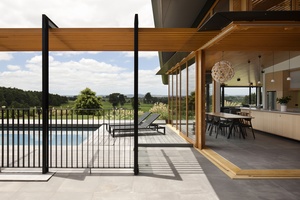 This great family home is well-connected to its site; form and planning respond to the sloping spur upon which the house is modestly perched, and its orientation maximises views across wetlands to the rolling farmland beyond. Sheltered by a wedge-shaped roof, the house opens up around a central circulation path. A secondary axis, from entry to pool courtyard, is defined by a continuous timber ceiling and slatted pergola that leads from the more closed southern face of the building to light, sunny living spaces. Integrated throughout with sustainable design principles, thoughtfully selected and detailed materials, this house has a comfortable, light and casual feel punctuated with moments of surprise and variety. 
Langs Cove House, Langs Beach by Bossley Architects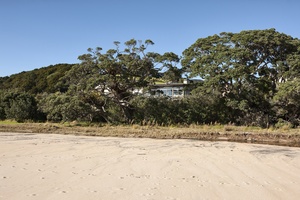 This exceptionally well-sequenced house sits on a site that slopes gently down, through a screen of well-established pōhutukawa, to the water. An impressive clerestory skylight punctuates the cleanlined roof plane to provide a wonderful interplay of light on concrete, white walls and American oak floors. Movement throughout, assisted by ramped areas that descend in accord with the site topography, terminate in open living areas and a cantilevered concrete terrace. The views, however, go on forever. This is a wonderfully textured house that sits gracefully within its environment.
HOUSING ALTS & ADDS AWARDS:
Salisbury House, Herne Bay by Godward Guthrie Architecture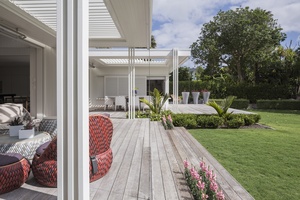 This project gets to the heart of what may be described as 'new urban excess'. The traditional villa, revamped as a model for contemporary living, is pushed to the extreme as the architect lays down one slick solution after another to superb effect. This extensive renovation leaves no stone unturned and collates a series of excellent spatial strategies and surprising combinations of volume and surface. The attention to detail and use of traditional materials and techniques is extensive and well-concealed behind a delicate and faithful treatment to the street elevation.
ValleyM, Herne Bay by McKinney + Windeatt Architects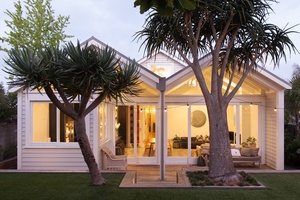 This home is a thoughtfully considered addition to a common villa typology. It speaks of domestic history, integrity and clarity all at the same, modern time. The kitchen, pushed into the garden, creates neighbouring privacy to the north while enabling a sensible and pragmatic operation of food storage, preparation, cooking and then cleaning. Sitting in the garden, looking back at the additions, it becomes obvious that the architect has spent much valuable time with his client-carpenter. The result is a wonderful family environment. This is the work of a seriously talented architect.
Belmont Garden Room, Belmont by Mitchell & Stout Architects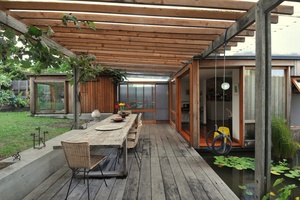 Small yet significant, this addition reflects the complementary abilities of its architect owners. In a reversing of the traditional process, the extension was first constructed as a garden, with a new addition then deftly grafted in, around and over the landscape. A small, staid state-house duplex has been enlivened and animated. Discreet pockets of occupation have been opened out to the garden, neighbourhood, sky and school fields beyond.
Jones House Alterations, Mt Eden by Stephen Jones Architects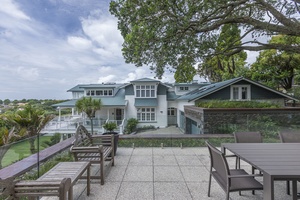 This project is an exemplar of design as sophisticated problem solving; the architect has undertaken a persistent and painstaking pursuit of robust, practical and sensitive solutions to a complex design brief. Often simple in definition, appearance and character, this project defies perceptions of what makes great architecture by deploying one excellent solution after another. In doing so, it speaks of a highly collaborative and committed client and architect relationship. While substantial in area and scale, the project retreats gracefully into its suburban surrounds.
Herne Bay House Alteration by Gerrad Hall Architects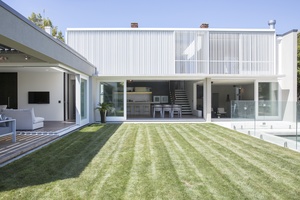 There is something beautiful about the simplicity of a cave set against the complexity of the villa. The architect here has cleverly played the contrast game with every aspect of our understanding of modern domesticity with the weird traditions of the villa. Insitu concrete floors make wonderful ceilings, raw steel pipes make elegant balustrades and industrial roofing becomes sensible cladding. The kitchen sits in a grand space with an ease that justifies the concrete benchtop, while the master bedroom is indeed a real retreat for the parents. This is the work of a highly skilled architect.
Albany House Alteration by Gerrad Hall Architects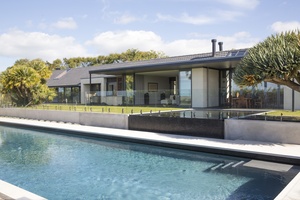 This is an addition and alteration to a home on a grand scale. The architect had to endure cultural and language barriers that the average practitioner might have walked away from. The language of the existing Ron Sang design is carefully maintained while a serious addition and associated landscape component has been planned with micro-accuracy – right down to the imitation sheep in the bush. The sculptural drama of the movie room hovering over a pool is a master stroke and the games room is a playful departure to the formality of the Ron Sang grid. The selection of external materials that move inside and contrast or complement the original home's material palette is lyrical. This is yet another example of the work of a highly skilled architect.
HOUSING – MULTI-UNIT AWARDS:
Altera, Stonefields by Warren and Mahoney Architects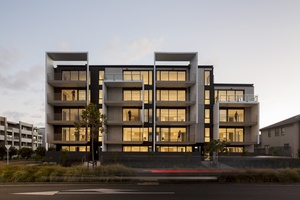 Sometimes in apartment design the individual scale of occupancy is swallowed in the labyrinth of project delivery. Generous in space, orientation and outlook, these apartments maximise the presence of all occupants. With circulation rationalised around multiple circulation cores, the dual-aspect apartments provide a high level of amenity, natural light and effective natural ventilation for living spaces and bedrooms. The lively combination of materials and finishes lifts the grey and glass default suit of the body corporate.
Ilico, Stonefields by Warren and Mahoney Architects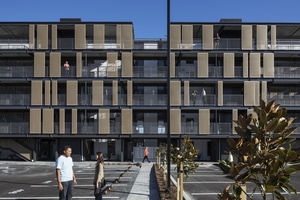 As a lower-cost apartment solution, this project demonstrates that it is possible to maximise views and light for all. The open, democratic layout in the north is contrasted in the south by a three-dimensional scaffold of screens, stairs and lifts, which provide the apartments with long-distance privacy and up-close circulation that weaves and connects the users in a communal Rear Window effect. While the palette of materials and components selected are more economical than those used in the related Altera apartments, they have nonetheless been carefully employed to provide maximum benefits for occupants.
HOSPITALITY & RETAIL AWARD:
Rosie, Parnell by McKinney + Windeatt Architects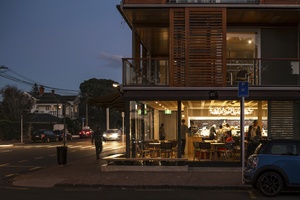 Full height, glazed sliding doors and shutters extend Rosie right out to the street edge, connecting it with its neighbourhood, and providing views across the road to the Parnell Rose Gardens from which the café derives its name. Indeed, thanks to these opening walls, the tumbled natural stone on the floor and careful selection of materials and furniture, Rosie might be a pergola or garden room. The large, central 'blossom' chandelier and subtle wall lighting certainly evoke an inviting, leisurely garden atmosphere in what could be considered the quintessential Parnell café.
INTERIOR ARCHITECTURE AWARD:
Fortieth & Hurstmere, Takapuna by McKinney + Windeatt Architects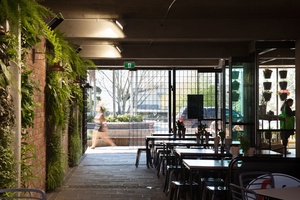 This work is more than simply a renovation of an existing building or a solution to a commercial design brief – it represents the evolution of an exciting urban typology for Auckland. This laneway is an intimate and intriguing set piece, a sophisticated and cohesive deployment of layers, textures and components. Upon this stage, a beguiling hospitality and retail experience has been deployed, with food and beverage venues providing a seamless bridge between new and old. On Hurstmere Road, the lyrical use of unexpected design motifs is frivolous and fun – and projects a confidence that defies its surroundings.
PLANNING & URBAN DESIGN AWARDS:
#LightPathAKL, Central Auckland by Monk McKenzie and LandLAB, in association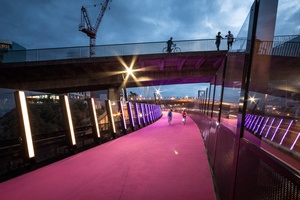 An heroic achievement: an utterly intoxicating piece of cycling and pedestrian infrastructure that boldly illustrates the qualities of movement and speed that are often missing on our congested roads. By helping realign perceptions of what and how we can move around the city, #LightPathAKL takes on the often overused definition of urban connectivity and profoundly redefines it through the persuasive use of materiality and technology. On the deck, this project is immersive and all encompassing. For the wider city, it signals optimism, ambition and progression.
Resene Colour Award:
A ribbon of colour and light through a cluttered concrete landscape, this pink cycleway defies the heavy industry of the adjacent motorway. It's a piece of cake, a walk in the park, something pleasant and easy in the vortex of Auckland traffic.
Canada Street Bridge, Central Auckland by Monk McKenzie and Novare Design, in association
Threading its way along the barren and forlorn backend of K' Road, this sinuous addition to Auckland's cycle network captures the imagination and implores patronage. The architects have dispensed with previously held perceptions of utilitarian infrastructures and the places they occupy throughout New Zealand's cities and its urban history. It is the calm before (or after) the storm of its graciously disruptive #LightPathAKL neighbour and demands a careful, considered and almost precise navigation. This is a sleek and innately peaceful structural solution, architectural Zen next to the chaos of the freeway it spans.
PUBLIC ARCHITECTURE AWARD:
Te Pātaka Kōrero o Te Hau Kapua – Devonport Library, by Athfield Architects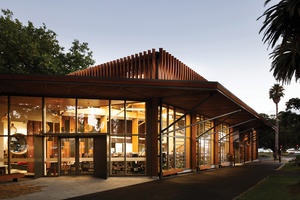 A controversial project on a wonderful site, the library has won over many critics with its open, accessible planning, connection to street and park, and low-key design. With a character and materiality reminiscent of residential projects, the library has a welcoming domestic atmosphere and provides a variety of spaces for interactive activities, research and quiet study. Attention to control of natural ventilation, shading and acoustics provides low-tech comfort, while views through the building connect it to sea, park and town.
SMALL PROJECT ARCHITECTURE AWARDS: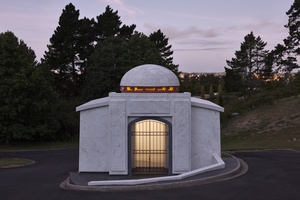 Waikumete Mausoleum, Glen Eden by Architect Associates
Death awaits us all. So, for a man to engage an architect to think about how he may lie in eternity, before death has knocked for him, is a tribute to that architect. Marble speaks volumes about the graveyard, while a mahogany ceiling floating on a narrow slit of light allows the spirit to come and go as it desires. This mausoleum is generous, considered and compositionally calm, just as we all expect death to be.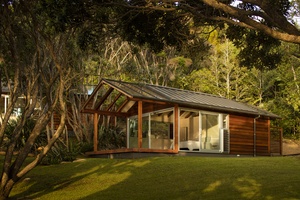 Seaside Cabins, Rawhiti by Rowe Baetens Architecture and Noel Lane Architects, in association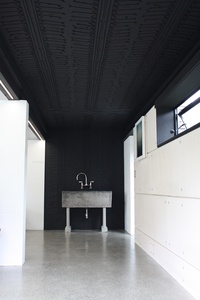 Two cabins are better than one, particularly when they are thoughtfully placed on the edge of the beautiful beach that discreetly conceals them. One sits higher than the other, offering careful views into the exterior shower zone of the other – a take on public-private zones that reinforces the intimacy and play for which cabins are designed. These cabins are best considered from the sea and then from the naturally lit bathrooms to the rear of the sleeping zone. They are a privileged act of hedonism, simply duplicated.
Studio & Garden Room – Peter's House, Sunnyhills Lynda Simmons Architect
In the New Zealand vernacular tradition of reclaiming the space-stealing double garage, a blockwork garage bunker has been transformed into a sophisticated pavilion. It represents a deft balance of heavy and light components, a palette of black and white along with careful consideration of jig-saw connections and insertions to the main house. The dovetailing of ideas between architect, client and artist has been cleverly resolved in materials, detail and orientation to produce an elegant transformation for living and working.
The Art of Remembrance: St David's Church Installation, Newton by Warren and Mahoney Architects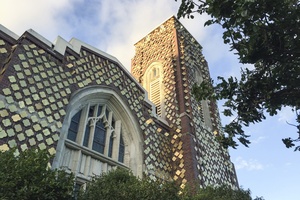 Now disestablished, this large-scale display and installation of an artwork memorial required innovative architectural solutions. In a public gesture to save a building, the architects worked with artists to capture the public psyche of remembrance. The building became mannequin, carefully suited in well-considered materials and refined components, shimmering in a forgotten stretch of Khyber Pass. Although now deconstructed, small traces of the installation appeared in other projects considered for this year's awards, a further demonstration of the project's wide resonance.
All winners of the 2016 Auckland Architecture Awards are eligible for shortlisting in the New Zealand Architecture Awards, which will be decided later in the year, and announced in November.