2016 Gold Medal winner: Roger Walker
The 2016 Gold Medal winner, Roger Walker, discusses his career with Justine Harvey.
Justine Harvey: Was anyone in your family in the architecture profession?
Roger Walker: No. I was born in Hamilton under a picture of the Queen so the royal family and God figured very highly in my upbringing. The physical environment in which I was brought up wasn't satisfactory; I was lost in brick-and-tile suburbia and my brother and I had trolleys and bicycles but they were all symbols of escape. I mean, the car thing has stayed with me over the years, but it, too, was a metaphor of escape if you didn't conform, which we didn't as kids.
JH: In what way?
RW: Well, we made trolleys that went down the local hill and we had crashes. We went through people's petunia gardens and were arrested by the police for screaming across an intersection in an unlicensed vehicle made of wood. Then we went into go-karts, which were a bit more serious because they were faster and we actually knocked down the neighbour's fence.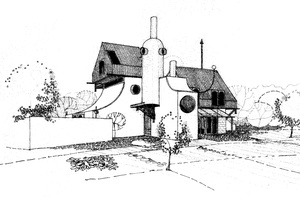 The most interesting thing on our street, Woodstock Road, was this construction company that repaired machinery, including bulldozers, and they had a lovely old caravan parked out the front but kids used to go there and take the steel ball bearings – which made very good marbles. But, of course, one day the caravan disappeared from this place – and that's when I realised that, if you didn't conform, there were terrible consequences. So I was probably a bit rebellious as a child.
And while I escaped from Hamilton, it was half a century ago and it had a third of its current population; now it's totally changed. Back then, I didn't know anything about architecture and there were no connections in our family.
JH: No builders or artists?
RW: No builders. Nothing creative. Nothing at all. I ended up at Hamilton Boys' High School as one of the very few students who hadn't decided whether to go down the science route or the arts route. So the headmaster said, "You're still doing English and science and you like woodworking but you have to make up your mind which way to go." I said, "I can't make up my mind" so he sent me to a vocational guidance lady who said, "What would you really like to do?" and I said, "I'd really like to design cars", because I had become very interested in the metaphor of escape.
She said, "Well, you can't do that in New Zealand; you'll have to travel overseas." And I replied, "I don't want to travel overseas." So she said, "You can always design buildings." I said, "They're not designed; they just go up and come down again." She said, "No, there are people called architects who design them. Trust me on this!" So I said, "Well, perhaps I'd better have a look at that." And it was love at first sight when I arrived at the architecture school [the University of Auckland]. 
JH: So you applied and…?
RW: No, I had to do the intermediate year which I think still applies. After escaping from Alcatraz [Hamilton], I blew the first year and lost my bursary because I was just having so much fun. I worked in the freezing works, the Horotiu meatworks, and I had a car – a beaten-up old Ford Anglia with a Union Jack painted on the back of it; it represented the Mother country or something.
Anyway, a lot of the students said, "He's one of the rich ones; his parents are funding his way through university", but I earned serious money doing a seriously shitty job. I was speeding around Auckland in my car and I enjoyed the odd drink: not to excess but all the stuff I couldn't do when I was living on Woodstock Road.
JH: It's important, especially as an architect, to see what else is going on in the world and, also, there's a responsibility. It's too easy to fall into a comfortable bubble but, when you're creating buildings, you're often planning them for a wide range of people and so you need to understand people.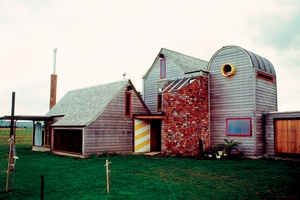 RW: I couldn't agree more. I think we need to have a wide-angle view of the world, rather than a telephoto view. And it's always upset me that architects have not been necessary; we're now marginalised in terms of urban design. There's this whole new discipline of people who say, "Well, you architects design the individual buildings and we will assemble them together. So we'll look after the structure of cities and public spaces, and you go into your corner."
Then, there are the project managers who tell us what to do as well so the profession has gradually been marginalised but, to some degree, it's our own fault because we're not outgoing enough. We're not telling people how important architecture is or how important design is. Winston Churchill famously said that we make our buildings and, thereafter, they make us. You look at the Gothic cathedrals; people went in and read those stained glass windows but they couldn't read or write, and so the built environment really, really matters. I think, if we can get that across to the public, we'll be more respected – and we'll have more work.
JH: How important is collaboration and partnership to the profession?
RW: I think architects need to collaborate but it depends on their various ambitions. Some architects will do relatively few jobs but they'll do them perfectly – and they're quite happy with that. Other architects are more content to do sketch designs and have somebody else draw them up, so there's a whole range of disciplines but, I think, for us to exert more influence as a community, we need to collaborate with business people. It does matter. I mean, people market design and architecture.
One of our little units in the Park Mews is now an Airbnb property and the owner markets it as an architectural experience – and that's quite common. Of course, the best example of this is tourism. This year, I went, along with three million other people, to Norman Foster's dome, the Reichstag in Berlin, which is a brilliant expression of transparency and tradition. Everything is blended beautifully and it has the same visitor numbers as does the Chinese-New Zealand tourist industry. People are going there because of the architecture. There are all of these iconic structures that people go to, such as the Taj Mahal. Fallingwater has about 170,000 visitors a year. All of Frank Lloyd Wright's famous buildings are now supported; all of the restoration and work necessary is covered by the cost of visiting them.
JH: I'm not sure if that cultural appreciation of architecture is understood in New Zealand. Look at Auckland's waterfront; there's no real 'drawcard' there – not yet anyhow.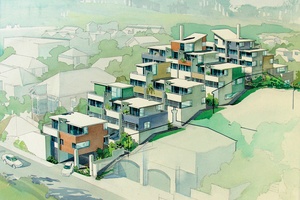 RW: Well, look at the recent tragedy of the demolition of the Āniwaniwa Visitor Centre, designed by John Scott. To me, John Scott was the architectural equivalent of Colin McCahon. It's quite ironic that John Scott commissioned Colin McCahon to create a big artwork for that building; it's now at the Tūhoe headquarters at Tāneatua – rolled up so no one can see it. The prices that Colin McCahon's work now commands! He's become a cultural hero whereas poor old John Scott has been denigrated. I just can't understand that you'd want to destroy something that spoke so strongly of New Zealand culture, especially biculturalism. The NZIA has rightly been really outraged about that and the Architectural Centre has been too; everybody has tried to save it.
JH: Shall we talk about the buildings you've designed, starting with some of your early projects? What was your first project?
RW: When I worked for Calder, Fowler & Styles, I designed The Wellington Club [1969–72, demolished c. 1986] and the first house I did for the practice was for a member of the Todd family. It was influenced by Miles Warren's concrete block; there were a few funny bits but it was basically the Christchurch School. Then I realised that Wellington was environmentally different so the first actual private commission we did was a building on the waterfront called the Link Building [1969], which is now semi-protected. I designed a church in Taumarunui [St Mary's Church, 1968] for Michael Fowler, who had Taumarunui connections and, also, a shop and a church. 
JH: How long did you work there?
RW: Two years but Michael was very generous; he let me exit through the back door gracefully.
The first private house I designed [now as Walker Architecture & Design] was for a fellow called Wade Mansell, who was from Hamilton and who I worked with in the freezing works. He was going to become a lawyer, the same way I was going to become an architect. But he said, "I just need to earn some money because if I go to a legal practice, they'll just have me photocopying and delivering stuff to the courts and I won't learn anything." I said, "Well funny you should say that, because I have exactly the same view." So I went on to do my degree and he did a law degree. Then Wade lived in Wellington and his house was my first commission.
JH: Where did you build his house?
RW: In Highbury [Wellington], near Kelburn. That house was interesting because it had to be engineered because it was three storeys high. And it withstood the Wahine storm while the house next door blew over.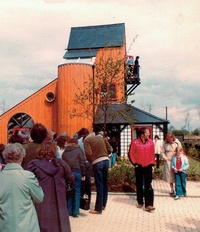 Then he had a lot of young professional friends, who had reasonable incomes and they liked this house, and so we had a flurry of work; over the next 10 years, I think there were something like 50 houses. It seemed like every week there was a new commission and most of them proceeded. There were three or four builders who used to go from one house to the other so that was quite an energised thing. Then, of course, as happens, you start to receive bigger work and we got the Park Mews [housing development in Hataitai, 1974]. The developers said, "People will like those types of Noddy house!" They were subsequently called various disparaging names.
And about that time we designed Whakatane Airport [1974] and somebody wanted a petrol station in Stratford. Somebody wanted a medical centre in Gisborne and, another, a tourism shop at Rainbow Springs – and so the work expanded. At one stage, I had seven people in the office but I downsized because I just wasn't administering people; I didn't enjoy that aspect. Then the Tourist Hotel Corporation rang up wanting some architecture in their buildings, so we designed buildings at Wairakei and the original Waitomo Glowworm Caves Visitor Centre, which has burnt to the ground, unfortunately, but was replaced by Chris Kelly's lovely result.
We designed a big hotel in Queenstown [THC Queenstown, 1988, now the Novotel Queenstown Lakeside], and we received awards from Mrs Tirikatene-Sullivan, who was then the Minister of Tourism. Then it dawned on me that – what we were talking about earlier – the feel of a building with an architectural experience is an attraction in itself. It is worth something in dollar terms and, of course, it enabled me to travel to all sorts of places – to Queenstown every week and to Mt Cook.
My love of the New Zealand countryside became embedded as a result of that experience but, unfortunately, it came to an end when Lange's Labour Government decided that the core business of government was social welfare, education and health, and it sold a huge number of the country's assets during its period; it sold the railways, the BNZ, Air New Zealand and the Tourist Hotel Corporation.
JH: What are you working on currently?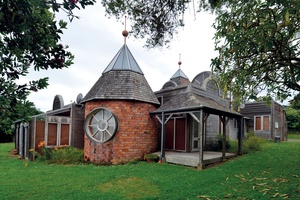 RW: One of our big day jobs is converting redundant office buildings in Wellington into rental apartments. There's a very strong youth presence in Wellington, including in the hospitality industry, which has staff that is not known for being well paid; they don't have cars and they like to live within five minutes of where they work. We also have polytechnic and university students who want to live in town and, yet, at the same time, there are office buildings that don't meet 100 per cent of the code and which are unleviable to major corporations or government departments.
The yield per square metre for rental office space is pathetic, compared to what it is if you spend money and create hostel-like environments. Unfortunately, these are not usually architecturally satisfying in design terms; we can't add clip-on balconies or pop-out windows on the façades because, normally, the facades are on the boundaries and these would encroach and create problems.
So we have now developed this formula where you steer your way through the varied regulations about what's 'permanent' accommodation and what's 'transient' accommodation. So you can go without windows if it's transient but you can't if it's permanent. If it's transient, you have to have a certain number of accessible rooms. There's a whole maze of regulations to navigate but I've staff members who know these regulations inside out and backwards; a lot of building owners are coming to us and saying, "You're the gurus on converting my building into apartments".
Currently, there is a variety of different options but I think a lot of architects would refuse to have anything to do with that sort of work because they would say, "We're not going to receive any awards for it". It's not an ego boost but it is a reality that we're happy to be involved with. These buildings are not going to win any architectural awards; I'm very happy to be designing them because, I think, one of the skills that our profession can offer is to work in the social context. It's almost like social housing but it works financially for the landlords and it also provides for people on low incomes.
We are also currently working on large-scale housing developments in Coomera in Queensland and Camden, New South Wales. The regulatory environment is different so we architects learn to keep learning.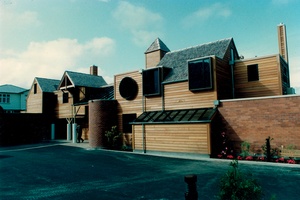 JH: What is the impact of the high cost of housing on young people? I watched the gentrification of London and the impact that that has had on the diversity of the central city and I can see it happening in Auckland. Many people can't afford to live anywhere near the centre.
RW: In terms of gentrification, it may be that there are apartments being built for higher-income people; this is just one facet of the colonisation of Wellington, which I think began with Michael Fowler. He used to say to me that the caretakers who live on the roofs of buildings in Lambton Quay have it really lucky; they have all-day sun and harbour views. He said, "More people should live like this" – and I think he was probably right. This is also one of the prime reasons for saying, "Why don't you live here [in the city] instead of getting in your car and driving all the way out to Lower Hutt".
But the point is that this youth demographic will always be there. Wellington is now quite well known for bars, cafés and restaurants and they continue to evolve. I thought that it would have reached saturation point years ago because there are whole portions of Cuba Street and Courtenay Place that are practically all food outlets. 
JH: But it's a nice atmosphere to have that in the central city.
RW: Yes, it is.
JH: Everyone I know who comes here from overseas thinks that Wellington is the nicest city in New Zealand, which tells you something.
RW: It's holistic. If you go into a bar and it's happy hour and there's a two-for-one special or something, that's the dynamic that draws people in. The members of staff, who are allowing that low-cost structure to happen, are themselves low paid, therefore it won't be gentrified as long as that situation remains.
JH: But you're not working just within that typology. Your terraced housing is really very appealing.
RW: A lot of people associate prefabrication with cheap and nasty, thinking that a prefabricated house is going to fall to bits. Also, you can see that it's prefabricated by all the joints and there's an aversion to that. The house is still the biggest investment in most people's lives and so I think that the trick is to do prefabricated housing without making it look prefabricated; it's a sleight of hand thing.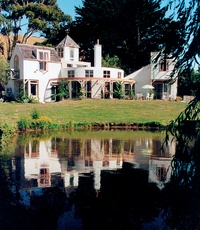 I think that one of the successes of our papakāinga development [Te Aro Pā papakāinga at Greta Point, Wellington] was that it was built off site with pre-cast concrete panels but, probably because it's concrete, it doesn't look flimsy. Also, we deliberately wanted a robust-looking building because it's a pretty severe environment out there – the location is semi-coastal – and the clients wanted a statement of permanence: that they're reclaiming a lot of their lost heritage. I think I learnt a lot from that project. 
JH: It's a busy life, the life of an architect.
RW: Yes, I'd like to live to be 200. By the time I'm 200, things might have come right but, realistically, you just do the best you can. I mean, I work ridiculous hours. I have gone through two marriages although I now have a lovely girlfriend and my children have all grown up. I am still working 60-to-70-hour-long weeks and I love the weekends because I don't get interrupted. I hate Mondays because the phone starts ringing. People say to me, "Just don't answer the phone in the mornings" but then you spend more time in the afternoon dealing with the elaborate phone messages people leave behind. So I will always work hard and play hard but I usually have something to look forward to like a trip – flying off to such and such; that works for me. And I wouldn't know what else to do.
As for pressure? We had a recent graduate who actually resigned last month because she didn't realise the kind of pressure that architects face. She didn't realise the aspects like delivery, client response, sticking with the budget and so on. She said, "I'm really shocked that this is what the architecture profession is like. Why do these people worry about how much things are going to cost; surely they just want to do nice things? They should realise that nice things take time and they shouldn't hassle us. Because they do, I can't stand this so I'm out of here." She's now working as a baker in a restaurant in town. She is highly trained and she would have paid for her own education so you can't say she was a drain on the taxpayer. So, yeah, it's an interesting situation but, on the other hand, I am happy to have employed six or more architectural graduates over the years who, after registration, have gone on to establish their own businesses.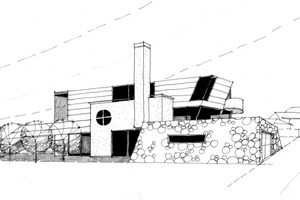 JH: When you're younger and learning, you come out of university unaware of many of the realities of what the working life is like, never mind the working life of an architect. The reality can be a real shock and, also, you're at the bottom of the heap. Suddenly you're given all this basic and boring work to do and it's quite demoralising. But, if you love the subject, you really have to have a lot of patience and persistence, become a real grafter and keep that vision inside of where you want to be.
RW: I think it happens in other industries too but, yes, you do have to keep your eye on the horizon. My middle boy is working in the film profession and he said to me, "We work, we have a concept for a scene, we have morning tea, we build the set and do the script itself for that scene, then we have lunch. After that, we shoot it and then we have afternoon tea and then we look at what we call the early rushes."
And I said, "Well, architecture can't compete with that kind of immediacy" – a lot of young people seem to want that immediate gratification. They want to see the results of their labours straightaway. But this is a long business. You're right, though, there still needs to be some education – that the architecture profession is not going to be all beer and skittles. You're not going to be asked to design Notre-Dame when you come out of school. You have to walk before you can fly so it's true that there must be a lot of disappointment.
There probably needs to be a whole mentoring business: much the same as in the building industry, like receiving an apprenticeship.
JH: You're now 73; what are your plans for the future?
RW: The future is exciting. I don't know what's going to happen in the future but I don't think I'll ever knock off working. We worked with a dear old services engineer called John Davies who died at his drawing board at the age of 84. I actually saw where he died. He was a pen-and-ink guy and he was drawing a services diagram but, then, there's this line that goes vroom – that's literally where he dropped dead holding a pencil. I'm going to do the same but, until then, I'm going to spend more time travelling because I would like to see more of the world. I've got things on my bucket list.