2016 Student Award winner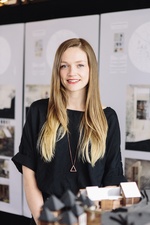 2016 is the second year that the Student Award category has been included in the Interior Awards, and it was another unqualified success. The recipient of the 2016 award was Kate Turner of The University of Auckland, who was up against some strong competition in a "category full of incredibly-thought-out and well-researched projects."
The award was presented at a sold-out social and networking awards evening at Auckland's stunning St-Matthew-in-the-City on 23 June.
Turner's project The Fictional Generator impressed the judges so much that she took home the prize on the evening: a Minka Ip-designed trophy and a $1,000 cash prize. 
With The Fictional Generator, Turner has transformed Eleanor Catton's award-winning novel The Luminaries into a series of creative architectural forms and interior spaces that respond to New Zealand's vernacular type of building while also remaining highly original. Turner states, "Through resolved craft spaces, attributes of the novel are activated and explored through perspectives and models, evoking the aura and mystery of The Luminaries."
She continues, "Each building gives weight to themes and moments in the novel… Idiosyncratic architectures have emerged reflecting the novel's structure, themes and multi perspectival method of narration through form, materiality, colour and spatial arrangement."
Jury Citation:
Inspired by Eleanor Catton's award-winning novel The Luminaries, Kate Turner created architectural and interior spaces that brought the text into three dimensions. The result is a poetic meditation on craft: the craft of writing, the craft of drawing and the craft of space making. Here, a literary narrative is skilfully translated into a series of delightful and evocative interiors, via a carefully controlled process of drawing and modelling. New Zealand's vernacular architectural forms are explored, as are processes of object making, producing a range of surprising and highly original forms. In a category full of incredibly-thought-out and well-researched projects, Turner came to the fore due to her ability to listen to her 'imaginary client' (the author) and a near-cinematic talent to bring the result into fruition.
Full coverage of 2016 Interior Awards winners here.
Extended coverage and full jury citations can be found in the June 2016 issue of Interior magazine.