2016 Waikato–Bay of Plenty Architecture Awards
23 projects across six categories were rewarded at the 2016 Waikato–Bay of Plenty Architecture Awards, announced at a ceremony held at the University of Waikato on 29 April.
There was a strong showing by commercial buildings, indicating confidence in the region for important infrastructural or manufacturing facilities, especially in Hamilton and Tauranga. The awards also featured a plentitude of striking new houses, mainly clustered around popular holiday destinations or in rural locations. 
Geoff Lentz, the convenor of this year's awards jury, said many of the "wildly imaginative" award-winning residential projects resulted from "inspired collaborations with clients."
Full list of winners with jury citations below.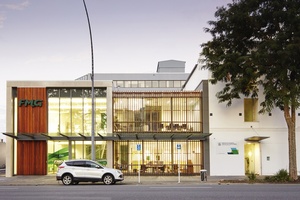 COMMERCIAL ARCHITECTURE AWARDS:
FMG Offices, Hamilton by Chow:Hill Architects 
This new office building brings ambience to its urban context through the careful selection and appropriate scale of the materials employed. A sense of occasion is achieved through a generous entry point that connects office and function spaces. Commercial success was made possible through a well-managed negotiation between owner's brief and the tenant's brand and design requirements.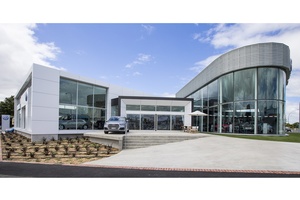 Ebbett Audi and Volkswagen Showrooms, Hamilton by Chow:Hill Architects 
The architects have added design expertise to a rigid brief to create a high-end retail precinct on an important corner site. Through two strong white forms, both of which are exciting as well as dynamic, a new gateway to Hamilton East has been formed that is doing its bit to bring new life to a tired part of town.
APL Factory, Hamilton by Jasmax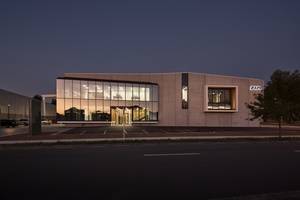 The archetypal industrial factory building has been given a refined makeover to become both a flagship building and a test-bed for new technology. Thoughtful and appropriate detailing is evident throughout all areas of the building, with the front of house and office areas styled to suit visiting guests and the client's research and development team. The resulting building is commercial architecture of a high standard. It has rapidly become a recognisable architectural landmark in the city of Hamilton.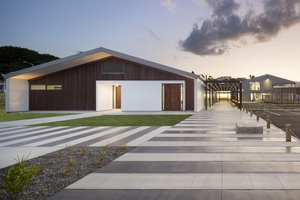 Te Wānanga o Aotearoa, Tauranga by Wingate + Farquhar 
This project was specifically designed for a Māori educational facility within a commercial design-and-build development. With a limited budget, the structure successfully provides all the amenities required of a modern learning facility, while small but important design features enhance the overall presentation and attributes of the building.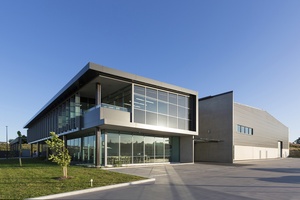 Sims Distribution Tauriko, Tauranga by Wingate + Farquhar 
This distribution centre has been skilfully scaled by its architect to accommodate an office, showroom and large-format warehouse with features that will enable future expansion. The central atrium not only subtly connects interior spaces, it brings a level of sophistication to them, as light and shadow are cast across timber and concrete. This design-and-build project raises the bar for industrial accommodation in Tauranga.
Trustpower HQ, Tauranga by Wingate + Farquhar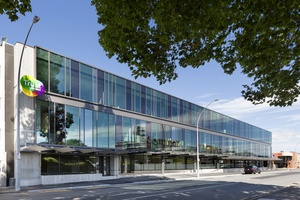 This new, four-storey office building eloquently refines the urban fabric of Tauranga. On both main street and alleyway elevations, the beautifully handled façade of glass gives a simple elegance to the building's context. With a playful rhythm, colour and light are brought deep into the floor plate by a series of clerestories on each side of the central atrium. The line between base build and fitout is successfully blurred through a seamless collaboration with the fitout design team. Design decisions are deliberate and meticulous at every scale of the project. 
EDUCATION AWARD: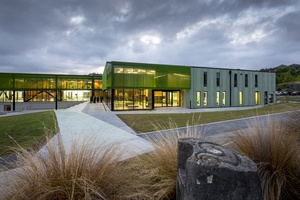 Waiariki Institute of Technology Health and Science Building, Rotorua by MOAA Architects and Darryl Church Architecture 
This exciting learning environment is composed of bold gestures in colour and scale. The radiant green of the exterior sun-screening also infuses the interior, where it is blended with consummate skill through layers of warm timber textures and cleverly patterned surfaces. The building's playful exploration of detail is evident at every level. It is a perfect expression of the joy of learning.
ENDURING ARCHITECTURE AWARDS:
Arcus House (1965), Hamilton by Mercer Brown Architects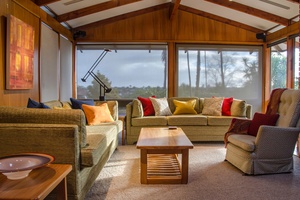 Some 50 years after construction, this delightful house is still occupied by its original owners – surely the greatest acclamation of an architect's skill. Although the original provision was modest by current standards, the house has been sensitively extended over the intervening years by Barry Rae (the former business partner of original architect Dick Mercer) and, more recently, by Edwards White Architects. Thanks to the sympathetic nature of the alterations, the design intent of Mercer is still clearly evident in the structure. Extensive use of rimu plywood wall linings, timber window and door joinery, together with the exposed timber rafters of the skillion gabled roof, achieve a particularly special and warm character throughout the house. The condition of the current house is a remarkable testament to excellent design and detailing that has enduring value. 
St. Stephen's Anglican Church, Tamahere (1972) by Gillman Garry, Clap & Sayers
This church was built in 1972 on the same Tamahere, Hamilton site as its predecessor – a nineteenth-century timber structure that was destroyed by fire. The design architect for this building was Barry Morris, a junior partner at Gillman Garry Clapp and Sayers at the time. Through steep pitched gable roof forms, Morris's design strongly references the former's style, although blockwork masonry has replaced the original's timber framing. The church has been faithfully retained in its original state and still wonderfully serves liturgical and public needs. Mature trees and an elevated site set above busy roads north and south ensure the church and its parklike grounds retain a sense of peace and dignity befitting its purpose. It is as crisp, charming, and functional today as when it was first built 44 years ago.
HOUSING AWARDS: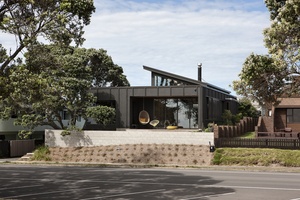 Screened by Pōhutukawa (Stage Two) by Architecture Bureau 
This building cleverly mediates between a roadway frontage and a view through pōhutukawa trees to the beachfront beyond. It also forms a portal to the existing holiday house behind. The interior of the house is exquisitely detailed in cedar, which amplifies the colour and texture of the pōhutukawa canopy outside, creating a rich, sensory experience. Meticulously designed and crafted, yet deferential to its environment, and the light and views around each new corner, this house represents the fulfilment of an inspired brief and provides evidence of a strong relationship between client and architect.
Priest Residence by Brendon Gordon Architecture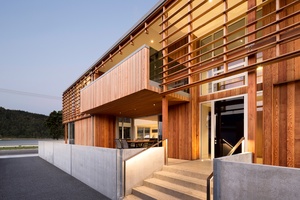 The careful planning of this two-storey house creates alternative indoor and outdoor areas which capture a highly prized view of the harbour – although not at the expense of the occupants' privacy. The extensive use of exterior timber finishes, including significant timber louvres, contributes an interesting street presence to the house, and generous decks provide opportunities to catch either morning or afternoon sun. Inside, timber floors lend to the creation of a warm and comfortable atmosphere. 
The Bach Bach by Crosson Architects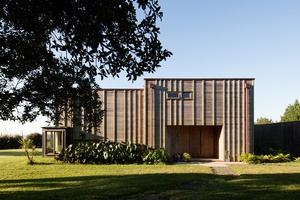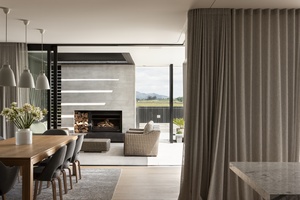 Located on a promontory fringed with established trees and harbour views, this generous modern home is composed of two rectangular forms that wrap around a central sheltered courtyard. Designed for an opera singer and her husband, the house incorporates elements of J.S. Bach's Oboe Concerto, which are abstractly referenced in the cladding and lining elements. Construction is impressive on all levels, from the largest idea to the finest detail, and carefully selected materials and finishes are meticulously arranged throughout. The result is a sculptural, liveable home where even the walls are alive with the sound of music.
Gordonton Residence by Edwards White Architects 
This house captivates you in its seamless journey through living spaces as interconnected alcoves, culminating in an outdoor room that dissolves all thresholds to the outside through the architect's expert sleight of hand. The exemplary handling of scale, materials and colour has resulted in an exceptional home that has more than met the clients' expectations.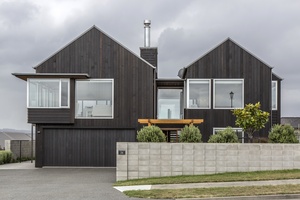 Wharewaka House, Lake Taupō by Fraser Cameron Architects 
This is an example of a finely resolved house for suburban Taupō. The careful detailing and material selection contribute to a delightful and comfortable atmosphere within the home. Indoor and outdoor living spaces capitalise on a lake view while overcoming the constraints of a small site.
Lakeside Bach, Lake Taupō by Fraser Cameron Architects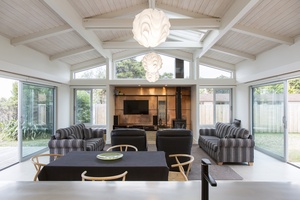 Skilfully positioned between an existing cottage and boatshed, this new holiday house is a thoughtful assemblage of three interconnected pavilions. A timeless exterior palette of weathered cedar and painted band-sawn timber, together with a rigorous column and beam aesthetic carried throughout both exterior and interior spaces, has resulted in an elegant but wonderfully relaxed and unassuming holiday home.
K Valley House, near Thames, by Herbst Architects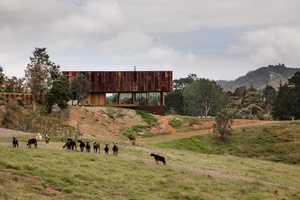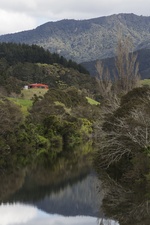 The architects have celebrated the cinematic essence of their brief to create a stunning retreat. A large rural site is commanded by a rusted 'camera obscura', which appears to float over the ridge of the site it occupies. Inside, expansive views are simply framed with recycled timber and steel. Repurposed materials have been sourced and incorporated at every level, a process that entailed a close working relationship with highly motivated clients. In these weathering materials lies the promise of decorative richness in the fullness of time.
Puketui Valley House, near Tairua, by RTA Studio 
This holiday home is a beautiful response both to its site and to the clients' request that it draw on the look and feel of tramping huts and utilitarian farm sheds. Basic materials, assembled in a modest but refined manner, have been deployed throughout with a disciplined consistency. This is a house that truly captures the essence of simple living in a special place.
Hahei House by Studio 2 Architects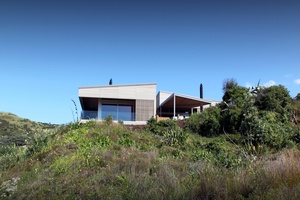 The architect's analogy for the house as patterning in sand is reflected in the clever folding planes that form the enclosure. The sculptural simplicity of the form is beautifully embodied in the warm, honeycoloured timber linings. Sinuous lines seem to envelop almost every surface, a built emulation of the coastal sand dunes of the surrounding landscape. The architect has engaged closely with his clients to deliver a house that delights and enthrals.
Pauanui Beach House by Sumich Chaplin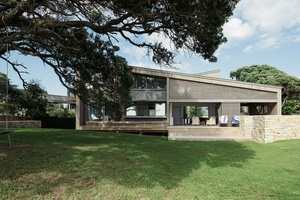 On this project, site features and constraints have inspired clever design responses. Two juxtaposed mono-pitched forms are arranged to yield a wedge shaped, top-lit space. The principal outlook to the beach, through pōhutukawa trees on the beach reserve, is charming, and sets the scene for mellow-toned cedar board cladding and Te Kuiti limestone patio features. A wonderful northern extension of the main living space provides a covered outdoor 'room' that provides privacy and shelter through controlled overhead louvre shading. This is a superb holiday and entertainment facility and an accomplished piece of design.
INTERIOR ARCHITECTURE AWARDS: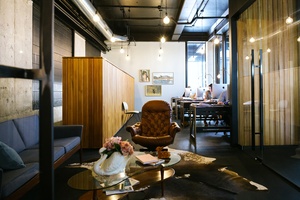 Louise Feathers' Planning Fitout, Hamilton, by Edwards White Architects 
An invention born of necessity, this small office is a study in form and function that showcases the style of its laneway location to perfection. A rich palette of dark steel, wood and raw concrete has been accentuated with mid-century furniture and silver computers, which gives an overall impression of business acumen, assurance and comfort to an office with an urban vibe.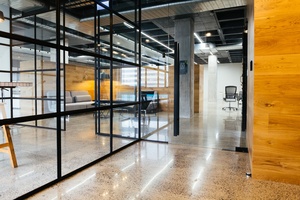 Talking Tech Fitout, Hamilton, by Edwards White Architects 
The top floor of an existing building has been saved and repurposed with great flair and imagination. This is a hightech fit-out in a low-tech environment, where the structure is laid bare and new services are exposed. The judicious use of recycled materials and furniture is an ideal complement to the building's dark tones, expressed in steel, wood and concrete. A journey of discovery and imagination by the architects and owner has resulted in a rich, urban loft in which to conduct a business.
Trustpower Head Office, Tauranga, by Warren and Mahoney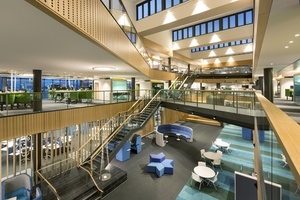 An impressive three-level, top-lit atrium underpins the design of this contemporary new office. Handsomely scaled and articulated, the atrium is the building's social hub – from here, workspaces ebb and flow around the perimeter. Materials, finishes and bold swathes of colour have been masterfully combined, and the seamless fit of the interior work within the base building is a testament to the skill with which the architects have worked with their client, the base building architects and engineers. This workplace is beguiling and sophisticated; a successful embodiment of themes specified by the client – connection, collaboration, energy and fun.
Resene Colour Award:
Interior colours have been beautifully selected, coordinated and arranged to give identity to each floor. Cleverly, the atrium flooring patterns are scaled for legibility from above. The play of colours and lighting is sophisticated and invigorating.
PUBLIC ARCHITECTURE AWARD: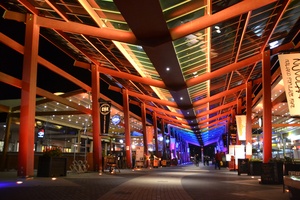 Eat Streat, Rotorua, by APR Architects 
This project is a rare example of an urban intervention that provides the community with new and laudable street amenities. A robustly designed canopy comprised of heavy timber frames extends the street length to provide covered outdoor eating areas to the range of restaurants and bars. This 'framed' environment, and the relaxed feeling it creates, has proven a magnet for Rotorua's citizens and visitors alike.
All winners of the 2016 Waikato–Bay of Plenty Architecture Awards are eligible for shortlisting in the New Zealand Architecture Awards, which will be decided later in the year, and announced in November.