2016 Western Architecture Awards
Twelve diverse projects, ranging from the renovation of a decayed historic hotel to the dignified extension of a playhouse, received awards at the Western Architecture Awards event held at New Plymouth Golf Course on Friday May 20th.
The convenor of the awards jury, New Plymouth architect Eldon Peters, said this year's crop of works are of "an extremely high quality." While awards were conferred for projects of many types and scales, Peters said it was small architecture projects, such as Architype Architects' playground project for Palmerston North's West End School, that "free the whimsical spirit of the architects involved." 
The "simply stunning" strengthening and refurbishment of the Sir Geoffrey Peren Building, at Massey University, was another highlight of this year's event. Studio Pacific Architecture has "peeled away decades of unsympathetic building alterations and allowed the original intentions of architect Roy Alston Lippincott to shine through," the jury said.
Full list of winners with jury citations below.
COMMERCIAL ARCHITECTURE AWARDS: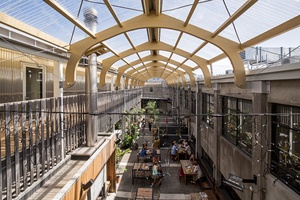 White Hart Hotel Complex by Atelierworkshop
Developers and their architects have salvaged New Plymouth's historic White Hart Hotel. By deftly removing decayed elements, and repairing and incorporating contemporary components, vibrancy has been restored to a building once threatened with demolition. The artful masterplanning creates a covered outdoor quadrangle and multi-use spaces that are a delightful addition to New Plymouth's cultural precinct.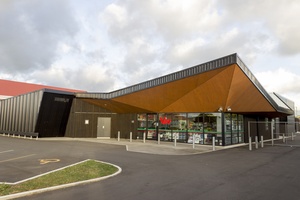 Vet Services Dannevirke by Dalgleish Architects
The straightforward structure of this building belies the complex space planning that cleverly separates public and operational areas. The smartly articulated façade is eye catching without being flashy and is a triumph to the skill of the architect. The modest cost is proof that the best architecture is not necessarily that with the largest budget.
Base Ohakea Simulator Training Centre by GHD Architecture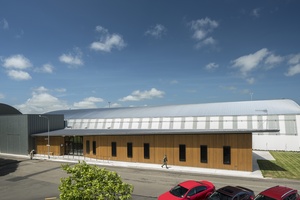 Two differing volume requirements – for offices and flight simulators – have been used to the architect's advantage in this building. The tall, zinc-clad simulators and timber-clad office exteriors have been pulled through to the interior, allowing users to read the exterior form of the building from within. Careful detailing and well considered window shapes and placements provide an expressive variety to rooms with different functions. The link to the massive hangar adjacent is carefully minimalist, allowing this building to stand in its own right. The Ohakea Air Force Base has a variety of excellent buildings and the Simulator continues this trend.
HERITAGE AWARD:
Sir Geoffrey Peren Building Strengthening and Refurbishment by Studio Pacific Architecture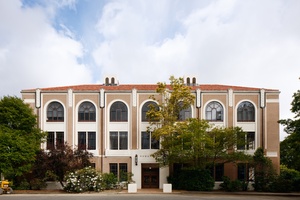 Without structural strengthening, the historic Sir Geoffrey Peren Building at Massey University was threatened; however, the proposed work also provided an opportunity to peel away decades of unsympathetic building alterations to reveal architect Roy Alston Lippincott's original intentions. Beautifully restored with painstaking attention to detail, the architects have concealed, and where appropriate expressed, the new structural components. This is a multifaceted project with complex historical, structural, fire, planning and acoustic considerations. Now completed, the building is simply stunning.
Resene Colour Award:
The original colour palettes of the building have been subtly enhanced. The clever use of coloured carpet as a wayfinding mechanism gives the building a modern twist while respecting its historic nature.
HOUSING AWARDS:
Park De Haus by Architype – Shadbolt Architects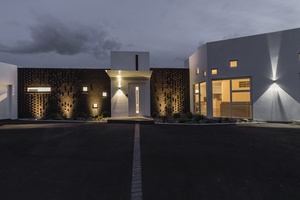 This house, on a small site, is deceptive in size and privacy. The separation of the main living area with a large wall and curved corner form is an unobtrusive solution, while the high ceiling and scattered windows create a sense of space and light. Throughout the interior, stark finishes are juxtaposed with warm materials or carefully framed views to garden scenes. By using textures and colours derived from the owners' extensive collection of art, a particularly poignant result has been achieved.
Resene Colour Award:
This essentially white-walled house has been deliberately infused with bursts of strong colour – on walls, doors and trims – that enliven the interior spaces. The result, paradoxically, is at once both bold and subtle.
Hinton House by Boon Goldsmith Bhaskar Brebner Team Architects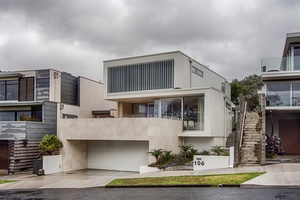 A simple exterior belies a plan with subtle complexities. The house is orientated on its site to create a variety of courtyards onto which all interior rooms connect. The positioning maximises sea views, and the strong, contemporary design rendered in a monochromatic palette with timber accents, is happy to defer attention to the Tasman Sea. This beautiful house, which relates easily to its site, would be a pleasure to live in.
Elliott House by Elliott Architects NP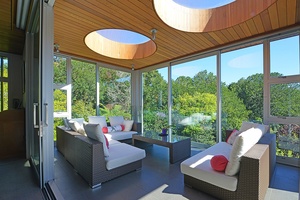 An architect's own house – dream commission or the hardest project to get right? In this case the project is an admirable success. The three-level cedar and concrete structure cascades down a sloping site with living spaces skillfully arranged to follow the sun. Beautiful details include cedar sarking to the ceiling and twin ocular skylights which bring light and warmth to the living areas. This house, anchored to its landscape, and expertly finessed, shows an architect at the top of his game.
HOUSING – ALTERATIONS AND ADDITIONS AWARD:
Bell-Booth House by Felicity Wallace Architects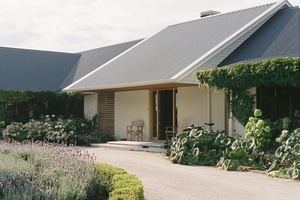 This beautiful alteration saw the replacement of a small, gabled entrance porch with a larger pitched roof. The doubling up of roof forms is calm and reassuring, yet it also inspires a dynamic tension between old and new. The exterior brick has been plaster-rendered to unify the house; the finish also serves to highlight the wonderful garden setting within which the house calmly sits. Rich material flourishes and connecting devices are highlights of this design: a lowered ceiling skillfully connects the kitchen, through existing French doors, to the garden and fields beyond; a large stone fireplace anchors the living room; and a new bay window draws in light and views. There are plans to add an additional wing at a later stage – it would be wonderful to see the future evolution of this elegant country house. 
PUBLIC ARCHITECTURE AWARD:
Globe Theatre Extension by Designgroup Stapleton Elliott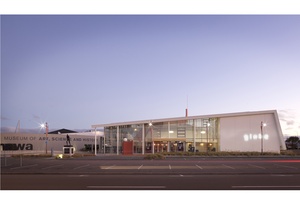 This orthogonal extension intentionally contrasts with the original structure, but in doing so it shows respect to the proportions of original curved theatre. Complete attention to scale, height and materiality has ensured that the form of the extension does not overwhelm the existing structure. The significant glass walls of the foyer reduce the impact of the extension on the older building and allow it to retain its own dignity. The building responds to the adjacent parking precinct in a manner appropriate to the civic nature of the facility and enhances the cultural precinct.
SMALL PROJECT ARCHITECTURE AWARDS:
Life is a Playground by Architype – Shadbolt Architects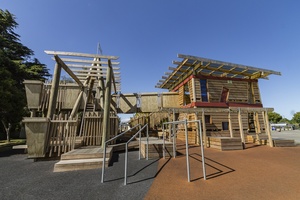 A dream project – two hundred primary school kids as clients and a simple brief: create a new playground, a fort and a ship, that challenges users more than current, off-the-shelf play equipment. In response, the architect designed two great structures for a grassy knoll. Both have all manner of bridges, climbing structures and walkways which were, unfortunately, just too narrow for jurors trying to relive their childhoods. The window geometries and colours employed reinforce the playful purpose, while exterior boards are skillfully arranged to allow light and air into the heart of the structure. There is of course a gangplank – all that is missing is the pirate flag. Oh, to be young again.
Deconstructed Box by Architype – Shadbolt Architects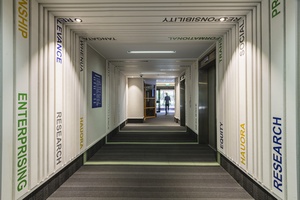 This refurbishment of the entrances and lobbies of a 1970s Brutalist building has resulted in a re-energising of previously austere and dated spaces. The concept here is that of a deconstructed box. The building's fabric has been pierced to create three clear volumes – front, rear and lift lobbies. The language of the sequencing acknowledges the building's transition from past to present and overall the spaces have been lightened and brightened, with custom-made graphics and installations that are inspired by various fields of Social Science Studies that call this building home.
Resene Colour Award:
Colours have been well chosen to contrast with the austere concrete finishes of the original building while providing visual links between carpet highlights and signwriting.
Taranaki District Health Board Mobility Garden by Boon Goldsmith Bhaskar Brebner Team Architects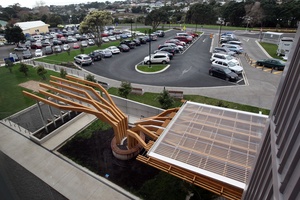 Installed to aid in the rehabilitation of patients, this multipurpose garden and pathway also successfully enhances the hospital's entrance. The space is arranged around an immense sculptural tree whose role is both aesthetic and functional. The tree's main trunk extends to form the roof canopy over the undulating garden, providing protection from both sun and rain, increasing the availability of public seating, and providing a frame for climbing plants. This cohesive design element is a seamless integration of form and function in what could have been a vapid space.
Resene Colour Award:
This project, with its metal panels standing brightly amongst the grey concrete background, demonstrates how the restrained use of bold colours can make a project really shine.
All winners of the 2016 Western Architecture Awards are eligible for shortlisting in the New Zealand Architecture Awards, which will be decided later in the year, and announced in November.