2017 Emerging Design Professional Award winner
At this year's Interior Awards, the Emerging Design Professional Award went to the highly talented David Hoad of Warren and Mahoney.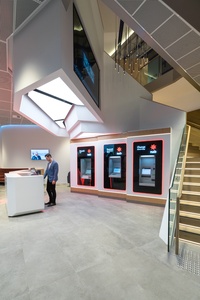 Hoad studied a Bachelor of Design, majoring in Interior Architecture, at Victoria University in Wellington and has been working at the Warren and Mahoney Sydney office for 2 years. Projects that Hoad has been involved in include the National Australia Bank (NAB) retail network, Sydney Trains and Service NSW.
Hoad sees interiors as a mechanism to create conversation, saying, "I am drawn to the influence an interior has on experiences and approach design from a human scale. My ambition is to create emotive environments that align with the client's aspirations. I am not fixed in my opinions and enjoy a collaborative approach, understanding the necessity to be aware and respectful of other perspectives. This is critical for innovation".
Along with a bespoke trophy, a $1,500 cash prize was also presented to Hoad at the exciting awards and networking evening that took place on 29 June at Metropolis Museum, Auckland.
Full jury citation:
As the youngest of the finalists, with the least years of experience, Hoad nevertheless demonstrated a variety of high-level and complex work combined with a sense of intelligent analysis, inventive solutions, careful attention to detail and a consistent but evolving design approach. Hoad incorporates a calm and relaxed demeanour with a noticeable passion for his craft.
He has demonstrated incredible growth potential in his design work in the retail banking sector with a reinvention of the typology that has since gone on to become the standard throughout New Zealand and Australia.
Full coverage of 2017 Interior Awards winners here.
Extended coverage and full jury citations can be found in the June 2017 issue of Interior magazine.
With thanks to our 2017 sponsors: