2017 John Scott Award for Public Architecture
The 2017 winner of the John Scott Award for Public Architecture at the New Zealand Architecture Awards is Fearon Hay Architects' exquisite golden chapel in Parnell, Auckland: a carefully detailed homage to its context.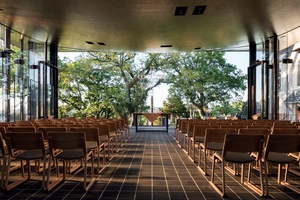 Jury Commentary
Lance Herbst, Louise Wright and Jack McKinney
This exquisite chapel is a sensitive insertion into a site with two strong but disparate existing buildings. The ambition of the concept has been matched by the quality of its realisation; the chapel is one of the outstanding works of recent New Zealand architecture. – NZIA Citation.
"This is architecture at its best. The architects did this impossibly alluring sketch, this gold sweep of line across the page, that you would have deemed inexecutable and yet, here it is. It shows complete mastery, as far as I'm concerned, the whole way through," says Lance Herbst.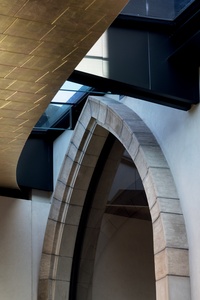 "It was a tricky context, in that you've got two quite strong architectural expressions already on the site, and somehow it's doing a third thing without being discordant or dominant. It also doesn't defer to those other designs; the architects have brought all of their skills to play in this project."
"This is another example of incredibly careful detail and thought in the background, but what you see is almost nothing," explains Louise Wright. "Those glass walls and how they're faceted and then the heft of that gold, glowing ceiling is just so exquisite."
"I also think the chapel connects to and includes the other buildings really well," she adds. "The simplicity and pared-back nature is the perfect response to the incredibly busy façade of the neighbouring 19th century wooden church. It is like a halo from a Renaissance painting: so thin and light and yet representative of so much."
For the full list of winners of the 2017 New Zealand Architecture Awards, see here.