2017 Simon Devitt Award for Photography
Dissonance, a diptych of 'arresting' images, taken in Austria by LiWen Choy, has won the 2017 Simon Devitt Award for Photography.
The work was announced on Tuesday 23 May as the winner by judge Simon Devitt, to a capacity crowd at the George Fraser Gallery in Central Auckland.
The award and exhibition, founded by photographer Simon Devitt, is part of the Festival of Photography. This year's theme was How Are You?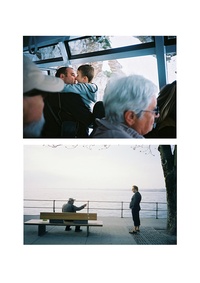 22-year old Choy, who is in his final year of a Masters of Architecture degree at the University of Auckland, captured the winning images while on a recent architectural study tour of Europe, using traditional 35-millimetre film.
The Malaysian-born, Hamilton raised, and now Auckland-based student says he selected film as his medium as he wanted the restriction of having only 36 shots. He says this method forced him to be more thoughtful and focused with his camera.
This is not the first time Choy has entered the competition, having previously made it through to the finals.
When announcing the winner, Simon Devitt said, "We all observe fleeting moments and chance encounters in our daily lives. Moment by moment most of these dissolve into the ether. Sometimes one or two will stay with us. Very rarely are these moments, the special ones, captured. But LiWen Choy's winning work features two arresting images that stopped me in my tracks."
Associate professor Peter Shand, Head of Elam School of Fine Arts, opened the exhibition of finalists' work, saying "it was an honour to pay tribute to Simon's enduring vision and support".
This year there were over 50 entries in a large variety of styles. The exhibition features work from the 16 finalists.
The award, now in its ninth year, is open to all students from the Faculty of Creative Arts & Industries at the University of Auckland.