2017 Sir Ian Athfield Award for Housing
Guy Tarrant's rigorous design for Courtyard House in Point Chevalier, Auckland has won the 2017 Sir Ian Athfield Award for Housing at this year's New Zealand Architecture Awards.
Jury Commentary
Lance Herbst, Louise Wright and Jack McKinney
In a welcome departure from suburban convention, the house engages boldly with the street in order to provide a courtyard plan ideally suited to Auckland's climate. A strong but generous public presence goes hand in hand with a sheltered and most liveable private realm. – NZIA Citation.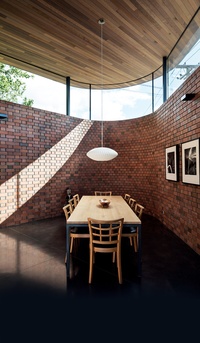 "We're arriving at the point, in terms of densification, where we need to reconsider the urban model – and one that goes to the edges and looks inwards is a very logical solution to that. It's really pleasing to see these projects happen because they're really hard to do under the existing planning laws. In fact, the architect had to negotiate that condition – to go up against the street edges and work backwards – with the council," says Lance Herbst.
"I think it's a really important form that we should explore more," says Jack McKinney, "especially in a suburban context. Too often we conceive of a house as a building sitting within a landscape with space around it, when really, what is the point of a side yard? It's just preposterous."
Louise Wright says: "The initial feeling upon seeing the exterior was that it felt almost commercial, but the more time spent at the project revealed just how much of a contributor to the sense of the interior it is. It really does feel like you're in a walled garden and, viewed within the wider context of the streetscape – a busy road with little virtue around it, with the exception of a small chapel – it actually is quite strong and brave; really careful and confident."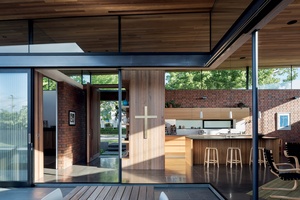 "And then there's the clerestory," adds Herbst. "Even though the architect is presenting this wall to the street, which in a way is an obstruction and almost an antisocial thing to do, there's something about being able to see the entire ceiling plane that makes it quite intimate, that creates this sense of inclusion while maintaining privacy."
"In terms of a sculptural expression, that band of glazing – which extends to all the interior walls as well so that it's absolutely rigorous – displays an understanding that the minute it looked like that roof was being held up by something, all that poetry is gone," states McKinney.
For the full list of winners of the 2017 New Zealand Architecture Awards, see here.