2017 Southern Architecture Awards
This year's Southern Architecture Awards were held at Queenstown's Skyline on the evening of 9 June. Of the 17 projects that won awards, 11 were houses.  
In the housing categories, the jury saw projects where architects had "achieved much with modest budgets", and projects where "budget was not a constraint – on which architects made the most of their opportunities".
Taking home three housing awards, Sumich Chaplin Architects was overall the most successful practice in the awards programme.
Queenstown architect Michael Wyatt was joined on this year's jury by architects Tim Heath, David Hill and Gillian McLeod.
Full list of winners with citations:
COMMERCIAL ARCHITECTURE AWARDS:
Manaaki by Mercy by McCoy and Wixon Architects (see image in slideshow)
The architects have risen to the challenge of an extraordinarily difficult and confined site. Spaces in this hospice building are thoughtful and well planned, and appropriately calm and peaceful. The building responds to and has dialogue with the existing mature trees. The result is excellent architecture.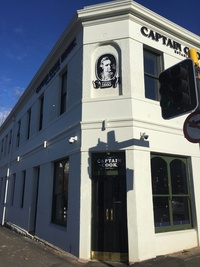 Resene Colour Award:
A particularly harmonious collection of tones allows the building to rest easily in its wooded setting. This is at one with the architectural sensitivity displayed throughout the project.
HERITAGE AWARDS:
Captain Cook Restoration by Elliott Architect
The restoration of the Captain Cook Hotel demonstrates the passionate commitment of architect and owner to ensure that Dunedin's famed student watering hole – a celebrated piece of the city's folklore – has a new lease of life.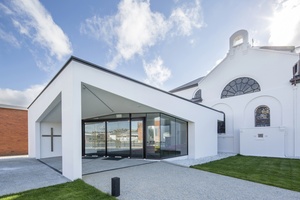 St Patrick's Basilica by McCoy and Wixon Architects
This hugely challenging brief included the conservation of a threatened structure as well as planning for changes within the diocese. Working closely with the client the architect has successfully effected a dramatic change to the use of the building, and its relationship with the street and other church functions.
HOUSING AWARDS: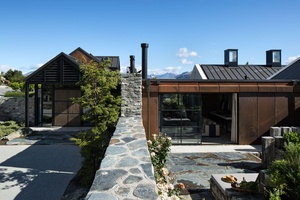 Bardon House by Sumich Chaplin Architects
The house is a suburban retreat. Privacy is beautifully achieved by playing with internal and external spaces. Daylight is softly fused with the richness of spatial flow, art and texture. A visit, let alone habitation, is a memorable experience. This is great architecture.
Beacon Point House by Assembly Architects (see image in slideshow)
This house can be likened to a piece of joinery. It reveals delightful attention to detail and the handling of space and light. The architects have made clever use of a difficult site.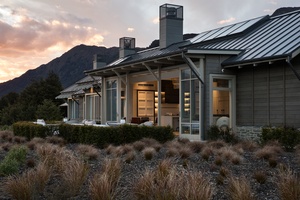 Closeburn Station by Sumich Chaplin Architects
The pavilion style of this large house on a large site features the successful incorporation of sheltered courtyards. The close collaboration between architect and interior and landscape consultants is evident in a consistent and considered attention to detail. Overall, the result is truly impressive.
Gardner House by Rafe Maclean Architects (see image in slideshow)
Simple forms are honestly expressed in this house, which is well designed for easy living. A modest budget has been no handicap to the achievement of architectural quality.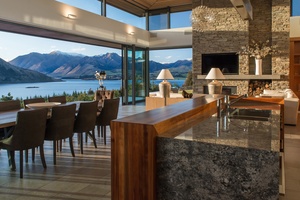 The Dacha by Eliska Lewis Architects
This is a generous house designed to take full advantage of an amazing view: the house captures the magnificent landscape from every room. Throughout the house the architect has handled scale thoughtfully, and her attention to detail and careful selection of materials is evident.
Peninsula Bay House by MacAuliffe Stevens (see image in slideshow)
The house is an assembly of sculptural forms, well planned and detailed. It has a strong presence on its street and in its suburb.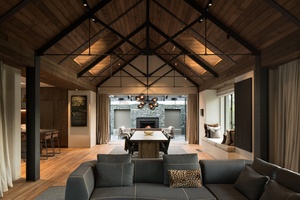 Millbrook House by Sumich Chaplin Architects
Skillful planning has ensured that this house sited beside a golf course enjoys privacy and a sense of spatial ownership. Designed within the guidelines of Millbrook Resort, the result is anything but prescriptive, thanks in large part to the considered use of materials inside and out.
Sawtooth by Assembly Architects (see image in slideshow)
The architecture in this house has been carried through with rigour. Animated by a strong idea the house is logically planned, and reveals an innovative approach to and careful resolution of planning and detail.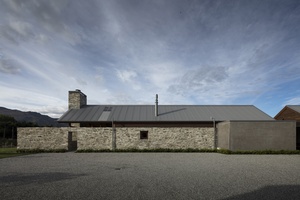 Slopehill Road by Team Green Architects
The design for this house was inspired by the sustainable ethics of architect and client. The approach is epitomised by the living area, wonderfully calm within a beautifully proportioned space.
HOUSING – ALTERATIONS AND ADDITIONS AWARD:
Arrow Junction Road Addition by Anna-Marie Chin Architects (see image in slideshow)
This addition sits like a jewel box adjacent to the existing cottage. The design is clever and the use of materials is delightful.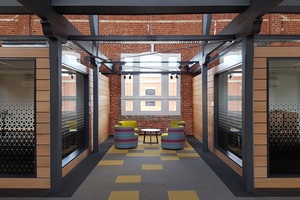 INTERIOR ARCHITECTURE AWARD:
GCA by McAuliffe Stevens
From warehouse to wigs: this fit-out of a former wool store to accommodate the offices of a law firm has been completed with imagination and flair. The prosperity and success of Dunedin's Warehouse District is enhanced by the new addition.
PUBLIC ARCHITECTURE AWARD: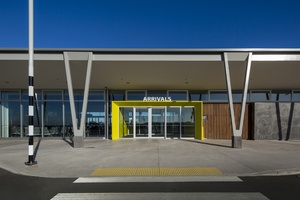 Invercargill Airport by Warren and Mahoney Architects
A strong, simple form with local references is distinguished by exemplary planning and excellent wayfinding. The interior benefits from well-handled natural lighting, and the project overall has been executed with admirable attention to detail.
Resene Colour Award:
A device as simple as choosing a lime yellow for the framing of the arrival and departure doors is so helpful to the first time visitor to this new airport building. This is a good example of the intelligent use of colour to aid building performance.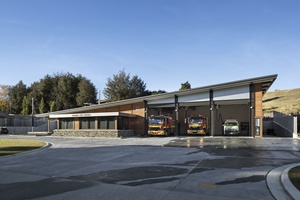 Wanaka Fire Station by Mason and Wales Architects
This essential piece of social infrastructure exemplifies the value of good architecture applied to a utilitarian use. The fire station has a well-organised plan, and exhibits a sensible use of appropriate materials. The building delighted the client and impressed the visiting jury.
SMALL PROJECT ARCHITECTURE AWARD:
Black House Part One by Stacey Farrell: Queenstown Architect (see image in slideshow)
This is a very successful small house, driven by a clear belief in an architectural idea and executed with considerable panache. The design expresses a youthful energy and vitality.
All winners of the 2017 Southern Architecture Awards are eligible for shortlisting in the New Zealand Architecture Awards, which will be decided later in the year, and announced in November.