2017 Student Award winner
Elliott Morgan of the University of Auckland has won the Student Award at this year's Interior Awards for his project Morphosis of Social Conscience. Morgan's project aims to re-evaluate how we address mental health in New Zealand, asking what are the new institutional needs to treat depression, and how design can better respond to and improve our current mental health crisis.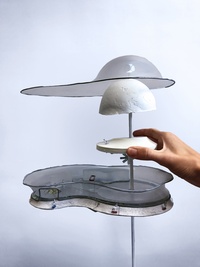 Morgan's installation was designed as an interactive experience for viewers to engage in the designed spatial concepts of changing colours, transparency and emotions. He says, "Depression cannot be cured by architecture. However, social attitudes can be impacted by the design of special programmes and spaces.
"The intent of promoting transparency within these environments presents an emotive dialogue in the heart of Auckland city. The aim is to shift collective attitudes towards depression, destabilising the collective desire to conceal and remove mental health issues from our social conscience," Morgan concludes.
The award was presented at a sold-out social and networking awards evening at Auckland's Metropolis Museum on 29 June, where Morgan took home a Minka Ip-designed trophy and a $1,000 cash prize.
Full jury citation:
This project explored emotional ill-health, and its experimental quality combines a profound concern with the human condition and the possibilities of new technology. The design, although not without areas for critique, is the result of an ambitious, exploratory programme that pushes boundaries and shows inventiveness and originality. It demonstrates what is desirable in student work: an ambition to use design to create innovative, humane solutions to the problems of the world, beyond the pragmatics of the quotidian.
Full coverage of 2017 Interior Awards winners here.
Extended coverage and full jury citations can be found in the June 2017 issue of Interior magazine.
With thanks to our 2017 sponsors: