2017 Supreme Award winner
The top prize at the 2017 Interior Awards evening – the Supreme Award – has been awarded to Amano by McKinney + Windeatt Architects. The award was given out at an exciting industry event at Auckland's Metropolis Museum on 29 June.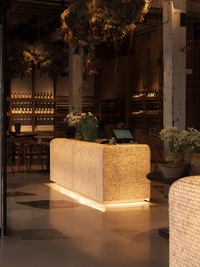 Amano is a highly detailed space that occupies two ground floors of a heritage building in Auckland's Britomart. Crafted with an extreme level of care, the Italian restaurant and bakery celebrates the handmade and the concept of 'nose to tail' eating. Unique and unusual materials such as mother-of-pearl, fractured stone and dried wheat and flowers have been utilised to create a "rich and nuanced environment".
The beauty of the original building has also been respected and preserved, and what was once an industrial warehouse has been transformed by the architects into a memorable "jewel of the city".
McKinney + Windeatt Architects was presented with a $6,000 cash prize and a bespoke trophy designed by Minka Ip.
Full jury citation:
The judges were blown away by this interior's ability to represent the cuisine made here, the heritage architecture that envelops it, as well as its cosmopolitan, urban seaside context and to do it all with elegance and exceptional detailing. From plan to elevation though to bespoke pieces, together with carefully selected furniture, these all echo details in the heritage architecture. This therefore created cohesion and communication between its various components.
The client's passion for local food, for the handmade and for transparency in the ingredient chain was also taken into consideration here. Kitchen and food storage have been treated as design components; recycled materials were used (most notably on the floors); and much more. The designers used unique materials such as mother-of-pearl shells, dried flowers and wheat, reflective, bespoke white terrazzo and other natural stones to light this interior from within.
This design demonstrates that the best interior projects, when they become labours of love, result in rich and nuanced environments that reward not just the owners and inhabitants but also become jewels in the city.
Full coverage of 2017 Interior Awards winners here.
Extended coverage and full jury citations can be found in the June 2017 issue of Interior magazine.
With thanks to our 2017 sponsors: