Evelyn McNamara started Auckland-based Evelyn McNamara Architecture (EMA) in May 2009. Here, McNamara talks with Amelia Melbourne-Hayward about the award-winning modular holiday home that she built on Waiheke Island, her design principles and her very hands-on, old-school approach to architecture.
Amelia Melbourne-Hayward: You have been working as a sole practitioner for quite a while now. Can you give me a bit of background to starting the practice?
Evelyn McNamara: My final year at Unitec was in 2005, but I started working for a firm called Jessop Architects in my second year, where I eventually got registered. Post-GFC I had to move to a contract basis with them because it was so uncertain as to what was going to happen.
At that point I had to start up my own company in order to contract to them, so, in a way, that pushed me off the diving board. Had it not panned out that way, I think it would have happened eventually – but maybe not that soon!
AMH: It must have been pretty challenging starting up alone?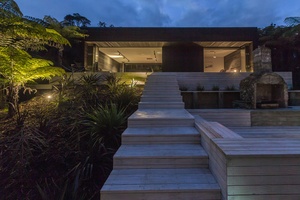 EM: Yes, and at that time people weren't spending money, so it did put me back a little bit into just drafting – more solving problems and less creative opportunities. It was a relatively slow few years, but I think that until you establish yourself, you end up doing a lot of small renovations and garages etc. That slowly turned however, and making sure that I built good relationships with all the suppliers as well as keeping the clients happy was really important.
The practice has really built up momentum in the last couple of years and I think part of that is due to doing my own holiday home – EMAHOUSE – on Waiheke. Building your own home is an incredible marketing opportunity, because it means that it's done your way and it cements your style, within a budget.
AMH: Tell me a bit more about the ideas behind EMAHOUSE.
EM: I was really keen to try and get into the property market and do something myself, and I found a bit of land on Waiheke which was rather unwanted because it was a strange shape and incredibly difficult to build on. All that really worked on the site was a rectangle of about 80 square metres and from there, I realised that a box is a really simple form that can go anywhere, so if you modulated it to have two solid end walls and two open sides, you could put it on any site and rotate it to suit the view and/or north-south.
That then progressed further into my own process of economy, so although it's relatively high-end in terms of the cladding, joinery and negative detailing etc, there's a lot of money saved out of that modulation process. As soon as I started showing people the renders I received hugely positive responses – it's the ultimate small family holiday home and/or rental on AirBnB. People love something that's simple, modern and straightforward in its functionality.
AMH: And affordable-ish.
EM: Exactly. It was never going to be cheap, but it's an architecturally-designed home that's affordable by scale. It's designed to be able to move and be located nearly anywhere, including in the deep south.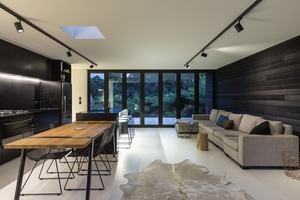 AMH: What sort of success have you had with it?
EM: It's been really successful in terms of the concept and marketing. I think I've got two potentially going ahead on other sites. Based on how much people love it, it hasn't taken off as much as I thought it may, but I feel like people often think 'if I'm going to get an architect to design something then I want to customise it a little bit for myself', and the concept of modulation doesn't work like that.
It's also at a really complicated price point in the market, because you're between people who want to spend very little and people who want an architecturally-designed home and don't think that the bach is expensive, but then they'll just go ahead and get something custom. I think it will take off a little more as soon as people start to realise that building a quality home does have its merits.
AMH: You have designed several holiday homes now, what do you think the key elements are to successful bach design?
EM: The key is adapting it to the way people live in a bach versus the way they'd live in a normal home, because it is different. Often you don't have a formal entrance, just big doors that open up. You also need to make sure it can swell in population, so you need to consider that in a few ways, with extra bathrooms and water tanks etc.
Although people do build mega holiday homes, at the end of the day New Zealanders are the kind of people who want to be able to run round in jandals and come up straight from the beach and not be worried about the expensive carpet. It's important to bring in that homely aesthetic.
AMH: What are some key design principles that are important to EMA?
EM: Fundamentally, it's talking to clients about how they live their life and what's important to them. I like to find out things like when people get home from work and if one finishes before the other; are there kids and how old are they; what are they going to need later as they grow. Then it's just trying to strip things back so it's super clean and functional but creating a bit of texture and wow factor through materiality.
I'm not into putting 17 different angles on a space or curving ceilings, etc. I think if you design a space well then the simplicity of the design should allow for the people in it to function really well and then you can fill it with your art and furniture.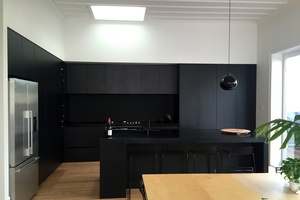 AMH: EMA focuses largely on residential projects. Do you have any plans to diversify or are you quite happy with what you're doing now?
EM: I'm quite happy working in the residential sector – I really enjoy the mix of holiday homes and main dwellings and the relationships you make with clients.
AMH: What do you enjoy the most about working in this area – and what things are the hardest?
EM: Building a new house is likely to be the most money people will ever spend on anything. If you are lucky enough to get the opportunity to start from scratch with a new home it has to be perfectly tailored to you, like a suit. As the architect, you end up being the person that transfers all these ideas and dreams the client has of what their home will be like. It's really rewarding to be the one that has to translate that into something physical.
AMH: I'm sure it must also be very satisfying hearing that people enjoy living there.
EM: Exactly, because if something is not very homely you know it as soon as you walk into a space – it doesn't feel right. It might look amazing in the photos but when you go in you don't really love it.
AMH: There are a lot of modern houses that are visually stunning but I'd hate to actually live in them, they seem so stark and cold. 
EM: It's a sacrifice, because as an architect I love looking at all of those types of houses, but then I think, 'would I actually want to sit down in that space or spend a day in there'?
In terms of challenges, I think the budget is always one of the hardest things to work with, so it's about interpreting someone's brief and then being a really good advisor to them on how they can get the best result within their budget.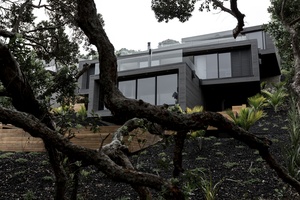 Creatively, it's realising that every one-off house that you design is like a prototype, it's never been done on that site anywhere else in the world; it doesn't exist. Every site and every person's needs are different. I liken it to getting a jigsaw puzzle but you don't know what the picture is yet and you've got to pick up all the pieces and try and make it actually work. It can be quite scrambled.
AMH: What projects are you currently working on?
EM: I've got two new homes in Glendowie, overlooking the coast and a really cool villa renovation in Ponsonby. Also about to start on site is a large $2 million renovation in Mt Eden. We are turning something which is sub-dividable into four sites into one big estate, which is quite fun.
AMH: Are you focusing more on new homes going forward?
EM: There's just so much more freedom in new builds – starting with zero is far easier than all the unknowns of what you're going to find under or in the house with a renovation, which often brings up a lot of problems. It's no-one's fault, but it's hard work, especially for the clients. I am very busy, so I'm not taking any more small projects at the moment, although I am signing up projects now for 2018.
Personally, I enjoy being a sole practitioner. I think that the service is better when you have just one point of contact and one architect, who the client has chosen for whatever reason, and you hold their hand the whole way through the process.
AMH: So you do all your own drawings and everything yourself?
EM: Yes, I believe in the old school concept of an architect. You read about this in the modernist era, when the architect was heavily involved and they stuck with people the whole way through the process. They would catch up with the client over a glass of wine and they'd even design the furniture to go inside the house.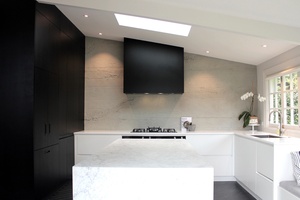 I think sometimes when people expand too much they lose that ability to actually see the whole project through. If you start taking on too many projects and having too many staff, it gets watered down and you become more of a factory and less of a custom solution for someone.
Architecture is a creative industry where I don't believe you can do as good a job if you just expand, expand, expand. I can give much more of my attention to people if I only do a few houses a year.
AMH: I imagine this way you've got control of each step along the way, don't you.
EM: Some of it is control, part of it is just the knowledge about why you've put something somewhere. If you haven't done it yourself, all those things get blurred and, again, I think the client is the one who ends up losing out because the result is compromised by being passed through too many hands. I prefer to be hands-on and not in a management role.
AMH: Many of your homes feature clean, simple lines with a limited colour palette. What draws you to this aesthetic?
EM: I grew up with parents who were heavily into art so every wall had art on it and furniture was given pride of place. That's definitely rubbed off on me. I think that your house should be a like a gallery for living. If you do it right it should function really well but be simply laid out and aesthetically reduced, then you can put your own life into it.
I always say that everything you own – everyday life – brings colour: coffee machines, fruit bowls, rugs, magazines. Everything is colour and if you have a blank canvas then you can fill that up. I'm not opposed to having elements of timber and concrete or glass and steel inside houses, but I try not to overdo it.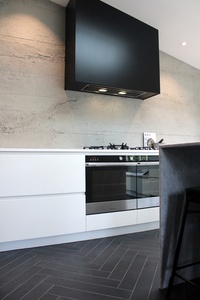 AMH: Are people still wanting larger homes, or are they asking for more compactly designed places?

EM: Not really. There is a market for that, but generally if someone can afford to use an architect then they can afford to build a large home, and I think that New Zealanders still believe – and will for a long time to come – that it's their right to have a section and a big home. Commercial architects certainly have an interesting time ahead when they look at designing apartments. We're already seeing apartments that are less shoe box and more like town houses.
AMH: There's been a lot written about the 'tiny home' craze lately. Are we seeing that here in New Zealand?
EM: I was involved in the Vinegar Lane development in Ponsonby, I bought a site in there with a couple of others and designed a house which we then sold with the plans. It was interesting because it's an attempt at high-end medium density residential that's mixed with commercial, which is really another interpretation of the small house craze. I think it is a fantastic development.
A small house doesn't have to be freestanding, but when people think of a tiny house that's what they think about. I think it's a bit pointless to have a large section and attempt to put a 20 square metre house on it.
AMH: We certainly need more of those medium density mixed-use buildings being built in Auckland. Finally, what would a dream commission be for you if you could design and build anywhere?
EM: Getting the right people as clients and then some sort of cliff top site with amazing views – probably coastal New Zealand somewhere. In terms of framed views, our coastline is up there with the best in the world. I haven't done it yet, but maybe one day!