A food warehouse in Mt Wellington, Auckland, has been named a finalist in the 2016 World Green Building Council's Asia Pacific Leadership in Green Building Awards.
Ceres Organics' 5,500-square-metre home, owned by Norak Properties, is one of three buildings nominated in the Leadership in Sustainable Design and Performance category – Commercial category, and the only New Zealand building to make it to the finals of the biennial awards.
First held in 2014, the Asia Pacific Leadership in Green Building Awards showcase the achievements of companies pushing the envelope on sustainable buildings. Three businesses and a further nine green building projects have been shortlisted, from New Zealand, Australia, Singapore, Hong Kong, Korea and India.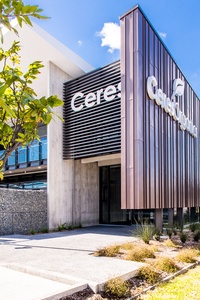 The Ceres Organics complex comprises a two-level office building attached to a large precast concrete warehouse. Williams Architects designed the building to make the most of passive solar heating and natural light.
Built on a brownfield site, the project incorporated material recycled from the former derelict building; also, 95 per cent of construction waste was diverted from landfill. A fully automated building management system (BMS) monitors lighting, CO2 levels, and water and energy usage, and the building boasts many other sustainability features.
It was the first building of its type in New Zealand to gain a Green Star rating – 5 Green Star Industrial Built, signifying 'New Zealand excellence' – awarded by the NZ Green Building Council (NZGBC).
Ceres Organics' director David King, who oversaw the project, said that as an environmentally minded business, sustainability had to be integral to the building they worked in – and the benefits were quickly obvious.
"We're more than 40 per cent more efficient in terms of energy use compared to the previous building, and electricity costs are down $40,000 annually – and we're constantly looking for ways to find further savings. It's also a lovely building to work in, with good natural light and indoor living gardens," comments King.
In 2014, CASA Architects won the Leadership in Sustainable Design and Performance trophy for the Te Mirumiru childcare centre in Northland. CASA architect Phil Smith is one of the judges at this year's awards.
The winners will be announced at the India Green Building Council's annual Congress in Mumbai in early October.