The NZGBC Sustainable Housing Summit took place in Auckland and Christchurch on the 15 and 17 June. The summit featured a wide range of topics that were presented with passion by both Kiwi innovators and top-notch international speakers.
Amelia Melbourne-Hayward attended the Auckland event at the Crowne Plaza and heard about a net positive energy house in Norway, an Australian development model that is breaking the mould and the many inspiring green achievements of the city of Vancouver.
With the words 'sustainability', 'affordability' and 'housing quality' on the tips of everyone's tongues today, it is no surprise that interest in and attendance at the Sustainable Housing Summit this year was understandably high.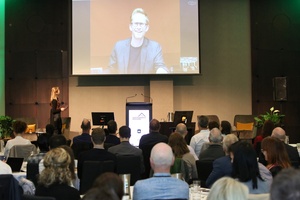 Presented biennially by the New Zealand Green Building Council (NZGBC), a not-for-profit industry organisation that was established to promote the benefits of a sustainable built environment, the summit focused on real-life examples of overseas initiatives and innovation that the New Zealand industry should take cues from, alongside local speakers and case studies, and a panel discussion on housing health and affordability in New Zealand. 
The day started off with a live feed direct from Norway with Kristian Edwards, project manager at Snøhetta Architects. Despite the somewhat garbled Skype feed, we managed to learn a great deal about the inspiring ZEB Pilot House, a net positive energy house in Larvik, Norway that Snøhetta, in collaboration with others, constructed in 2014. This pilot house serves both the living and energy needs of a family house, in addition to generating enough energy surpluses to power an electric car year-round.
One of the most interesting and encouraging talks came from keynote speaker Councillor Andrea Reimer of Vancouver. With great enthusiasm and a quick wit, she gave us a glimpse into the city's award-winning Greenest City Action Plan, which commenced in 2009 and had already by 2011 achieved over 80 initiatives, including the installation of bike lanes, community gardens and electric vehicle infrastructure.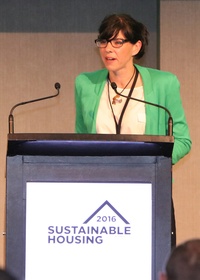 The Greenest City Action Plan is divided into 10 goal areas addressing three overarching areas of focus: Zero Carbon, Zero Waste and Healthy Ecosystems. Vancouver is currently ranked fourth greenest city in the world and is steadily working towards its goal of 100 per cent renewable energy by 2050. Reimer commented that the success of Vancouver is primarily due to the community and the collective spirit of the people: "Transformational change happens because of our ability to connect to one another", as well as the ability to see the big-picture plan, because "this is a marathon, not a sprint".
Desite the successes of Vancouver being a hard act to follow, Richard Palmer, associate director in sustainability at WSP Sydney, did his best with an animated presentation on seeking leverage in our cities for sustainability purposes through two main areas: utility distribution and regulatory reform, and amenity-based planning reform. He commented that, "We know cities need to be denser and more affordable, enabled by public mass-transit systems", but as part of the key to effective urban transformation, "we need to make a commitment to amenity if we are going to have density… The horizontal footprint of the city is sacrosanct."
James Legge, director of Melbourne practice Six Degrees Architects, was another international speaker that created much interest and a high amount of questioning from intrigued audience members after his talk. In the Nightingale model that Legge is currently running in Melbourne, architects act as developers to deliver mixed-use urban housing projects that provide affordable, sustainable medium-density homes for people. The Nightingale model is open to any architect to use, so there is no reason that visionary New Zealand architects could not get on board as soon as possible.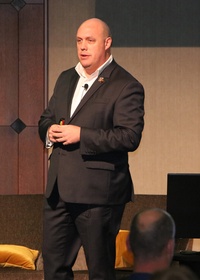 To finish off the day, Adam Beck, the director at the Centre for Urban Innovation in Brisbane, delivered a talk on how collaborative governance through the EcoDistricts pilot programme, in cities in North America such as Charleston, San Diego and Ottawa, has created better communities. Beck stated, "This is not just about broad community outreach and consultation. That must still happen, but collaborative governance demands a more deliberative approach."
Alongside the main international speakers, and equally as interesting, we listened to NZGBC chair Alex Cutler on the successes of Homestar and whether we have reached a tipping point (hint, Cutler believes we have), Daiman Otto on prefabrication and the need for certainty in the industry and Steve Evans, who talked about Fletcher Building's sustainability benchmarks in Christchurch's East Frame. The panel discussion on 'housing health and affordability' between a range of Kiwi experts provided food for thought and some rather sobering facts on the impact our cold, draughty houses are having on our health.
Despite the numerous housing problems that we are experiencing currently in New Zealand, the overall mood at the summit was still one of positivity. Changes are happening in the design and construction sector that point towards a brighter future, if the various stakeholders can all commit to coming together to ensure we make the most of the momentum that is already underway.