Alejandro Aravena awarded the 2016 Pritzker Architecture Prize
Alejandro Aravena of Chile has been selected as the 2016 Pritzker Architecture Prize Laureate. Aravena, who is the curator of the Venice Architecture Biennale this year, will receive the award at a formal ceremony at the United Nations Headquarters in New York on 4 April, 2016.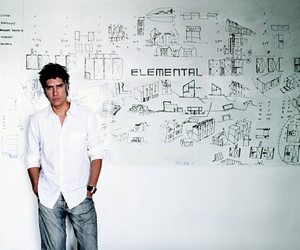 The 48-year-old Aravena becomes the 41st laureate of the Pritzker Prize, the first Pritzker Laureate from Chile and the fourth from Latin America, after Luis Barragán (1980), Oscar Niemeyer (1988), and Paulo Mendes da Rocha (2006).
The international prize, which consists of US$100,000 and the iconic Louis Sullivan-inspired bronze medallion, was established by the Pritzker family of Chicago through their Hyatt Foundation in 1979. It is granted annually and is often referred to as "architecture's Nobel" and "the profession's highest honor." 
The intention of the prize is "to honor a living architect or architects whose built work demonstrates a combination of those qualities of talent, vision, and commitment, which has produced consistent and significant contributions to humanity and the built environment through the art of architecture." 
Aravena's selection was made by a nine-member jury which included Pritzker laureates Glenn Murcutt and Richard Rogers, and U.S. Supreme Court Justice Stephen Breyer.
Mr. Pritzker said of Aravena: "The jury has selected an architect who deepens our understanding of what is truly great design. Alejandro Aravena has pioneered a collaborative practice that produces powerful works of architecture and also addresses key challenges of the 21st century. His built work gives economic opportunity to the less privileged, mitigates the effects of natural disasters, reduces energy consumption and provides welcoming public space. Innovative and inspiring, he shows how architecture at its best can improve people's lives."
"When Chilean architect Alejandro Aravena speaks about designing buildings, he invokes the language of governments and institutes: 'investing in brains over bricks'; turning 'forces into forms.' But, unlike the abstract ideas that may emerge from a policy institute, Aravena, with his Santiago-based firm ELEMENTAL, is keen on designing solutions that not solely aid, but empower society's neediest."
ELEMENTAL's projects range from a sustainable reconstruction plan for Constitución, the Chilean city devastated by an earthquake and ensuing tsunami in 2010, to delivering around 2,500 units of housing in urban slums. It has also designed numerous institutional, civic and cultural works around the world.
Alejandro Aravena was interviewed by Justine Harvey, editor of Architecture New Zealand, during his lecture tour of New Zealand last year, which can be read here.
More information about about Aravena's win can be found on The Pritzker Prize website.