Architect interview: Jos de Krieger
Dutch architect Jos de Krieger is a specialist in urban installations and interventions, and has been working in the field of architecture for over 10 years, focusing particularly on innovative architecture made from leftover and waste materials.
After his graduation at TU Delft, he joined Rotterdam-based Superuse Studios (formerly 2012Architecten). The studio's work constantly pushes the boundaries of architecture and urban design beyond traditional building methods into cyclical processes, alongside providing open source methods and tools to the design community.
De Krieger is the creative director of this year's Festival of Transitional Architecture (FESTA) in Christchurch, which runs 21–24 October. He has recently toured the country, presenting various lectures and a series of design workshops. Here, he talks with Amelia Melbourne-Hayward about some of the ideas behind his work.
Amelia Melbourne-Hayward: One of the focus areas in the recent design workshops that you presented across New Zealand looked at the blue or circular economy. Can you explain the ideas behind this?
Jos de Krieger: The circular economy is about looking at materials in a biological and technical cycle, while trying to close the loops to prevent waste. The blue economy would be the next step, whereby we not only close the loop but we try to make the most out of every step inside the loop, so there are multiple benefits from one source.
An example is with Indonesian farmers, so with their fish farm they could also produce food besides fish, such as vegetables, and they make the best of all the steps in the process, reuse all their waste, therefore creating multiple revenue streams as well. If one source fails, say if there is a bad yield, it doesn't mean the end of the company or that the family goes hungry.
Another might be that there is a company that cleans a hotel's linen, and next to it is a car wash. They are totally unrelated but the water that comes out of washing the bed sheets is clean enough to wash the cars. Cascading that down means using as much of your drinking water without throwing it away.
AMH: That makes perfect sense. How, then, can we best use these waste materials and flows to generate new development or economic growth in Auckland?
JdK: It will need some research and experimentation to find out what works in Auckland. You will need some time to develop, but in general it starts with really wanting to do this, seeing the joy in it. Reverting the design process from giving shape to something that comes from your mind, to something that comes from the material itself. Listening to what the material is capable of and putting that to the best use possible.
For example, if the building next door is going to be demolished, you can make an inventory of all the elements that come out, measure them, weigh them if necessary, map them and make them available to the public. So before it gets demolished, they can start to design with it and see what they can or want to buy from that building and put to reuse. It can be anything, but if you don't know that it is going to be available then you are probably not going to be able to see the potential and use it.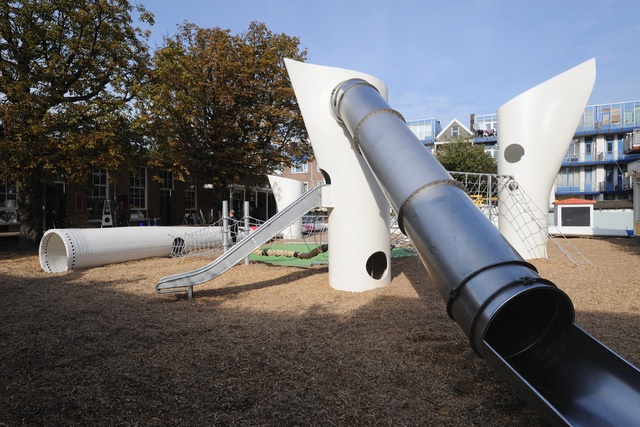 AMH: What sort of projects like this have you undertaken in the Netherlands that we could learn from here in New Zealand?
JdK: We obviously have a lot of different projects and different scales, but one project I always like to explain is made from windmills, which are an icon of sustainable energy. They are everywhere, all over the world, but they also have a waste problem attached to them, that most people don't see because it's not visible. The blades are a combination of glass fibre, epoxy resin and some other materials, which we can't recycle at the moment because we just don't have the technology. The only thing that we can do is either put them in landfill or burn them, but there's not much good in that. When the material is discarded, it's still really good, so we made a children's playground out of it.
After you enter the playground you actually can get inside these windmill blades, so as a kid you can walk through and it becomes a fantastical space. It could be a rabbit's hole, or a spaceship, or a castle. Most playgrounds in the Netherlands are thematic, so if you're next to the harbour there will be a playground with a boat in it, which is quite limiting to the imagination. With the Wikado playground, the child can create their own ideas of what kind of space they are in.
AMH: Has this playground been successful in the community?
JdK: It opened at the beginning of 2009 and it's inside a building block, so it's not in the public realm. There is an after school hours building next to it where kids can learn to cook, have drawing classes etc, and the playground is connected to that. All the kids love playing there. 
We've also been working with smaller blades, making urban furniture, it is really interesting to experiment with different variations. Currently we have a bus stop and another playground in development, which should be finished later this year.
AMH: Your Villa Welpeloo project in Enschede, Netherlands, has also been very well received. What were some of the processes behind the construction of the villa?
JdK: The Welpeloo Villa was one of the first 'real' architectural pieces that we did as an office, so there were many new things that we had to solve while using waste materials. The two main reuse elements are the steel construction for the main building and a wooden facade. The steel comes from the machine of a textile factory, as the city in which it was situated was a textile city that went downhill in the 1970s, and some scrap resellers bought these machines as second hand iron.
At that point there was already a basic design for the building with a lot of material that we wanted to make it out of, but that material wasn't suitable, because it was too toxic. The client, however, had already fallen in love with the shape of the design, so we changed that to make it fit with the steel pieces we found. Around 90 to 95 per cent of the steel came from that one machine, and we added some pieces to make it fit.
The other important thing about this villa was that we didn't have harvestmap.org yet, the platform that we have now to map the sources of materials. So we went around the city, on bikes, to the harbour and industrial places, going to factories and asking what kind of waste they produce. We mapped the environment, put it in a spread sheet and made a type of shopping list that asked, "what are the elements that we want to have for this project?", and then we tried to find them.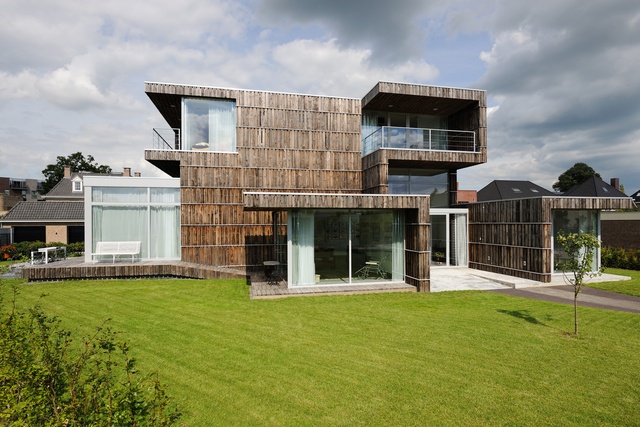 AMH: You are the creative director for the major Lean Means project at this year's FESTA. How are you using the Harvest Map to put this project together?
JdK: The FESTA team is scouting materials in Christchurch, while some of the participating studios do this for their respective hometowns (there are studios participating from Auckland, Wellington, Sydney, Melbourne and Adelaide). If you go to Christchurch on the site you can see some of the first materials on offer. Currently there are not so many, but the idea is that it will grow over time.
Besides that, we're looking for materials for a specific purpose for the festival, we're not making permanent 50 year works of art essentially, we are making installations that last a night. That means we are looking for materials that are specific to that purpose, they have to be lightweight, so they're quite different to what someone might need for a building. Anyone who knows other sources that can also be applied in architecture and design can put these on harvestmap.org.
AMH: How do you think Christchurch will benefit from using the Harvest Map for FESTA?
JdK: My hope is that people will see the opportunities that waste materials have to offer. They will get to know what the Harvest Map can do for FESTA as a one-day event, and they will say, "Okay, so if it's possible to make these installations out of re-use and I know that my house is going to be demolished, I know that a lot of those materials are still of high quality and can be used again".
Even if it starts by just taking all the wood that is still usable and turning it into furniture for your garden, that's already a big plus compared to buying cheap plastic furniture. And it's not just about re-use, because if you're making it yourself or giving a job to a local carpenter or craftsman, then you're supporting the local economy instead of a global company that is not related in any way to the community. So there's a lot of spinoff that you don't necessarily see, but when it's fully in motion you will feel it. And that feeling is really positive.
AMH: Can the Harvest Map be used anywhere in the world?
JdK: It can be used globally, but currently we're working on a separate version for Detroit and we are working with a company in China where they have made a copy of the Harvest Map because it was easier for them to translate and work on it. It is an open platform and there are different kind of spinoffs possible.
Connected to the Harvest Map platform there's superuse.org, where everybody can share their designs with reuse, everything from jewellery to architecture. The framework of the platform can also be used for other kinds of things, for example last year we had a collaboration with someone who is opening up the housing market in the Netherlands, where besides renting and buying a house, there's the option of sharing a house. She is collecting all the data and places that have house sharing in the Netherlands and trying to be the mediator for that. It could also map the places where edible plants are growing in the city, those type of things.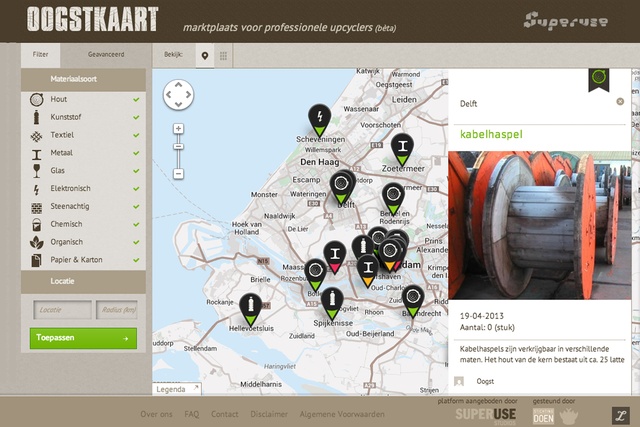 AMH: Superuse Studios does a lot of research into the flows and processes within cities. How do you think we can create a healthy, functioning urban ecosystem in a city like Auckland, given our challenges with the reliance on cars and our small population?
JdK: Auckland is quite a big conglomeration of people, which relies heavily on cars and it doesn't necessarily have to, or at least not as much as it is right now. Transportation is a really difficult issue. The ideal thing would be to invest in something that makes personal transportation quicker and cheaper and cleaner, like in Star Trek – but that's not going to happen! 
Public transport is a good solution, and you seem to be having some success with the electric train in Auckland. Unfortunately it is just going to be a really slow transformation, because you have a fixed situation here in Auckland and you can't change everything at once. Infrastructure is one of those really slow changing flows, as so many people have bought a car which will last them at least 10 to 20 or more years, and those types of investments are really hard to go around.
In Christchurch there is the opportunity to change a lot at once, which could be an experiment for the whole country to see what could happen if things are organised in a certain way, and if it works. It might already be too late for that, since the rebuild has been set in motion, but as long as there is open space left there will be things that can be improved.
AMH: What are a couple of future projects that Superuse is working on at the moment – in architecture or interiors?
JdK: One of the main projects for the studio currently is Blue City. This is a redevelopment of a former tropical swimming pool in Rotterdam to a circular economy centre, an innovation centre with meeting rooms and event space. The centre will house not only our office, but around 50 different companies that work with or on the blue economy, such as a company that grows mushrooms on coffee grinds or businesses in urban farming. We're trying to get everyone in Rotterdam that is involved in these kind of businesses and ideas together in one building.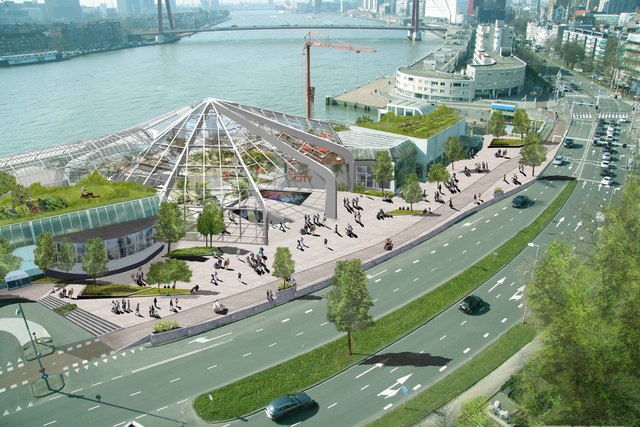 AMH: Within Superuse Studios you work mainly on temporary installations, or what you call interventions. What led you to focus on this area?
JdK: What I like about the short term side of it is that I can do a lot of different projects and be engaged with a variety of things, and I can meet a lot of people. It's such a dynamic field, with a lot of room for experiment. It also gives me the opportunity to travel, which I probably wouldn't do as much if it was 'just a holiday'. Currently in the practice it's most convenient for me to do this as well, since I'm the only one in the office that doesn't have kids!
AMH: There seems to be a lot of very talented Dutch architects and designers out there, why do you think that that might be? I think that in New Zealand we don't really tend to value design and architecture perhaps as much as you do in Europe. Do you think it's more embedded into the culture there?
JdK: Well it's certainly embedded in the culture in the Netherlands, the whole country is designed! I think it also has to do with the fact that there's a really large amount of people studying architecture and design-related subjects, so the chance that your talent is discovered is much higher.
Before the recession, there used to be a turnover of around 1.5 billion in the Netherlands, which was reduced to about 800 million. A lot of people were laid off and a lot of people my age didn't get the experience they needed to stay in the realm of design. Most of my friends had to leave the profession, they are doing something else, but still have a feeling for design.
AMH: It's interesting though, that through the large amounts of students that go to architecture school in the Netherlands, even though so few actually end up in practice, your general population is a lot more educated about architecture and design.
JdK: Yes, and the skills that you learn in architecture school are really widely applicable, it's a way of thinking and looking at a problem that you can use in almost any subject. That was actually a small workshop that we organised in my graduation studio at the Faculty of Architecture in Delft, called 'the tools of architecture'. It looked at what skills you learn in architecture school and how to put that to use in other industries or jobs.
Jos de Krieger's visit to New Zealand is supported by Te Pūtahi — Christchurch centre for architecture & city-making and Warren Trust.