Architect profile: Megan Edwards
Megan Edwards has run her own practice Megan Edwards Architects since 1994, focusing on residential work – both renovations and new homes.
Amelia Melbourne-Hayward, editor of ArchitectureNow, was invited into her home studio in Green Bay to talk about trends in residential architecture, her experience on the New Zealand Architecture Awards jury in 2016 and her love of warm interior spaces.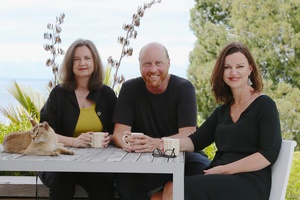 Many talented architects can recount several pivotal events from their youth that led them towards the profession. Watching the design and construction of her family's modest bach at the impressionable age of 12 was one instance that Megan Edwards readily recalls as important.
"It was a classic pole house, designed by Kerry Avery – a small plan but very high gable, strung off 12 cantilevered poles – entirely built and clad in timber. It was effectively one volume with a sleeping loft. The experience of that nurturing space was beautiful. It was a place that created a lot of joy for our family," she says. 
Visiting her engineer father's drawing office was another pivotal experience. He was part of a multidisciplinary practice and worked closely with architects on a daily basis. Exposure to and interest in plans, design and construction led Edwards to choose architecture over fine arts after high school. She attended the University of Auckland's School of Architecture and greatly enjoyed the wide range of theories and ideas she encountered during her time there.
After a three and a half year stint in London, where she gained her registration, Edwards moved back to Auckland, working for Richard Priest Architects before starting her own practice.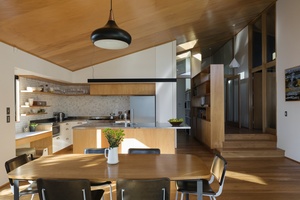 She has been steadily working at her own pace since then, starting with numerous alterations and additions to the backs of villas and bungalows. Edwards says, "Fortunately I really enjoy this work – stitching a design together that works with the existing social and formal context. A well-renovated villa or bungalow is a fine thing – you get the opportunity to enjoy some old fashioned rooms and the traditional relationship to the street, as well as another more open – but hopefully still nuanced – spatial condition at the rear."
Edwards currently works from a home studio in the west Auckland suburb of Green Bay. Fellow architect Allan Eng and designer Jacqueline Bell make up the team. Due to a lack of space for the three, there are plans to move to a larger office soon. 
Although relatively far from the city, Green Bay is an ideal base for a studio, thanks to the volume of experimental, modernist architecture that took place there and in nearby suburb Titirangi in the 1940s to '70s. Edwards own home/studio is an example of this, alongside houses such as the Pollard House by Imi Porsolt, the Brake House by Ron Sang and the acclaimed home of Tibor Donner, who was chief architect of Auckland City Council from 1946–67.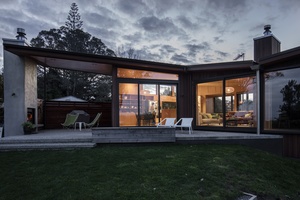 Edward's favourite New Zealand house, the Haresnape House, is also in Titirangi. Built by architect, city councillor and teacher Bill Haresnape in the mid-1950s, the house, according to Edwards, is "like Shangri-La, located down a deep drive into the bush. The house has a cruciform plan and is brilliantly sited on a spur of rock beyond which the land drops away to the Manukau. There are intersecting spatial volumes within the house, stone walls extend from the land into the house, and large sliding doors open on all sides. It's epic."
The Haresnape House is the inspiration for one of Edward's current works in progress, a large pavilion house with a strong modernist aesthetic in Greenhithe. She is aware that pavilion houses can feel bland: "Sometimes there's too much glass and not enough defined spaces. Consequently they throw you to the outside and there isn't a sense of home or place."
"What I'm trying to create is a pavilion house that does have a sense of enclosure and comfortable spaces to be – areas within the open plan environment where things happen. My goal is to create spaces that feel convivial to be in, where you don't feel exposed."
At the other end of the scale, she is also working on a 60sqm worker's cottage in Grey Lynn, on a 7 metre-wide site, which, she says, is "an exercise in respecting the old form, while squeezing all the benefit from the small amount of extra space we have created."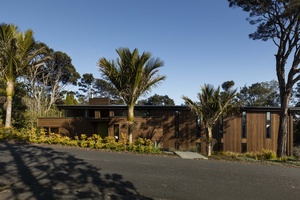 The clients for Edward's recent award-winning Tawini House in Titirangi wanted a home that related to and reflected the experimental tradition of the area.
"They wanted a modest, well-crafted modernist timber frame building that might have been built now or 50 years ago," Edwards explains. "What is surprising about the Tawini house is the geometry of the plan."
There is one single roof plane, which falls eastwards over a boomerang plan, creating the sense of the roof as a kite form caught in the bush. The strong force of a sheltering roof creates containment and a sense of cosiness. "The house has a rich interior world but still has a strong connection to the surrounding bush setting."
Timber features strongly in many of Edward's designs, and she enjoys creating lofty spaces that are warm in their tone, "so you have the uplifting feeling of being in a large volume but you are still held by the material quality of the timber." 
Edwards draws inspiration from her clients. When they are whole hearted and enthusiastic about their project, it creates a well of energy, which is galvanising for her. More formally, for inspiration she draws upon everything she's learnt, read and visited over the years, admitting that it might be time to invest some time in replenishing that stock.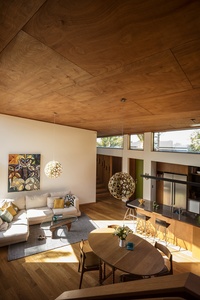 As part of the jury for the 2016 New Zealand Architecture Awards, Edwards spent almost two weeks touring the country and seeing the best of what New Zealand has to offer architecturally right now. She was impressed with Gerald Parsonson's Zavos Corner, a multi-unit residential development that creates much denser occupation of the land, with the enjoyable intensity and charge that comes with that, while still achieving privacy for eight successful homes.
Edwards also really enjoyed the simple but rich form making of Te Kura Kaupapa school in Wairoa by RTA Studio, which she terms "a hug of a building", and was also inspired by the simplicity and play of light of the small chapel in Le Bons Bay that won the enduring architecture award.
In terms of future trends in residential architecture, Edwards passes on what she has noticed from her discussions with clients. She says people are more prepared to focus on what will work for them or what moves them, rather than going with perceived real estate norms. And clients are talking about issues around sustainability, such as good passive design, the carbon footprint of materials, recycling and the use of photovoltaic panels.
As for the oft-cited trend towards smaller homes, she laughs, "People talk about smaller houses… but when they come to do it, they ask 'can we just have a room for this and a room for that…', and it can end up growing again! But yes, there is an interest in efficient design and in paring the brief down to its essentials."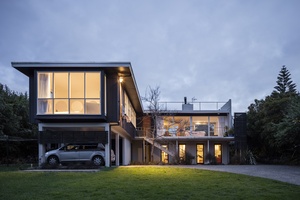 And what about dream projects for Edwards herself? "I'd like to have a crack at some medium density housing, and I think there is scope for some sexier retirement options. In fact, places that offer community as well as independence may appeal to a lot of people."
Landscape interventions or interesting outdoor art projects also excite her. "We have an amazing land. Our art and architecture could engage with it more; wake us up to view our landscape in new ways. A building or temporary installation that achieved this would be great."