San Mateo, Beijing... Dunedin. AVOS, a new internet company led by the founders of YouTube, looks to New Zealand's Deep South for its third office offering.
Dunedin – Silicon Valley of the Deep South. That certainly has a nice ring to it. With the arrival of AVOS, an internet company led by the founders of YouTube,  you might argue that this southern city has as much claim to the title as has any other in New Zealand.  
Luke Johnston, director of BrandAid+, was responsible for installing AVOS in its third global office (its other offices are in San Mateo, California, and Beijing). Johnston seems somewhat mystified as to the reason why he was shoulder-tapped to do the work for AVOS. His work at BrandAid+ is, as the name suggests, graphic design orientated – identity development, branding and the like. However, he does have one significant interior project under his belt, his own office premises and the café Diesoline (Interior, issue 1), run by his partner, which occupies the lower level of the building in which they are located. The mystery as to why, with no offence to the city of Dunedin, a cutting-edge internet development start-up would choose a remote  location is made a little clearer after speaking to Johnston.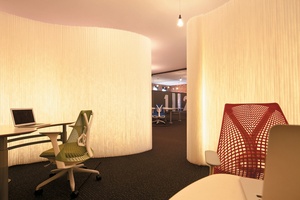 As the designer reports, Alex Dong, a high-profile alumni of the Otago Polytech, developed an online bookmarking program called trunk.ly, which was subsequently bought by YouTube, before YouTube, in turn, was acquired by Google. The founders of YouTube went on to start AVOS, which develops different online products, and Dong, now working for AVOS, and based in Dunedin, wanted to stay put. "From Dunedin, they're collaborating with the guys in San Mateo and Beijing, so there are live video links and enough of a crossover in time zones to make it work," says Johnston.
Johnston's first interior project was a major overhaul of a  heritage building. For AVOS, the job at hand was of a softer kind, with less need for structural manipulation. Overall, the design is flexible: open-plan work areas are complemented by private spaces, which are enclosed by internally lit softwalls that bring to the space the requisite degree of futurism expected of a digital company. Other accoutrements of companies young and hip are in evidence: a red-felt pool table, for instance, ties visually with the u-shaped sofa and the draped cables of one of the feature lighting elements; confident use of type (massive numbers identify meeting rooms one and two) reveal the designer's grounding in the graphic arts. As a counterfoil to the modernity, the kitchen and café are more simply adorned with a wooden table and bar stools. 
"The reason it is designed the way it is," says Johnston, "is because AVOS' staff members are very fluid in the way they work, and who they're working with. They can repurpose the office into different groupings and there are also, in behind those soft walls, breakaway spaces: spaces where you can go and put your head down and step away from the open-plan area.
"Normally, divisions are so rigid. These walls basically came from the brief. The client wanted a very fluid space that could be adapted quite quickly: there's nothing permanent really, except for the walls in the corner. Everything else in the office is really flexible."