Balancing creativity and practicality
Andrea Bell of Auckland-based studio bell + co architecture chats with Amelia Melbourne-Hayward about starting her own practice and the attributes needed to be a successful architect.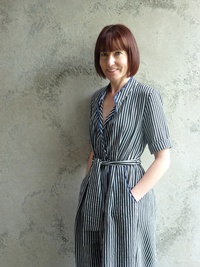 Amelia Melbourne-Hayward: Have you always wanted to work in the profession?
Andrea Bell: I studied art at high school and I was really drawn to the work of the Cubists and the art and architecture of the De Stijl period. When I was around 15, I came across the Rietveld Schröder House, designed by Gerrit Rietveld in the 1920s. The house really blew my mind at how contemporary it was for that period. From then on, I took subjects that meant I would be able to take architecture and studied towards that.
I did a New Zealand Certificate in Architectural Drafting first and then went on to do an architecture degree at Unitec. My class graduated in 1999, it was a unique position to be in as we were in the first year through the school; it was an exciting time. There was a lot of energy focused on us and a lot to prove.
AMH: What are some of the most enjoyable aspects of working as an architect?
AB: I love the variety – every day and every project is different. I get to deal with a range of different people: clients, contractors, consultants, etc. I also really enjoy the fact that at the same time as using your creative side, the practical aspects also have to come in. Questions such as 'how do we actually physically build this' need to be answered. That interaction with the clients, consultants and contractors to imagine, articulate and then construct a conceptual idea is an incredibly exciting process.
AMH: Are there areas within the discipline that you are particularly passionate about?
AB: I think for every architect it's about the design, but the process of achieving that design is also one that really interests me, because it requires the input of a team of people to reach the goal, and it's always evolving. There may be one person at the forefront of the design process, but at the end of the day the outcome is the work of many different people. I find it incredibly engaging.
AMH: You worked at Bossley Architects for 17 years or so after graduating. What led you to leave and start bell + co architecture?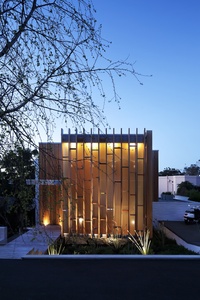 AB: I think as an architect you always aspire to run your own practice. It was also a lifestyle choice, because I had my first child in 2012 and I thought I would go back to work after three months, but I didn't go back for a year! In going back, I realised that I needed to have a bit more flexibility in my life. Being my own boss means I have the flexibility of planning out how my day is going to be. 
I had an amazing time at Bossley's. It was a really hard decision for me to make because I was senior associate there at the time, but looking back it's worked out really well. Pete [Bossley] was very much a mentor and a friend, so I learnt a lot while I was there, and had some fantastic opportunities to work on some amazing projects. It was a great place to start my career, as there were only three of us there originally: Pete Bossley, James Downey and myself, so I got to see the practice grow from a very small studio to a medium-sized practice of around 19 to 20 people.
AMH: As a professional and a busy mum of two, how do you maintain a work/life balance?
AB: It's not easy. I don't have any employees as such, so I have contractors that I work with for the drafting side of things, but I'm still very much involved in that part of the process. I'll do daily checks of details and drawings and liaise with the drafting firm. In that respect, if I'm not working, the team is still working. I think the beauty of having an office at home is that if I do have a deadline, I can work late and still be at home if the children need me. And, of course, having a very sympathetic husband who is in the profession helps a lot, because he understand the pressures of the job!
You don't go into architecture lightly, it's a profession that you need to be really passionate about. You are warned about that from your teachers right from the start. It's definitely something that's all encompassing. If you're interested in design, it's what you live and breathe really.
AMH: Does being a woman working within the architectural industry have any impact, either on your own practice or while you were working at Bossley Architects?
AB: I think it can't help but have an impact. In some ways I have found it to be an advantage. When I first started out going onto site with contractors and sub contractors, a lot of them had never encountered a woman architect before, so they were unsure of how to engage with me, but once they had figured it out things went well.
In terms of hierarchy in an office, or working your way up, I had lots of opportunities at Bossley's, so I didn't find it to be a problem. When it does become a problem is when you have children, because your life isn't just about architecture anymore and I think that the industry as a whole needs to find a way to be more flexible. When women come back from maternity leave, it is a lot harder for them to be there five plus days a week, often working late.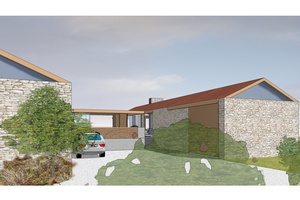 I think as a woman you have to really push to get what you want and what you think you should have, and I do think that women don't value themselves as much as their male counterparts do. The industry as a whole does need to change a lot in that respect.
AMH: What projects are bell + co architecture working on at the moment or are coming up?
AB: The work I'm doing at the moment is mainly in the South Island, I have a big project in Central Otago which is about to go in for resource consent, and I'm just starting to design a family home in Dunedin. I'm really looking forward to that because it's my home town. At the start of this year I also completed a project in Wanaka. We've just started landscaping it now, so it hasn't been photographed yet. I've got a few other bits and pieces on the go, but to be honest, I am quite particular about the work I take on and I only need one or two big projects to keep me going.
AMH: Do you have a certain design philosophy? What inspires you?
AB: Site and client are the main drivers for my design process and I'm also very interested in the light and texture of materials, and the way that two simple materials can come together and create something amazing. You can take something ordinary like polycarbonate and through detailing and constructing, make it special. Things don't have to be incredibly expensive to be beautiful. But first and foremost, it's about the client, hearing their dreams and aspirations, and also about the site, the landscape is incredibly important.
AMH: Which project in your career to date have you been most proud of and why?
AB: It is difficult to single out a particular project as every project I have worked on has had something that makes it enjoyable, whether that be open-minded clients that are up for a challenge, or clients that really challenge you, an amazing site, or a fantastic contractor who really takes the project on board and works hard to achieve your vision.
AMH: What are some of the key design ideas behind the City House in Grey Lynn [which won a Housing Award in the 2016 Auckland Architecture Awards]?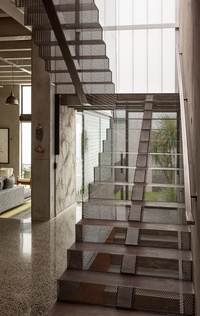 AB: We had a very limited budget and the site itself is quite challenging, it is a mixed use commercial area. We wanted to maximise as much floor area as we could. We also wanted to keep it as flexible as possible for a life beyond us, so if someone wanted to come in here and do retail or a café that could be a possibility.
We really liked the idea of getting an old warehouse and doing that up, but couldn't really find anything in our budget, so the materiality of the City House is very industrial. We've got insulated precast concrete walls that are very rough and raw. They have a sand-blasted look which was created by putting baking soda into the formwork so that it eats away at the surface of the concrete and makes it pitted. This contrasts with the highly polished concrete floor.
The light was also really important, because in winter we are sun challenged, which is why we have got the skylights above the perforated steel stairs to create a light well to get light into the centre of the building. I love that the house is not precious either, the kids can kick a ball around and it's not going to damage anything, it's robust.
AMH: Which buildings in New Zealand do you love or get inspiration from?
AB: I think the simplicity of the bach or the crib is something that always appeals. I like the relaxed nature of those, that idea of 'just the basics'. I think some of the mid-century architecture that we have in this country too is pretty amazing. Ted McCoy's work, Ernst Plischke's work in Central Otago. It's hard to come up with my favourite but I think the Fortuna chapel by John Scott is a great building – the light and form is just beautiful.
AMH: What would be a dream commission for you if you could undertake a project anywhere in the world?
AB: An international commercial project on a spectacular site with a temperate climate and a generous budget would be great, but at the end of the day the ideal commission comes with an open-minded client who is up for a challenge.
AMH: You are an external assessor for Auckland University and you've also been involved in teaching and training for many years. What changes have you seen over the years in the way architecture is taught in New Zealand?
AB: The biggest change I've seen is the reliance on the computer. When I was at school 3D computer modelling was just coming in, but I think in the past few years the computer has taken over to the detriment of hand drawn work. With computer renders, there seems to be this kind of blandness, and of course, they do play an important role, but I think if you have the skill to take a render and then overlay that with some freehand work you can get some amazing results, because everyone's freehand drawing is unique.
Getting that balance between the two is really important. I think we are starting to see the craft of the hand drawn coming back in though, which is exciting.
AMH: Do you think that it's the role of an architecture school to get students ready for the realities of working?
AB: I think there needs to be a balance between theory and practice, but I also think it's incredibly important that architecture schools are at the forefront of where architecture is going. Their role needs to focus on pushing boundaries, researching and exploring the options of architecture in the future.
However, I also feel that when a graduate comes out of school that they need to be of use in an office situation. I think that can be done really simply, with one day of the week dedicated to spending in an office to see the reality of what it's actually like to be an architect. When you come out of architecture school, it doesn't matter how much theory you're given, you learn the most on the job, just getting stuck in and doing it.
That epitomises what you need to be an architect really, you need to have that design interest and talent but also that practical side too. And I believe it's really important to experience as much as you can while you're at school, because the realities of practice can really grind you down.