With greater tensile strength than steel and the ability to withstand compression better than concrete, the use of bamboo in construction is back on the drawing board for many architects and designers, especially in those areas of the world where the material grows abundantly and is readily available at a low cost, such as in Asia, the South Pacific and Central and South America.
A natural composite material, bamboos are some of the fastest-growing plants in the world and have long been considered the most primitive grasses. Alongside its underground rhizome root system that continually regenerates the plant when the stalks are cut, bamboo also produces 35 per cent more oxygen from carbon dioxide than trees and more effectively binds soil to prevent erosion.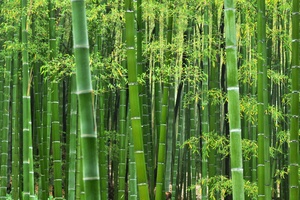 Bamboo is often dried, treated and used as is in construction, cutting out the processing that many other materials must go through before use, which means a drastic reduction in carbon emission. Taking into account the fact that it is easy to harvest, can be composted after use and could considerably reduce or replace the use of concrete and steel in construction, it's clear that bamboo is a highly sustainable and ecologically friendly building material.
Traditionally, bamboo has been used to make a wide range of items, from flooring, handicrafts, tableware and furniture through to its use in simple suspension bridges and large-scale scaffolding due to its strength, flexibility and relatively slow-burning properties.
Building with bamboo is not without its challenges, however. While the moderate bendability of the material ensures a unique shape and beauty to any project, creating an insulated wall or roof system using structural bamboo is difficult, hence the material being used most frequently in warm, tropical climates.
In many countries, a lack of codes and standards around using the material has also kept architects and designers away from bamboo, and as building with it requires a special skill, it can be hard to find contractors with enough, or, indeed, any experience in bamboo construction.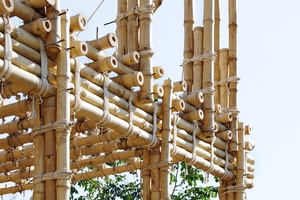 As the grass can be susceptible to structural weakness caused by fungus, insects and simple biodegradation, bamboo intended for use in construction must be treated; the most common solution for this purpose is a mixture of borax and boric acid. Bamboo does not lend itself to being painted because of its natural waxy coating, and excessive dying or bleaching of bamboo may reduce its structural integrity.
In New Zealand, bamboo is not widely used for structural purposes, however it is utilised for hedges, fences and ornamental plantings for landscaping, and also for interior features such as flooring, privacy screens, furniture and ornaments. Bamboo is also used in New Zealand to cleanse and protect waterways and control soil erosion with its dense mat of fibrous roots.
Despite its challenges, this "poor man's timber" has been making something of a comeback in construction in the last five years or so, featuring in designs that range from basic modular homes to large open-air restaurants and bars. It is great for use in open and semi-outdoor spaces thanks to its ability to let air flow easily through the structure.
More architects and designers today are realising the many advantages and viability of using bamboo in a range of projects. Given its sustainable and environmental credentials, the unconventional, beautiful shapes it can create and its strong, versatile nature, it's no wonder that well-known Vietnamese architect Vo Trong Nghia has called bamboo "the green steel of the 21st century".
Check out the images below and the slideshow above for ArchitectureNow's countdown of 15 bamboo projects from across the globe.