Biophilic Vietnam: Vo Trong Nghia
Partner Content: A look at some of Vo Trong Nghia Architects' projects in urban Vietnam that encourage greenery and incorporate biophilic design.
Vo Trong Nghia Architects (VTNA) has grown up against the backdrop of a relentless tear-down-and-build in Vietnam that many have criticised as hasty and insensitive. The firm offers a perspective on green urbanism yet does not affect the planning of Vietnamese cities where there is instead evidence of a systematic stripping of blue-green cover and public space. (Ho Chi Minh City, for instance, lost half its urban greenery in the past 11 years of expansion and development.)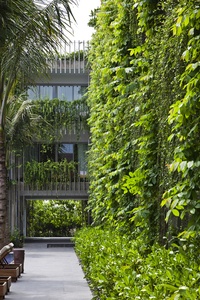 VTNA's work presents itself as both an enabler of passive performance at the building scale and a maker of micro-climate at the city scale. Here are four projects that speak of the role in greenery in urban Vietnam.
Naman the Babylon Resort (2015) demonstrates just how subtle the union of architecture and landscape can be. Here VTNA combines textured planting and rhythmic brise soleil on façades of guest rooms. The greenery has a wildness factor, as if the building has been over-run by nature. Other elements of the resort – restaurant, bar, conference hall – are exuberant displays of bamboo versatility, connecting users to nature through materiality.
In House for Trees (2014), architecture is a vessel for both people and trees. This small home is designed as rooms set in an open courtyard; an approach that is less Vietnamese, more Balinese, wherein the home sits within a garden. The landscaping in House for Trees however is without precedent; each room is a concrete box, each roof holds a full-sized tree, acting as a pedestal for greenery that is as imposing as the architecture underneath.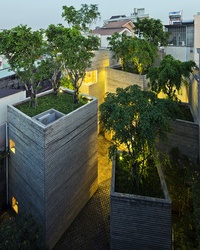 It is unclear how homely this assembly of boxes is – some might like it less than others – but the idea speaks to a wider condition and scale. Were this replicated, the House for Trees would quickly became a City of Trees.
The roof of Farming Kindergarten (2013) offers a new kind of a community space. This is an architecture of interlocking ramps and green roofs where parents of toddlers get a chance to engage in farming. The produce from this farm is used by the school, any excess shared by families. This has deep resonance for a couple of reasons; many who work in Vietnam's factories are displaced farmers who have moved to the city. Most do not earn much. Farming Kindergarten's roof is, in a sense, a position on community and livelihood, greenery that speaks to both social equity and food security.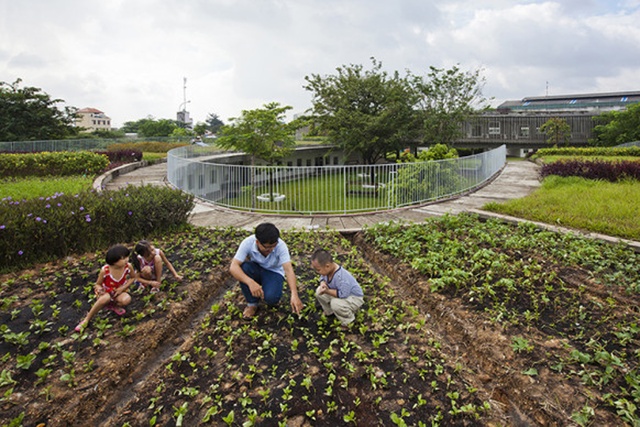 Stacking Green (2011) is a small private residence that uses plants as an environmental filter. Concrete planters line the street facades, tempering the entry of sun, noise and dust. Behind these stacked trays, a glass skin is shut when the air conditioning is switched on.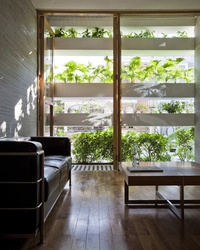 Stacking Green was one of the first VTNA project to make a case for how ideas at the scale of a small building might impact the city. In a rendered street elevation showing multiple Stacking Greens, VTNA suggests that envelope greening, done many times over, might cool both the building and the street.
It is too early (and perhaps optimistic) to ask if VTNA has impacted design practice in Vietnam. VTNA has too few mainstream imitators and none of their built projects are big enough to show us how the building scale interacts with the urban.
That said, the power of its message should not be underestimated. VTNA is hugely influential in Vietnam, especially amongst younger architects. It has started a conversation on craft and innovation, the power of passive performance, the link between people and nature. These are a life-raft to practitioners who struggle to keep up with a pace of development that has been decided for them.
The work of VTNA often reads like research-in-progress; projects appear to be questions about replicability and impact. If the government or planners do not pay heed VTNA might, at the very least, embolden young architects to ask equally compelling questions about the future of Vietnam. 
ArchitectureNow works with a range of partners in the A&D supply sector to source appropriate content for the site. This article has been sponsored by Interface.