Jasmeen Patheja's Talk to Me wins the 2015 International Award for Public Art
Focusing on art and its relationship to urban development, the 2015 International Award for Public Art was a three-part affair, consisting of an exhibition, a conference and a biennial prize for the most outstanding, contemporary, socially-engaged art project.
The experimental work Talk to Me by Jasmeen Patheja was named the winner at the award ceremony dinner held at the Auckland Art Gallery Toi o Tāmaki on the 1 July.
From a shortlist of 23 entries, seven projects were named as semi-finalists including works as diverse as a post-earthquake pavilion in the rapidly-changing city of Christchurch, a 'conflict kitchen' in the United States and a floating, sustainable Nigerian school.
Indian artist Jasmeen Patheja's winning entry Talk to Me is located in an isolated alley in Bangalore, which was nicknamed the 'Rapist Lane'. The name references the fact that it was commonplace for men to linger around there after dark, often drinking and harassing women that merely wanted to get home.
Helped by volunteers who Patheja refers to as 'Action Heroes', for a month the area was renamed the 'Safest Lane' and events were held there that encouraged men and women to sit down and have a conversation over tea and samosas, in order to address fear and build empathy. At the end of the encounter, the 'Action Heroes' offered each participant a flower.
Jasmeen comments, "Talk to Me shows how simply the first steps toward understanding one another can be taken, with the help of a few tables and chairs, some flowers, some snacks, and a willingness to try. We need to make ourselves safe by making other people familiar."
She continued, "It requires a purposeful unclenching of the fist. Fear creates fear. Defense creates defense. We need to build safe cities with empathy."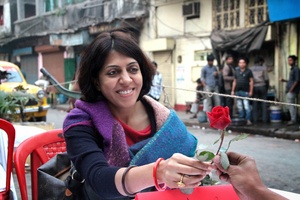 Lewis Biggs, Chair of the Institute for Public Art and former director of Tate Liverpool and the Liverpool Biennial (UK) commented: "While all seven [semi-final] projects could have justly taken the award, Talk to Me caught our attention for its bold simplicity, its economy of means, its compassion and originality, and its courage in facing up to a deeply ingrained injustice within the prevalent culture in India."
Other projects by Patheja include the ongoing I Never Ask For It, Meet To Sleep (2014-15) and Safe City Pledge (2012-13). All works investigate the significant sexual harrassment and sexual violence problem in India and aim to make society safer for women.
Patheja is also the founder and facilitator of Blank Noise: run completely by volunteers, it is a growing global community of individuals (the aforementioned 'Action Heroes'), which mobilize to tackle sexual violence. The participatory projects investigate fear, vulnerability, empathy and trust in public spaces.
Completely deserving of the 2015 International Award for Public Art, the ambitious Talk to Me project was started three years ago, and was described by the judges as "bold, compassionate and courageous."