Book review: Worship: A History of New Zealand Church Design
Worship: a command to the ungodly, or a call to the faithful? New Zealand, despite being one of the least religious countries on earth, has a decent sprinkling of churches left here by our collective founding forefathers, and there are still some who do indeed worship at their altars every Sunday.
Churches are an inherently picturesque part of New Zealand, with subject matter that is well designed and well loved. To accompany Don Donovan's Country Churches of New Zealand, and the recently published Linda and Robert Burgess book Historic Churches, we have another: Bill McKay and Jane Ussher's Worship: A History of New Zealand Church Design.
Without doubt, Worship is the most authoritative book yet on the architecture of the New Zealand church. It is a book written by an architect, for other architects, although I hope the sumptuously presented works in these pages will appeal also to the wider audience. None of these books mentioned is an entirely encyclopaedic tour of every single church in New Zealand; although McKay covers 70 churches, and the Burgess book covers 60, there are bound to be many more missed out.
But, barring the subject matter, the books are very different. While the Burgess book moves methodically, region by region, from the north of the North Island down to the far south, gently chatting with amusing anecdotes along the way, McKay and Ussher take a very different journey.
Starting with the most recent decade, Bill McKay looks at the cream of the most recent crop of churches first, casting his eye widely across the country. This means that the first church building presented is Shigeru Ban's Cardboard Cathedral, which is not a bad way to start a book.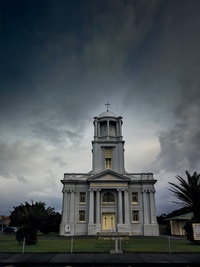 Each period of history is presented with a chapter reminding us what was happening in the world in those relevant decades; then Jane Ussher's beautiful photos take us through several churches from that period. Her photos really are brilliant: well lit and brought out of the page by excellent print qualities, gorgeous thick paper and large full-bleed pages.
The production values of Worship are excellent, as is McKay's writing, carefully setting out the history of each church, the chief players, such as the architect and ministers responsible, and drawing in references from architectural scholars where extensive research has been collected already.
This book will please everyone – the churches, the congregations, the descendants of the architects concerned, as well as other academics around the country, who will be green with envy that Bill has pulled off such a major coup: a life's work. It is, quite seriously, a lovely book that every architect, whether avidly church-going or not, should own. It is more of a coffee-table book, whereas Linda and Robert Burgess' Historic Churches, which confines itself to much older churches, is a book for the car: to keep with you as you visit them.
One minor complaint: our church architecture in Worship has, in all cases, been captured miraculously empty of people. I know we architects like pictures that don't date with unfashionably dressed inhabitants but, at the same time, the pictures eerily depict a vacancy in our church life that eats away at the very soul of the churches themselves: lack of congregation.
Even the vast happy-clapper Victory Church, seating capacity 2,500, is depicted empty of people and, to me, that is a shame: people are the very life of the church. Without them, the buildings will steadily fall to dust.
One other gripe: Christchurch's two battered and broken cathedrals were mentioned but not really featured. It would have been a nice touch and a statement of what New Zealand really thinks of its church design, if Ussher had been able to include some of her deep, rich photos of New Zealand's current architectural tragedies in their current disrepair, weeds growing and pigeons brooding, before they, too, are swept away in the detritus of history.
But that is just a quibble. Worship is a gorgeous book, proudly on display in my architectural library. Historic Churches, meanwhile, sits in the glove box, waiting for its next adventure.