Call for entries: Brick Bay Folly 2018
Brick Bay Sculpture Trust invites proposals for large-scale projects and installations that explore contemporary interpretations of the architectural folly, with the winning design build project to be exhibited for two years at Brick Bay.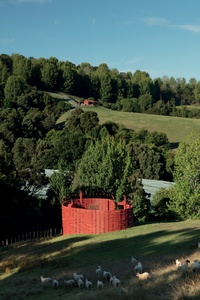 The aim of the Folly award is to encourage young and emerging designers or students to explore the intersections between architecture and sculpture, and the increasing overlap between the two disciplines.
The Brick Bay Folly 2018 is open to all architects, recent graduates and students currently enrolled in an accredited undergraduate, postgraduate or doctoral level architectural programme at any New Zealand tertiary institution (including international students who are currently enrolled in a New Zealand institution).
Applicants must be no older than 35 years of age as at 31 March 2018.
A jury of architects, artists, academics, building experts, engineers and previous Folly winners will select one exceptional project to be realised within the grounds of Brick Bay Sculpture Trail.
The successful recipient/s will receive an overall $30,000 grant towards building the project.
Submission deadline: midnight, Sunday 1 October, 2017
Notification of finalists: Friday 20 October, 2017
For more information, see here. Proposals must be emailed to folly@brickbay.co.nz.