Wellington design studio Proffer continues to define some of the best new hospitality spots in the capital city. Here, they chat about their work and passions.

How did you get started?
George: All three of us have known each other at various points in life. Jack and I studied together at Massey University, both doing industrial design, and Matt was studying textile design. I was overseas for a couple of years and when I came back got really friendly with Jack, who decided to do signwriting. What sort of stuff were you doing?
Jack: It was vinyl and we had a little laser cutter then. We did a few bits and pieces. I think by that time we'd built The Hangar [Café] and I realised that I didn't really enjoy making signs that much and I started trying to diversify a bit but with no clear direction where it was going. We started to get asked to build a few cafés and that became a path we thought we might want to explore.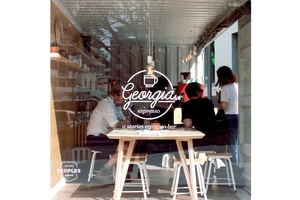 Do you have an ethos or a philosophy driving what you do?
George: We have a mission statement… I think the idea behind it is definitely heavily based on sustainability, transparency and communication of the key driving points of what we want to do.
And does that translate to materials or…?
Jack: A bit of everything, really. Any sort of manufacturing is going to have some implications but we want whatever we produce to be designed smart, so it lasts for a long time and doesn't date; it doesn't become a disposable item. It's difficult to apply one philosophy to every single project that we work on but I think the most basic core goal when we're designing anything is to make it a good product; that it looks good, lasts a long time, and has minimal environmental impact.
Do you have materials and colours that you go back to often?
George: Natural timbers are certainly a passion of ours. We are pushing for more natural oils and stuff like that for finishings. We're really happy with some of the results we're getting from a New Zealand product called Osmo. Honesty in materials is a key standard for us. We hate the idea of choosing something and sticking something else on top of it to make it look like something that it wasn't really intended to be.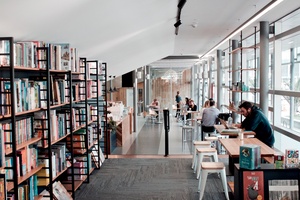 We'll start on a design process with a client and we'll get a feel for what they want and that will lead to material choices which will lead to how we use them in the space. I don't think there's a set purpose for every material. Materials are very flexible when you use them. I think we try and bring that into the design process.
What do you guys admire? What pieces of furniture or design do you always keep coming back to when you're doing things, when you're drawing either locally or overseas?
Matt: Form Us With Love produce pretty amazing stuff; they're product designers doing furniture, mostly. I really like a lot of the work that New Zealander Benjamin Hubert did, and Well Groomed Fox. Note Design Studio would be my fourth favourite, probably.
What do you do for fun?
Matt: Avoid each other. Kidding!
George: No, actually, we all go surfing. We used to be based in Lyall Bay, which was ideal – bunk off at lunchtime if it was good.
And I hear you make your own surfboards?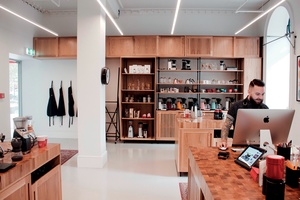 Jack: Yeah, been tinkering with that for a few years as a side project. They're all made of sustainably-sourced materials, recycled polystyrene and paulownia, which grows in the Waikato. Just started off doing them for myself to save from having to buy. I've ended up investing a small fortune in production equipment to mass-produce them.
You guys have been dominating the small hospitality interiors recently… do you say no to much work?
George: It depends how busy we are at the time. We do try and help out. People will often come to us because they've seen something they like and they want something similar, and that's OK. We'll start the conversation, maybe even try and push for something a little bit different, depending on whether or not we feel like what they want is exactly what they need and whether or not we can do something a little bit more special for them. But it's more in terms of whether someone just wants a cheaper version of something that's already available. With that kind of stuff, you do often end up with someone being like 'can you guys make it cheaper?'.
Jack: At the same time, it is quite good having simple work that we can just run through the machines because there's only three of us and we've got 10 stations in there; if they're all occupied and doing work, it means the more money we make on those things and the more time it frees up for us to work on our own products, for example.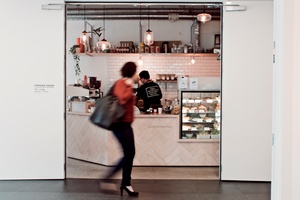 If it's a simple product that a basic skilled labourer can come in and make and it's financially viable for us to employ someone to come in and do that, then we can put them on there and it just takes financial pressure off us and allows us to work on other things that we might be more inspired to do.
Do you do lots of collaborations?
George: We try to. We get approached to do things from time to time. We haven't really got any ongoing projects that have worked out. We've had conversations with people about it but we've always encouraged people to come to us if they have an idea for a product they want to produce. It would be great to do more things, work with people who are experts in their industry and develop a product that they can sell to their network that we produce for them.
Matt: We've started a lot of conversations, we haven't finished a lot of them. I think we'd really like to produce something in ceramic – doing coffee cups or something along those lines would be really nice.