Catalan trio wins 2017 Pritzker Prize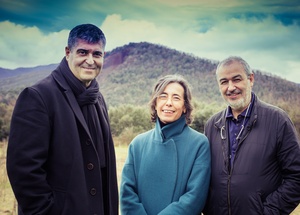 Spanish architects Rafael Aranda, Carme Pigem and Ramon Vilalta have been selected as the 2017 Pritzker Architecture Prize laureates.
The architects were recognised for "their ability to express the local, but also the universal, uniting us with one another through architecture," said the jury.
Aranda, Pigem and Vilalta are the co-founders of RCR Arquitectes, based in Olot in Catalonia, a region in north-east Spain.
This year's announcement marks the first time the prize has been awarded to three architects together and the second time Spanish architects have been honoured, following the recognition of Rafael Moneo in 1996.
The trio attended the School of Architecture in Valles, near Barcelona. After completing their studies in 1987, they returned to their home town of Olot and founded their studio.
They attribute their early success to winning first prize in a 1988 competition to design a lighthouse in Punta Aldea. The practice's design pondered the essence of the typology – an approach that would continue throughout its work.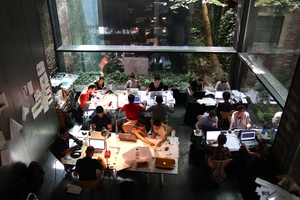 Aranda, Pigem and Vilalta's projects are characterized by "a commitment to place and its narratives," "harmonizing materiality with transparency" and forging "connections between interior and exterior, resulting in emotional and experiential architecture," said the Pritzker announcement.
RCR Arquitectes' work is mostly concentrated in Catalonia, Spain, although more recently the practice has undertaken projects in other countries in Europe.
"Each building designed by these architects is special and is uncompromisingly of its time and place," said the jury.
Jury chair Glenn Murcutt said: "They've demonstrated that unity of a material can lend such incredible strength and simplicity to a building. The collaboration of these three architects produces uncompromising architecture of a poetic level, representing timeless work that reflects great respect for the past, while projecting clarity that is of the present and the future."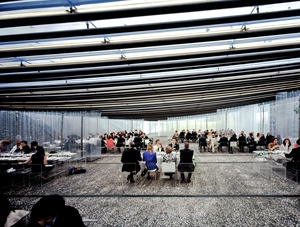 RCR Arquitectes' notable projects include Les Cols restaurant marquee in Olot (2011), which the jury described as an "example of the fusion of landscape and minimal modern materials," and the practice's own office Barberí Laboratory (2008), which is converted from a former foundry built in the early 20th century. "The juxtaposition of past and present is undertaken in a most thoughtful, clear and respectful way," said the jury.
Aranda, Pigem and Vilalta have received numerous awards including the National Award for Culture in Architecture (2005) from the Catalan government, the Gold Medal from the French Académie d'Architecture (2015) and the French Chevalier de l'Ordre des Arts et des Lettres (2008 and 2014).
They were also made Honorary Fellows of the American Institute of Architects in 2010 and International Fellows of the Royal British Institute of Architects in 2012.
The practice has exhibited extensively internationally, including at the Venice Architecture Biennale seven times.
The Pritzker Prize jury described RCR Arquitectes as having a "deliberate and thoughtful approach to architecture."
"Their works admirably and poetically fulfill the traditional requirements of architecture for physical and spatial beauty along with function and craftsmanship, but what sets them apart is their approach that creates buildings and places that are both local and universal at the same time," the jury continued.
"We live in a globalized world where we must rely on international influences, trade, discussion, transactions, etc. But more and more people fear that, because of this international influence, we will lose our local values, our local art, and our local customs. They are concerned and sometimes frightened.
"Rafael Aranda, Carme Pigem and Ramon Vilalta tell us that it may be possible to have both. They help us to see, in a most beautiful and poetic way, that the answer to the question is not 'either/or' and that we can, at least in architecture, aspire to have both; our roots firmly in place and our arms outstretched to the rest of the world. And that is such a wonderfully reassuring answer, particularly if it applies in other areas of modern human life as well."
The 2017 Pritzker Prize ceremony will be held at the State Guest House, Akasaka Palace in Tokyo, Japan on 20 May.