Colin Martin visited this year's Serpentine Pavilion in London, a homage to a special tree in Burkina Faso architect Diébédo Francis Kéré's village of Gando.
A Baobab tree, which shades a meeting place in his home village in Burkina Faso, inspired Berlin-based architect Diébédo Francis Kéré's design for the annual Serpentine Pavilion.
"The architecture [of the pavilion] is breathing, its walls are open…, to create a gathering space which people can enter in many ways."
In 2004, Kéré (Kéré Architecture) received an Aga Kahn Award for Architecture for a primary school in his home village of Gando, built during a break from his studies at Berlin's Technical University. Kéré's buildings are porous structures, contiguous with their environments, typically using air circulation to provide passive cooling.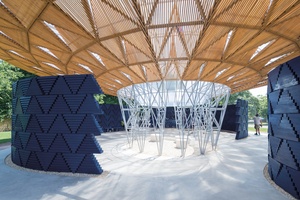 The 2017 pavilion sits on a 330m2 elliptical footprint of poured concrete. The construction comprises four curved sections of perforated timber wall, which overlap without meeting, creating four non-hierarchical openings for people to enter or exit.
A tubular steel truss roof supports slatted timber brise-soleil (sun shade) ceiling panels and polycarbonate-sheet weather protection. An open gap between the tops of the wall sections and the roof, and a central oculus, as well as the four openings and wall perforations, allow air to circulate freely.
On the scorching summer day of the press preview, the pavilion's interior remained pleasantly cool. English summer weather is notoriously variable, but photographer Iwan Baan rates Kéré's pavilion the most rainproof of the many he's photographed. In inclement weather, rainwater will be funnelled off the roof via the oculus and cascade onto courtyard gravel beneath and then drain underground for recycling. That's thunderstorms covered, as well as heat.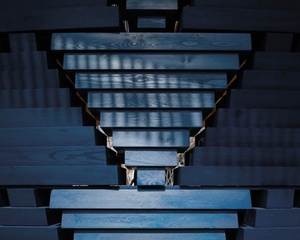 In the flat Burkina Faso countryside, people climb trees to catch sight of the nearest party but Kéré has made it easier for passers-by in London. At night, the roof's underside is illuminated and movements of people within the pavilion are discernible through wall perforations. Far away, the pavilion's simple structure – an indigo blue-painted timber drum and overhanging roof canopy – hints at African modernism. Moving closer, the traditional craft skills underlying its precise joinery become apparent.
A simple wooden bench, hugging a curved section of wall, and 15 carved wooden stools resembling those used by village elders provide minimalist seating. The slatted-timber ceiling panels create dappled shade, animating the light within the pavilion and evoking the effect of a breeze through a tree canopy. Outside, an initially puzzling hemispherical dome of laminated timber functions as a slide for children.
In the week that the Serpentine Pavilion opened, the Grenfell Tower inferno, only a few miles away in North Kensington, shocked and numbed Londoners. In contrast to this culpable failing, Kéré demonstrates what intelligent community-focused architectural practice can achieve.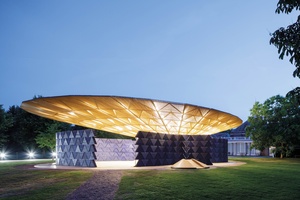 "In the evening, the canopy becomes a source of illumination… In this way, the pavilion will become a beacon of light, a symbol of storytelling and togetherness," he concludes.
It's a timely message to a wealthy city, whose citizens' lives are polarised between affluence and poverty, from an architect whose inspiration and compassion derive from his upbringing in one of the world's most impoverished countries.
The Serpentine Pavilion 2017, designed by Diébédo Francis Kéré, is open at the Serpentine Gallery in Kensington Gardens, London, until 11 November 2017.