A melange of styles and impeccably curated objects turned this Parisian apartment into a welcoming and warm home.
"I love books and I love bookcases," asserts the Paris-based interior designer, Charlotte Macaux Perelman. "In my projects, they're often architectural elements, which help to structure and define a space."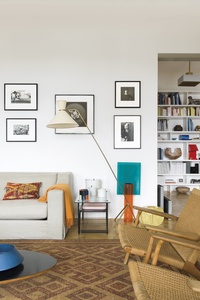 In a New York loft, she created one that ran 35m from one end of the apartment to the other. She also installed shelving units in a double-height dining room with an elaborately painted ceiling on the Île Saint-Louis in Paris. In this flat, also in the French capital, they wrap around the voluminous entry hall.
"The space was too big just to be a simple lobby," she explains. "I liked the idea that what could have just been a passageway was transformed into a place where you actually have a reason to stop."
Macaux Perelman may not be a design celebrity… at least not yet, but she has worked with many people who are. She began her career in the office of Philippe Starck, whom she remembers as being "very open-minded, full of humour and completely astonishing."
While there, she collaborated on the Sanderson Hotel in London with hotel guru Ian Schrager, and later went on to head up the design department of another hospitality king, André Balazs.
Her first project after opening her own firm in 2005 was equally high-profile — the renovation of New York's Royalton Hotel. Today, she not only heads up offices in Paris and New York but is also the co-artistic director of Hermès Maison, Puiforcat and Saint-Louis in tandem with her close friend, Alexis Fabry.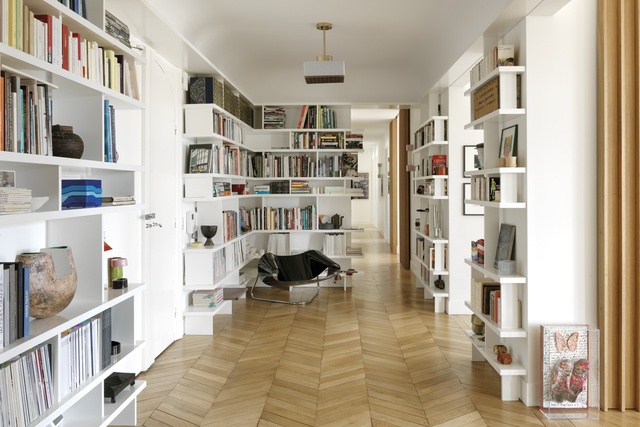 "Charlotte has a very sharp eye and is very demanding," asserts the French luxury house's artistic director, Pierre-Alexis Dumas. "They are qualities translated in her work by a desire for sobriety and simplicity and a love of beautiful materials."
Such characteristics are certainly present in this apartment, which belongs to a journalist who is married with three young children. Measuring 230 square metres, it is situated on the top floor of a typical 19th-century building near the Parc Monceau.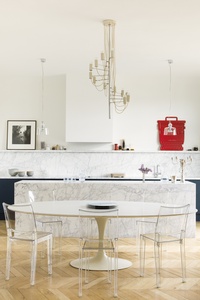 For Macaux Perelman, it has numerous advantages, not least of which is the natural light. It has 12 windows, which also offer stunning views over the rooftops of Paris. "You feel a little as if you're in the clouds," she says.
When she first saw it, the flat had not been touched for decades. It had previously been inhabited by a woman in her nineties, and the last work carried out dated back some 45 years. There were lots of glazed doors, carpets covering the wooden parquet floors and numerous fireplaces. There were not, however, any particularly remarkable architectural details, which gave Macaux Perelman a certain amount of licence.
As she says, "I felt I could remove things quite freely." She undertook a gut renovation, painted the majority of rooms plain white and instead of a traditional cornice, opted to install a gentle curve between the walls and ceilings.
"It's a minimalistic detail, which brings great elegance," she opines. "It catches the light in a quite incredible way and is very soothing."
She was also keen to completely rejig the layout. The kitchen had been right at the back of the apartment; there were small bedrooms, two windowless bathrooms and a crooked hallway. The new floor plan features strong axes. Doors on either side of the hallway are now aligned, and the eat-in kitchen is separated from the sitting room solely by large sliding wooden panels.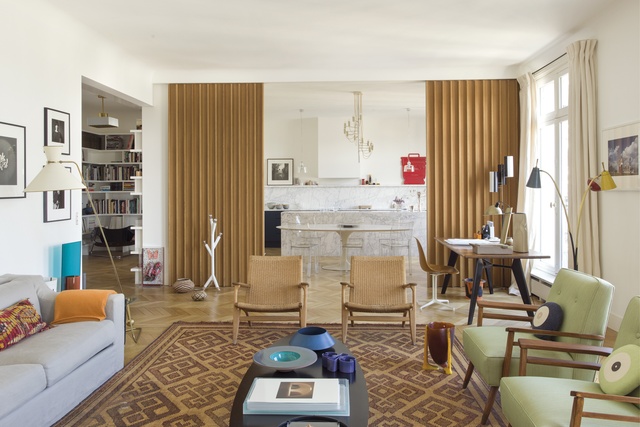 One of the owner's demands, meanwhile, was for a self-contained master suite. The family had previously lived in a succession of lofts in New York and while he loved the openness, he had started to crave a bit of privacy.
"He felt it was time to be able to wash his hair without being surrounded by lots of other people," quips Macaux Perelman.
The rigorous approach here is quite typical of her style. "Her work is really very architectural," opines Alexis Fabry. "She pays great attention to volumes and nothing is ever superfluous."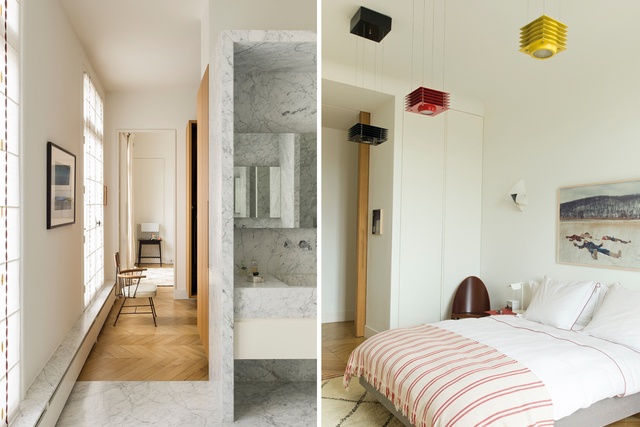 She also largely favours natural materials, with a particular predilection for both pine ("Although it's rustic, I like to use it in sophisticated ways") and marble ("It has a classicism that I really like. For me, it always conjures up Turkish baths and Italian villas").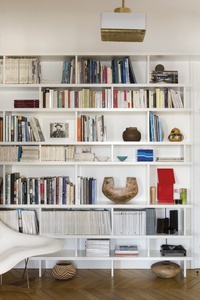 In contrast, the furnishings are anything but classical. They consist mainly of a very personal and eclectic mix of 20th-century pieces. Among them are a George Nelson desk chair, a Gino Sarfatti floor lamp, an Alvar Aalto trolley and an Alain Richard chandelier. There is also a carefully curated collection of ceramics by the likes of Alev Siesbye Ebüzziya, Kristin McKirdy and Gustavo Perez.
"I love ceramics," enthuses Macaux Perelman, "the way clay is sculpted."
Throughout, there are also numerous ethnic touches, which help to add a unique and distinctive personality. They include a vintage straw Moroccan rug, a set of Japanese cushions and a wooden headrest from Mali in the living room.
Then, there is a set of small baskets made from natural fibres by indigenous Indians in Panama, which Macaux Perelman discovered there in a local market. At first, they look deceptively simple. But, as she points out, they are actually extremely complex.
"There are so many knots that each one takes two years to make," she declares. "Look at the quality of the work. It's really quite incredible!"