As with any industry, repeat business is key to longevity for many architects; as such, one of the greatest tools in any architect's arsenal is the ability to build lasting relationships. For Steven Lloyd, previous renovation projects for the owners of the featured property meant he knew they were open to exploring unconventional typologies when it came to building a new house.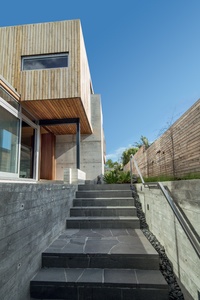 A number of possible sites were considered before the team settled on a long, relatively narrow section in one of Auckland's established inner-city surburbs. 
"A rather unremarkable brick and tile house was sited towards the rear of the section with a detached single garage plonked on the front boundary. The result being a bit of a disconnect between the two structures and the house and street frontage," says Lloyd.
"Historically, the site forms part of the original estuarine bank of Opoututeka Stream, a source of mahinga kai, so when discussions around design drivers were begun the concepts of place and usage were touched upon.
"This introduced the idea of hinaki, or eel pot, which to a degree, metaphorically at least, can be seen in the physical manifestation of the design - internal complexities within an intricately worked exterior – but, more importantly, led to an exploration and evolution around the experiences of occupancy and circulation."
To counter the long section and traditional front-to-back aspects of the prevailing villa typology, emphasis has been placed on separate courts and gardens along the side elevations. These provide multiple views into and through the house, form multiple environments and allow deep penetration of natural light into the interior.
"The entrance to the house has deliberately been placed in the centre allowing the interior spaces to open off to the sides and fold back on themselves, establishing varying degrees of independence between the family areas and private rooms," says Lloyd.
"The materials chosen play a significant role in giving the spaces definition and reference those early discussions of place and usage while establishing an aesthetic that is at once indisputable and also undergoing its own transformation.
"Concrete walls are enriched by the plywood ceilings and walls, panelled as was the original ply formwork. The upper level, seated upon a steel frame is lighter and clad in a totara rain screen. Again this is unadorned and allowed to age and weather. Areas of colour are achieved via light passing through 'randomly' placed cathedral glass panels. This too is an ever-changing palette as the sun moves throughout the day."
Lloyd says the clients were committed to using exposed concrete from the outset. "This was a brave decision as the concrete is not concealed and it is not a passive material – it is as alive as a fluid, reponsive to temperature, humidity and time. In this regard it is geologic; theirs will be a long conversation as it weathers and changes over time."