Turn of the century villas abound within the Kiwi landscape and have been enjoying a resurgence in popularity as inner-city suburbs continue to be gentrified. Solid construction, period embellishments and a not insignificant feeling for nostalgia has resulted in many of these homes being renovated rather than demolished.
One of the limitations usually associated with villa design is a lack of connection to the outdoors. Architects Eva Nash and Kate Rogan were tasked with improving the indoor-outdoor flow of this property as well as providing the family with a much-needed communal space.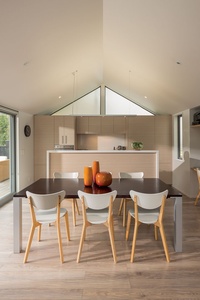 "The project required the renovation of the entire house starting with the removal of the existing lean-to addition and a reworking of the floor plan to achieve four bedrooms and two bathrooms," says Nash.
Also critical to the renovation was to create a sense of procession from the front of the property to the rear where a new addition housing the open-plan kitchen and living area would provide the desired connection to the backyard.
"Not only did we improve the circulation routes within the house, creating a seamless transition from the front door, by off-setting the new addition and giving it its own external access, we've established a new focal point within the home that acts as a gathering space for family and friends and encourages the use of the whole area," says Rogan.
A pared-back design keeps the feel light and fresh and means that while the new addition is open plan, the spaces within can adapt to the changing needs of the growing family. Similarly, the architects chose to incorporate traditional materials but in a contemporary manner; the result being a family-focused home with a modern warmth.
"Projects such as this really allow you to craft the finished result; to respect what is already there to create a home that truly reflects how the client wishes to live," says Nash.