Craftman's community: Studio C
This glamorous yet gritty room is the home of Studio C, a collaboration between a boutique menswear tailor, Blair Wheeler, and hairdresser Devo Peng. Jessica Blair of Jessica Blair Design was asked to transform the large industrial space in downtown Auckland into something of a 'craftman's community.'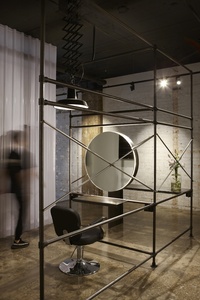 She explains: "I was invited to come up with a layout and design for the salon that complemented the tailor's space. Devo asked for something with theatre that was special and a little unexpected. Flexibility was also a requirement so the space could be transformed for fashion shows and gallery exhibitions."
Circular mirrors are suspended on steel plates welded to a sculptural framework of pipes, which are free-standing and bolted to the concrete. "We had a technical session involving a sample salon chair and masking tape on the wall to get the horizontals and mirrors at the perfect height," says Blair.
"Steel plates are welded onto the cross bracing to hold mirrors, and the horizontal rails at high level can be used to fix a curtain to soften the space." The reception counter and colour station are made from simple folded sheets of steel. All the metalwork was made by Ironcraft.
The space was as a retail environments finalist in the 2017 Best Awards, the winners of which were announced in October.