Rufus Knight checks out Objectspace's National Craft, Applied Art and Design Symposium, which took place at Auckland Museum on 26–28 August 2016.
Hosted by Objectspace director Kim Paton at Auckland Museum, Objectspace's National Craft, Applied Art and Design Symposium was a three-day event (26–28 August) that included significant keynote lectures from South Korean curator Misun Rheem, designer Goliath Dyèvre and philosopher Pravu Mazumdar, as well as a panel discussion and presentations from leading local practitioners in the wider field of art, design and craft.
The three keynotes delivered adroit observations on the contemporary state of collecting and craft. What Misun Rheem made imperative was that, in order to remain vital, craft practice needs to possess a strong cultural expression, rather than be potentially undervalued as an export commodity. She also stated that, in Korea, the distinction between contemporary and traditional craft is becoming less important as craft practice follows a constant narrative of reference, reverence and reinterpretation across the creative spectrum.
Similarly, the work of Paris-based designer Goliath Dyèvre explored design narratives strongly influenced by history and phenomenology. Dyèvre's work, ranging from beehives to blown-glass coat hooks, presented an irreverent and biomorphic approach to consumer-focused briefs while working for large commercial clients such as Hermès and the Cité internationale de la tapisserie, Aubusson.
The international keynotes were rounded off superbly by Munich-based philosopher Pravdu Mazumdar, who delivered an engaging presentation on how our definition of 'value' has changed over time. Moving from golden iconography and jewellery of pre-modern times, through the introduction of coinage in the Middle Ages, to contemporary interpretations and commentary of what denotes value in today's society was underscored brilliantly by an analysis of Dumchamp's 'readymades' and the work of Otto Künzli.
The panel discussion, entitled 'Practice/Practise: Perspectives on making now', chaired by Anna Miles, featured commentary from four leading local practitioners in the wider fields of art, design and craft – artist and activist Luisa Tora, multidisciplinary artist Jasmine Te Hira, architect Sarosh Mulla and craftsperson Areez Katki – on how craft and notions of making influence their respective practices.
To see your peers deliver such considered précis on the interplay of craft principles their work and what craft practice means to their individual experiences was incredibly humbling. To know, or be reassured, that your peers are approaching their disciplines in relevant and engaged ways that question broader sociocultural narratives is also something to have great confidence in.
From Mulla's assertion that his Welcome Shelter project at the Longbush Ecosanctuary "completely destabilised" his previous appreciations for architecture, to Te Hira's empiric notion that "the body is an archive for experience", we see young creatives taking a measured and critical approach to their practice and where it positions itself, historically or speculatively, in the wider field.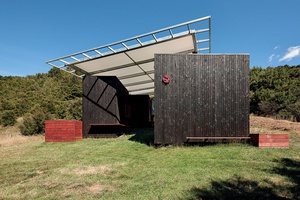 Particularly noteworthy from the discussion was Tora's comment that "if you can't find yourself in the narrative, make it" which, I think, succinctly describes the desire to create and participate in any artistic medium but also touches on an emergent theme within the New Zealand art and design practice of individual historiography.
After all, we are an island nation made up of diverse cultures and customs growing at an exponential rate which, as our design and art industries mature, will, without question, shape creative practice and questions around our national design identity in New Zealand. As pointedly put by Katki in his presentation, there is "no bigger aesthetic crime than ignorance" and this cannot be more strongly emphasised in a design culture that is still to be defined.
The symposium was an intelligent, well-structured and encouraged discussion vital to our art, craft and design industries while evidencing the wealth of knowledge that exists in not only our cultural institutions but also among our skilled craftspeople.
It seems clear to me that our greatest asset in communicating our diverse creative identity is through craft practice and the inherent narratives contained within each practitioner. Like words, objects have meaning and we need to speak through them in order to tell our stories.