Dalefield House by Team Green Architects
For Sian Taylor and Mark Read, directors at Team Green Architects, residential sustainability is also about comfort – the comfort of a beautiful home; of an all-encompassing warmth; of reduced power bills; and, knowing that you are contributing to lower global energy emissions.
Sian, who hails from the UK, calls this comfort approach logical and relevant, yet it is still isn't commonplace.
"There is a lot of talk about sustainable design and passive energy gain in New Zealand, but the building codes and practices do not reflect a mindset towards this."
Her frustration became a shared one with fellow architect Mark, who admits that when he met Sian, he, like many of his Kiwi counterparts, lacked a real understanding of sustainable design. With a number of years experience between them and a clear devotion, they went into practice for themselves. Sian has since gone on to become one of only a handful of architects in New Zealand to become a passive house designer, gaining certification a couple of years ago.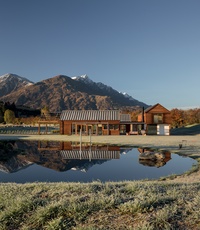 This 350m2 two-level home, set on a three-acre plot, is testament to their ability. Three timber-clad structures, clustered around a central entry court, have a distinct form that is both striking and modern while being sympathetic to the natural surroundings.
However, this house is not only about looks. At completion the home was recognised as the most airtight in New Zealand, with a rating well above New Zealand Building Code minimum standards.
Sian uses an appropriate analogy about a woolen sweater and a windproof jacket to illustrate the benefits of this system in the dry but harsh alpine conditions.
In this home, the metaphorical sweater and jacket are provided by a series of layers.
The windows are triple glazed and framed in European Larch, a true and straight timber that won't warp, and which is Forest Sustainable Certified (FSC). Increased insulation around the frames prevents condensation and therefore mould build up. Unlike aluminium framing, there is no temperature transfer ensuring the 'sweater' of the house is intact.
The vapourcheck moisture management system, the jacket if you will, ensures the house is so airtight the internal spaces are regulated by a two-way mechanical ventilation system, extracting stale air from wet spaces, and pumping fresh air into dry spaces, filtering as it does. If the set temperature drops, the system switches to a groundsource heat pump.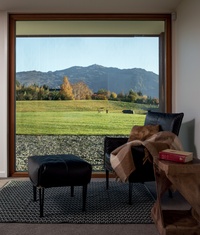 With living spaces north-facing, the polished concrete flooring stores heat from the sun during the day and passively releases this as temperatures drop, providing all-round, consistent warmth that doesn't escape.
"That is often what motivates potential clients," says Mark. They walk into one of our houses and experience immediate comfort, as opposed to just thinking about being energy efficient."
The clients neither suffer for their beauty, nor for being sustainable. Personal or global aspirations, for example lowering the power bill or having a smaller carbon footprint, are important additional attributes, but only part of the equation. For Sian and Mark, and their clients, the answer is about a whole energy efficient solution, that looks and feels good now and into the future.