ArchitectureNow editor Amelia Melbourne-Hayward reviews Varidesk's sit-stand desk, the ProPlus 36.
Full disclaimer: I have wanted a sit-stand desk for over a year now. With the negative effects that sitting in front of a computer all day was having on my body (sore back, desk workers?), alongside the growing body of evidence that suggests that movement is one of the most important things we can do for our health, it's no wonder I was delighted when the Varidesk ProPlus 36 was very kindly set up by my boss to test out.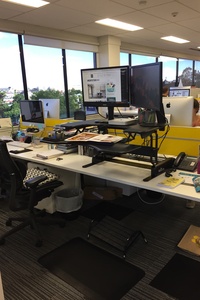 It hasn't disappointed. Super easy to install, as it simply sits on your existing desk, it's straightforwward and quick to raise or lower by pushing down slightly and then squeezing the handles at both sides of the desk. There's 11 different height settings, so unless you are a basketball player, you'll probably be covered.
The ProPlus 36 can easily handle two monitors along with extra space for other desk-related objects (like massage cream for my sore back), and as someone also prone to sore knees, the anti-fatigue mat makes a big difference when standing.
Varidesk claims "standing engages more core muscles, leading to better posture, proper spinal alignment and less pain", and so far I would agree. The ability to be able to change positions, move and even dance behind my desk makes me happy. And anything that can apparently burn an extra 650 calories per week is good in my books! 
I think sit-stand desks are the way of the immediate future, now that we understand more about how sitting and maintaining one pose all day is extremely detrimental to our health, not to mention productivity and happiness levels. Varidesk is a great option for any office and I highly recommend.