Deceptively simple: Number 5 House
Number 5 House is part of a classic Kiwi encampment designed primarily for the summertime. Located at Onetangi Beach on Waiheke Island, about 40 minutes by ferry from Auckland, it sits within an assortment of buildings that work independently and together. Three structures are arranged to ensure they can operate harmoniously for up to five visiting groups of family, friends and guests at any one time.
The first building to inhabit this site was a little cottage, built back in the 1940s, with stunning views of Onetangi Beach; it is now a refurbished sleepout. Architectus added a main residence, Edwards House, back in 1997.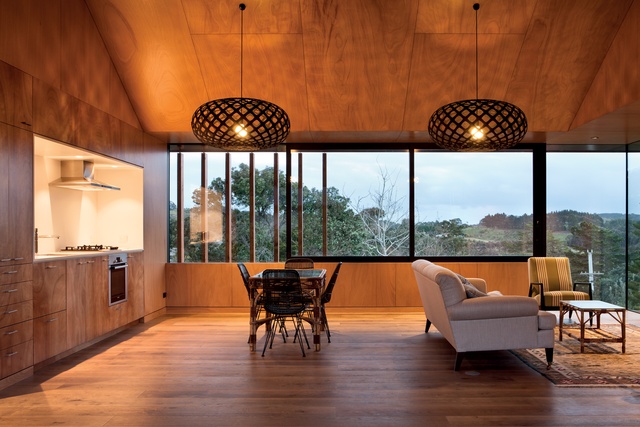 This long, rectangular pavilion is designed to accommodate two families, providing views and sun throughout the day, while an outdoor room forms a courtyard with the cottage – with more views over the beach. The design of Edwards House celebrates 'the idea' of a big strong roof; its steep pitch is supported on a continuous timber truss fixed at regular intervals to white-painted blockwork walls.
Similarly, its neighbour and new kid on the site, Number 5, marries masonry blockwork with timber to further elevate Architectus' skill for creating elegance through the clever use of simple, honest materials. From the timber and concrete stairwell leading to an upper viewing deck, to the paving on the external pathways that are juxtaposed with dark cedar cladding, this is a really pared-back, understated aesthetic.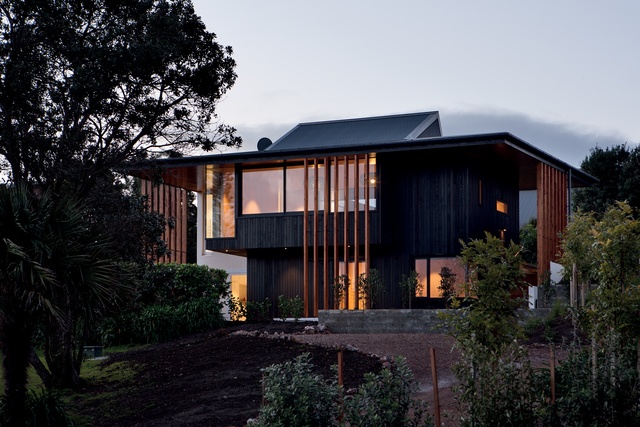 It is certainly sympathetic to its location and avoids high craft because Number 5 caters for groups of holidaymakers coming off the beach during the summer, so it needed a certain simplicity and robustness.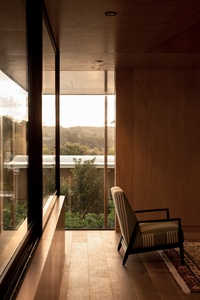 The architects have arranged the floor plan to balance formality and comfort; again, ensuring that groups of people can inhabit the spaces without imposing upon one another. The open-plan kitchen, dining and living area is sited on one side of the verandah and a bedroom sits perpendicular.
The external masonry block wall of the bedroom shelters the verandah and forms the backdrop to a stairwell that leads to the upper viewing deck, a wee terrace for enjoying a few glasses of wine and the view of Onetangi Beach.
Downstairs, there are two bedrooms, a utility room, storage and water tanks. These are linked to the upper floor by an outside staircase, again creating privacy so each space can operate independently.
Number 5 may appear relatively simple and effortless but don't be deceived: the more you look at this design, the more you understand that it is a really well-considered approach – truly sympathetic to its location.
MATERIAL SELECTOR
Patrick Clifford discusses the extensive use of timber in this Waiheke Island guest house.
Which timbers did you use?
Mostly glue-laminated structural timber, plywood throughout the interiors and oak on the floors.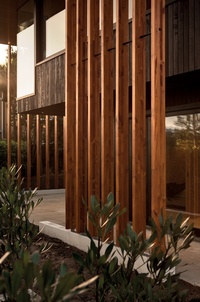 Why was wood so crucial to the design?
We used timber and blockwork on the other building on the site so we wanted to create consistency. But timber also adds variability because it's natural like stone. The gift of natural materials is that they're the same but different, which is endlessly rewarding; you don't tire of them.
The built-in kitchen is a stunning feature – how was this achieved?
We wanted to make the kitchen feel like part of the room, so it doesn't feel separate. We made the kitchen in a different timber to its surroundings to make it identifiable but still integrated; it's like a niche in a thick wall because we liked the fact that, historically, houses had thick walls with something inserted into them; so this cabinetry is almost stuck into the wall.
For an interview with the architects, see here.