Deep south: Stewart Island Crib
Situated at the southernmost end of New Zealand, 30km from the mainland, Stewart Island – or Rakiura – doesn't seem like the obvious choice of location to build a holiday home, but a Canterbury wine-making duo fell in love with the restorative qualities of the place. They employed Tennent Brown Architects to design a three-storeyed house from which they can host friends and people from the wine industry.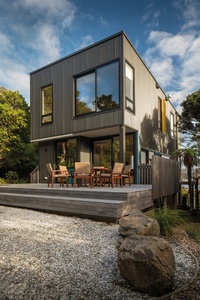 To arrive in Rakiura takes a one-hour ferry ride from Bluff or a 20-minute trip from Invercargill Airport, but its isolation is what makes it a very special place. Only 390 people live on Rakiura permanently.
The 1,570km² island is known for its glowing sunrises and sunsets and, on rare occasions, the Southern Lights offer theatrical green and pink displays. Visitors also come here to enjoy boating, fishing, kayaking, walking and the wildlife; the national park makes up 85 per cent of the island.
Among some of this dense native bush, Tennent Brown Architects have transformed a derelict fisherman's cottage into a holiday home. It was an "intriguing proposition" for architect Hugh Tennent: "The site has a beautiful view over Paterson Inlet and Ulva Island. There is a rātā forest up the hill to the north and there are 6m-tall kāmahi trees on the site. We decided not to take out the trees but to slide a tower through.
"Two bedrooms and their ensuite bathrooms are on the top level; one bedroom looks over the inlet and the other into the bush, so they each have very different qualities. Below is the kitchen, dining and living area and a side deck; downstairs is the laundry, a bunkroom, bathroom and an outdoor shower for washing wetsuits and dumping fishing gear."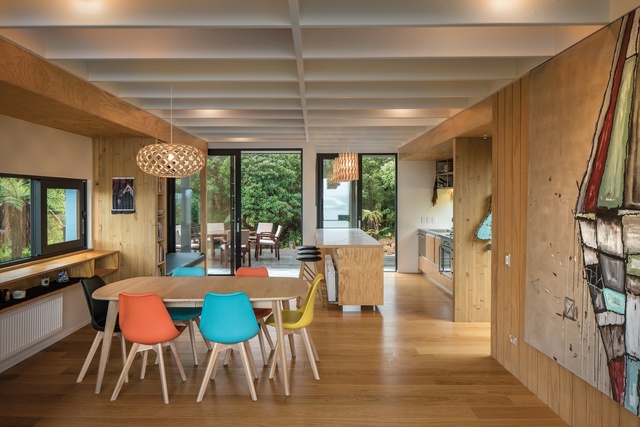 The tower pushes up out of the trees like a periscope searching for light on what is a south-facing hillside. In spite of Rakiura's unpredictable weather at 47 degrees south, it is surprisingly temperate with long summer days but short days during winter.
"It's hard to maintain things being surrounded by bush," says Tennent. "Everything is moist, so you have to be responsible and practical in this environment." The building is clad in low-maintenance coated aluminium and the timber is durable hardwood. Pops of colour in ceiling panels and powder-coated aluminium window fins reference local birdlife – tïeke (saddleback), tūī and kōtare (kingfisher).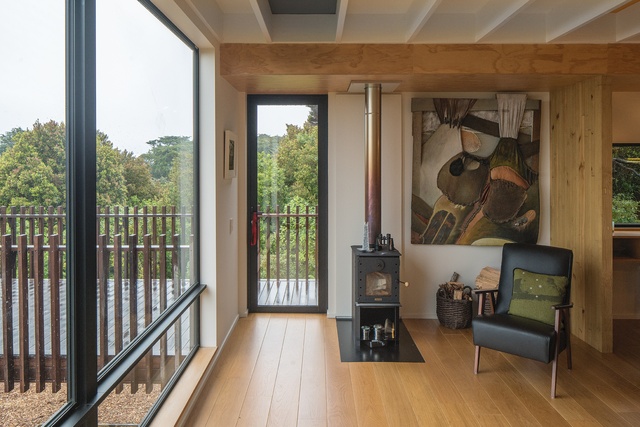 "It's not uncommon to be south facing so, in this instance, we worked with the condition," he explains. "Sunshine uplifts the spirit; however, with this narrow face, you grab what light you can. It's nice to look from front to back to the views and there's a lovely even light looking south – so the building is an exploration of those two qualities: the strong bright light and the darker light over the gorgeous sloping canopy of foliage.
MATERIAL SELECTOR
Hugh Tennent discusses materials and heating choices on this remote southern island.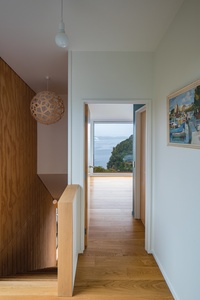 How does your design respond to Rakiura's isolation and harsh climate?
The cladding is low-maintenance and durable powder-coated aluminium. The building needs to function all year round so the north face captures the sun and heats up the building. We also used imported hardwoods to handle the tough conditions.
How do you keep the house warm?
Electricity is expensive on the island, so the house is very well insulated with a wood burner for heat and a diesel boiler fuels radiators for a quick response upon arrival.
Did you ensure the materials costs were kept low?
Yes; building on Rakiura is expensive and materials are not readily available – everything is brought over on a barge – but it didn't mean we couldn't be interesting. We used low-cost everyday materials, such as shadow-clad lining in the stairwell and on walls, pine laminate and, also, we exposed the ceiling.