Design people: Anne-Sophie Adelys
French artist Anne-Sophie Adelys made New Zealand her home 16 years ago, producing colourful figurative paintings that reconstruct life's forgotten moments and people.

Camille Khouri: When did you know you wanted to be an artist?
Anne-Sophie Adelys: One of my first memories is painting. I remember I was given a present, one of those paint-by-numbers sets, and it came with pots of paints already mixed, and I was unhappy with the colours provided. Already I had a thing for colour.
CK: Can you tell me about your education in France?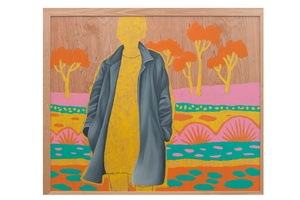 AS-A: I went to Les Beaux Arts in Paris and did a double major in graphic design and fine arts. It was a bachelor's degree, three years long. If you miss a paper, you're out; it's very tough. There were some wonderful artists and teachers, and I am fond of those years. I recently went back to university to do a Masters of Art and Design at AUT.
I had moved my studio from my home to the Corban Estate Arts Centre [in West Auckland]. There are 18–20 artists onsite, so there is a community where I can have discussions with other artists and get some external input but, after two to three years, I felt I needed more. I had become a little lazy on the conceptual side – with the thinking about why I do what I do.
CK: What was your first job?
AS-A: I went on from my degree in France to work in advertising. It sapped my creativity; I couldn't paint for those years. It is such a full-on industry with stupid hours and stupid deadlines. It was a great experience in terms of understanding business and sales, which is something we're not taught in art school.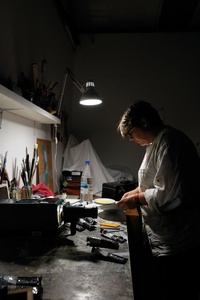 When I arrived in New Zealand, I had an interview at Saatchi & Saatchi, but my portfolio was seen as too European; and I had the same problem with my art. So I learned a good lesson about how your art is very much shaped by your cultural environment. Now when I show in France, I am told it is different from what they usually see. So there is a cultural trend in art and, when you arrive from overseas, it takes a little while to meet halfway in terms of culture.
CK: How did you get into teaching?
A-SA: I started teaching when I was in art school in France. The school was approached by the prison, and they were looking for tutors for prisoners. More recently, I created a mentoring programme at Corbans Estate for immediate-to-advanced-level artists whose practices had stalled. Now I work at Whitecliffe as the Continuing Education Head of Department.
I do value art teaching but not in a formal way. I think art should be accessed by all. You don't have to be in a elitist environment to appreciate art. People can be very creative with Instagram, but that doesn't make them a photographer. They enjoy it, and in the process they consider light, colour, composition and things any artist would consider. They are in a creative process.
CK: Is it hard to find a balance between art and paying the bills?
A-SA: Definitely, yes! Having an art practice is not just a question of having the time to make, you also need the time to think and research. You can't just go to work and then come home and go, 'Okay, I have three hours, I will make a painting' – it just doesn't work. You need time for nothing, for thinking. That's hard because it's unpaid time and it's undervalued. People say you do it for the pleasure and that's true, but I also do it because it's my job: it's research, it's an art practice. It's a bit like a scientist constantly going further trying to scratch the itch.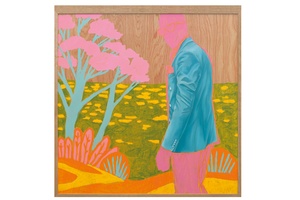 CK: What brought you to New Zealand?
A-SA: Oh, a man. Is that not always the case? He left, I stayed. Very quickly I grew roots in New Zealand – I love the culture, the life, the people. I visit family in France but when I say I'm going home, I'm talking about New Zealand. I've been here for 16 years now.
CK: What are you working on at the moment?
A-SA: I am doing some documentation work. I had a tough year personally, and my art practice stalled. I was in a crisis in terms of what I wanted to say and how I wanted to say it. My perception of the world has changed drastically, so the way I express myself has changed too. I am currently experimenting and documenting the way I can change my art to say it differently. It's like a clean slate, questioning everything. Maybe I am having a mid-life crisis in my art practice!
CK: Is there an artistic project you would love to do?
A-SA: I'd love to go on an artist's residency overseas. In the last few years, I have realised that risk and change can open up your eyes to something new. If you embrace the change and the anxiety it can bring, it can be a good thing for your art practice. Antarctica is my dream! I am quite focused on colour. The idea of having colours removed would be such a great challenge to reconcile.