Designer profile: Adam Goodrum
Australian designer Adam Goodrum first gained notoriety within the industry when he won the prestigious Bombay Sapphire Design Discovery Award for his Eve chair, in 2004. After a successful collaboration in 2008 with Italian design firm Cappellini for the Stitch chair, Goodrum has become one of Australasia's most well-known industrial, furniture and product designers. Amelia Melbourne-Hayward talked with Goodrum on the eve of his AGxCult collection launch in Auckland.
ArchitectureNow: It seems like you've had a passion for design since you were little – where do you think that that comes from?
Adam Goodrum: I grew up in Perth, Western Australia, I am told I was always good at drawing and as a kid always loved making things, it was a conducive environment to make things. I live in Sydney now in the city and it's very built up, but where I grew up everybody had a backyard with a shed to make things. Dads and Granddads would help to make things like go-carts and surfboard trolleys. It seemed so normal at the time but I look back and see it as a very special time.
ANow: Where do you find your inspiration?
AG: A lifetime of experiences! I love fashion, I love art. I don't think there's anything specific – I love mechanisms and geometry, but it's more about everyday experiences. In regards to furniture, I like watching the way people engage and use things.
ANow: Who are a couple of your Kiwi design heroes? And other designers that you respect/like?
AG: David Trubridge and his sustainable design ethos – I appreciate his business model and his success internationally. I really like his story, how he's come from a boat-building background. Resident is a lovely brand– I appreciate their international agenda. Australia hasn't done that so much, but we are actively working to take our new Cult collection overseas that we launched in Singapore last week.
I love Alexander Calder, he's a sculptor who invented the mobile, moving kinetic art. His process is fascinating – he's brilliant. Confident form with bold colour.
ANow: What do you enjoy the most about designing furniture?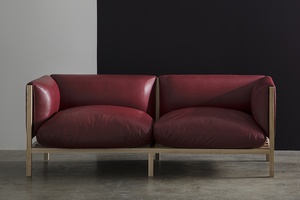 AG: I enjoy the moment of discovering a new idea, and needing to realize it. I find that sort of honeymoon period at the beginning very enjoyable and then it gets harder, the whole resolving of the product in regards to production etc…
ANow: Yes, and that leads to your least favourite part…
AG: Nutting through production with manufacturing constraints and that kind of thing, but I still enjoy the process of working with the maker and finding clever solutions and at the end of the day having an outcome that is fully resolved. Then knowing that people have purchased it, and that they're using it in the way it was intended, hopefully it has contributed to an environment – it's rewarding.
ANow: Do you think your designs have changed or evolved since your success with the Stitch chair for Cappellini?
AG: My Stitch chair was very much off the back of me doing exactly what I wanted to do. When I was at University there was a workshop available and I lived there, just making things, and then I lost the workshop so I started playing with cardboard and paper at my kitchen table. That came about from pure process. Now I'm normally working with a bit more direction, trying to think more about typology or solving a problem. But in regards to the way I work I think it's still kind of the same, it's still very rigorous – making, resolving, that kind of thing. I think it's probably similar but different.
ANow: Do you design for a particular audience? Who do you imagine sleeping in your Cult Aran bed, for example?
AG: I wanted to create a collection with a coherent language but individual pieces that would still have their own personality. It was definitely important to create pieces that had a friendly feel, not austere – inviting furniture. A residential feel but still with an open-mindedness that it could sit in a commercial environment as well. However the commercial environment now does want to be a lot softer.
The Aran bed gives the user their own environment, and the integrated bolster provides an armrest for reading.
ANow: What are your favourite materials to work with?
AG: I don't really have any favourites, I just like new challenges. I love working with timber – timber is fantastic and beautiful to work with, all its idiosyncrasies and the way it behaves. I love the result and the way it's never the same, all the different grains and knots. Metals are also amazing - sheet metal, casting. Soft furnishings for me are a bit of a new thing, so that's been an interesting learning curve, I love the textures of the fabrics and resolving ergonomics with the foam. I'm also very interested in new materials and new technologies, such as graphene.
ANow: You've been exhibited across the world now, what culturally have you taken away from your overseas connections and your interactions?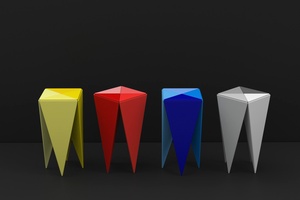 AG: Working with the Italians introduced me to a level of design and attention to detail and a culture that I'd never experienced before. The pedigree with the brands and the designers, and the beautiful rapport a company has with a designer. It's a pure collaboration, both are seen to be just as important as the other.
I really enjoy going to Italy and walking past a mechanics garage and they have the doors open, revealing their immaculate space, their tools are lined up perfectly, and they're working to beautiful music. So proud of their trade and craftsmanship. In Australia you wouldn't see that type of proud making component, it's not in our culture. I really appreciate that part of their culture.
ANow: What sort of direction do you think the Australia and New Zealand design scene is heading today?
AG: I hope that culturally we are becoming more proud. I think New Zealand has a prouder culture than Australia. In Australia I don't think we embrace our own culture in quite the same way unfortunately, but I think that might be changing particularly on the design front. Specifiers are wanting to specify local product.
I think it is really important on so many levels, it's kind of like good cooking, you use the ingredients from your backyard, it's good business – you're working with local people, stimulating local industry, you're working together, and on a personal level it's satisfying. You build a rapport, and create a long relationship. I think that's starting to happen more, which for me is really exciting because I want to work with companies where I live, it makes sense.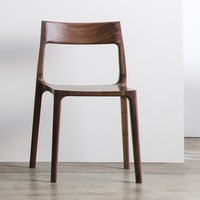 ANow: Finally, which item from the new AGxCult collection is your favourite, and why?
AG: Potentially the Molloy chair, only because it was very ambitious as a project, there are 8 separate components all made separately on a 5 axis CNC machine. The programming for the cutting path took a long time to resolve.
My intention was to create a beautiful dining chair that could stack but would hopefully not read as a stacking chair.