Designer profile: Clark Bardsley
Working from his studio, which overlooks a cricket pitch, Clark Bardsley designs exciting, distinctive furniture that typically aims to reduce waste and to generate some amusement as well.
Justine: Why did you become a designer?
Clark: I always wanted to be an artist but when I was at high school, I thought being an artist meant becoming a graphic designer. My art teacher told me to have a look at industrial design, so I studied the subject at Victoria University of Wellington. The course was quite abstract and artistic, rather than focused on being practical and technical. It had a conceptual vibe to it, and I really got into that.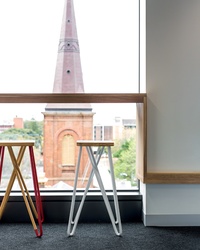 Justine: What was your plan after studying?
Clark: I didn't have one; it just fell into my lap. A client for one of our university projects was Methven (bathroomware) and I ended up with a full-time job there. I started at the same time as Kent Sneddon (who was head of design). He came from Fisher & Paykel, and it was a revolutionary year at Methven because he was like 'Let's completely change the offering and try to update it' – so we were doing this exciting contemporary work.
All the products did really well and are still being sold 10 years later. We were trying to change the perception of Methven and, for a young designer, it was awesome because you felt like you had a huge influence and were actually changing things that were going to sell.
Justine: You were very lucky to have that kind of introduction into the design industry.
Clark: Yes. Kent had brought in so many graduates of Fisher & Paykel, people like Jamie McLellan and others. Kent had a lot of experience working with fresh graduates, helping to start their careers, so I was lucky to have him and not just Methven but 'that guy'. Sadly, Kent died of a heart attack when he was only 42.
Justine: Where did you go after Methven?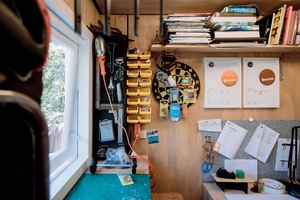 Clark: My wife and I went overseas because we travelled for six months and then went to London. The intention wasn't to do an OE but to look for a great job, plus I had a British grandfather so I could stay for as long as I liked. I wanted to get a lot of experience behind me and ended up in London for four years.
Justine: So where did you end up working?
Clark: A company called PearsonLloyd. What I liked about working for them is they are basically a furniture design studio, but their work is so multi-disciplinary. They also run a good business, in that they are very strategic about the types of projects they take on. They would have a workplace commercial furniture client, an Italian furniture client and, then, a government client.
As a result, there was a nice set of jobs coming in, which made me think, 'That's what I want to do'. I became a senior designer and worked in Bath every month with the Council on street furniture. We were reinventing the streetscape of Bath, much to the Heritage Society's concern.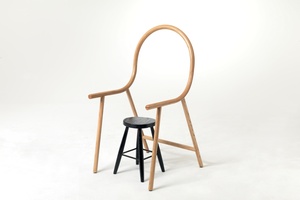 I had never really thought about heritage before, so coming back and seeing New Zealand through those eyes made things really interesting. There actually is heritage here and we have to celebrate those pieces. That balance between new and old is something I really learnt how to do well in Bath. How do you make sure you're designing something that's contemporary but feels right with what's been there before?
Justine: It must be interesting to look at the ergonomics of chairs, in particular; you want to create a great design but you don't want a chair that's really uncomfortable. I often think about that famous Philip Stark-designed lemon squeezer that looks great on the benchtop but it is not really that functional. What is the merit in producing something as a conceptual object? Surely, as a designer, you're in danger if you try to pretend your design is something that it's not.
Clark: That's right, you have to be honest about what you're designing. Have you seen my armchair with no seat (Arm anti-chair)?
Justine: Yes, it's so obviously conceptual, but it's a joke that we need.
Clark: Yes, I think we do. It is functional, but it's not the expected one.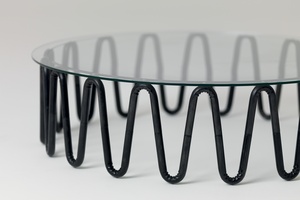 Justine: What are you creating at the moment?
Clark: I'm working for several days each week with Ben (Corban) and Dean (Poole) at Alt Group, and I approached AUT and found a job teaching. I'm also contracting to a product development company designing consumer electronics. Four years into being back in New Zealand, and I finally feel like I'm building something.
When you first come back and you've got no clients, you have to start again so you design for yourself. That's where all these products come from, like my Tangle stools and the Wrinkle table. I sell to retailers and directly to consumers through my website, or people just approach me. Obviously I don't have a warehouse full of products, but these things are a labour of love.
Justine: What are you designing now?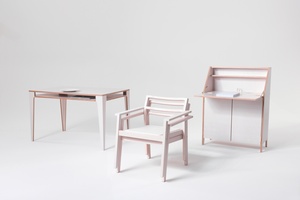 Clark: Mitchener Architecture and Design and I are working together – an architect and an industrial designer – to create architectural products that make good use of decent amounts of waste. It's all very well to turn it into something jewel-like but, then, you're only creating such a small reuse. We're making big things like screens and panel products and acoustic wall tiles.
Also, I'm working on a range of furniture for living in small houses. I feel like no one in the furniture design realm in New Zealand is talking about this problem of density. Architects are starting to do that now, but the furniture is just as important in enabling a way of living. I came up with three pieces (a table, bureau and stacking lounge chairs), just from living in my own small 67m² house with a baby.