Designer profile: Kris Ericksen
Designer Kris Ericksen is the creative mind behind modular design system Plato – an experimental interlocking product that allows users to create their own designs for practical use, such as in lighting or sculptural forms.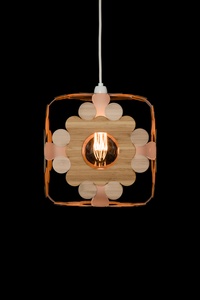 Justin Foote: What's your background in terms of design?
Kris Ericksen: When I was growing up I wanted to be an architect, but I ended up studying Botany and Natural Resource Management and working for the Department of Conservation. Although I did continue to dabble in art and design by entering the World of Wearable Arts (WOW) Awards each year.
JF: How was the Plato Lighting concept born?
KE: About three and a half years ago I met with Jelle Nijdam of Joug Design and Joug Made. He showed me some lampshades he was making from sheets of polypropylene. I remember thinking, 'Wow, what an amazing and versatile material'. I came up with a concept for a flat-pack wastepaper recycling basket, which used the joins between the polypropylene sheets as a design feature. I had a small pile of these manufactured.
However, there were so many cheap wastepaper baskets around and it was such a niche market, I felt I was on a ride to nowhere. So, left with all these prototypes, which were essentially waste, I started to play with them. I cut them into different shapes and soon realised that they could be interlocked in a variety of different ways. I came back to New Zealand and kept on experimenting.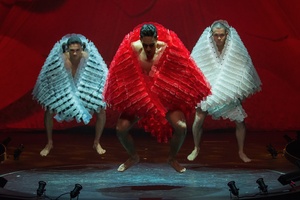 Then, in 2014, Ian Loveridge, who helped me create the electronic files for laser-cutting the prototype shapes, suggested entering WOW. This led to the creation of Phoenix Transformer, which came second in the South Pacific section. The following year I created Tane's Korowai – a cape – using a variation of the Plato shape I call the Rata Flower. After a little more play, Plato Lighting was developed in mid 2015. We officially launched the product range earlier this year.
JF: How do you source the materials?
KE: Environmental and social responsibility is top of mind when sourcing materials. We use recyclable plastic and we will soon be signing up for carbon offsetting. Our products are New Zealand made and we are proud to work with local companies.
JF: What are the benefits of Plato over other products available in the marketplace?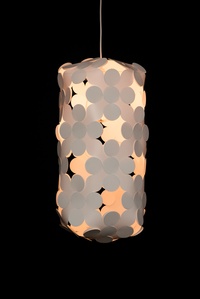 KE: The major benefit is you can assemble your light shade to the purchased design, or you can reconfigure it to your own liking. The pieces are two dimensional and slot together in many different ways. Also, playing with Plato is fun. It feels good to handle, it's engaging and it's therapeutic to let your creativity flow.
JF: What's next for Plato?
KE: I am currently exploring acoustic panels for walls and ceilings. As with the lighting range, users would be able to make their own patterns and shapes and personalise the design to suit their taste. Because of the interlocking design, there are many other product possibilities including felt rugs and floor coverings.
The Plato Mini shapes are already proving to be a wonderful craft and educational tool. I've now run several sessions for adults and children, and people just love playing with Plato. I'm a firm believer that play, creative exploration and discovery (without the pressure of having to make something specific), are fundamental to our well-being.