Young New Zealand expat, Briar Hickling, talks about succeeding in the competitive world of interior design in China.
Urbis: How long have you lived in Shanghai?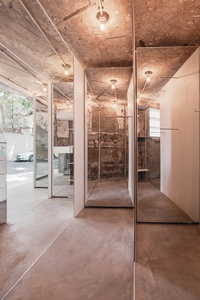 Briar Hickling: I moved to Shanghai in 2009 and actually didn't intend on staying for as long as I have. I worked as a senior associate with architectural practice Neri & Hu for six years, which has had a big influence on my work as an interior designer. In 2014 I co-founded Linehouse with Alex Mok. 
Urbis: Do you bring a particular 'New Zealand flavour' to your experience of living and working in Shanghai?
BH: When I was living in New Zealand I worked on many small-scale hospitality projects and developed a deep understanding of how to work at a very detailed level. This is what I brought personally to my work at Neri & Hu and also bring to my current practice. But culturally I think New Zealanders like to embrace new things and take on big adventures and I definitely took that attitude on board when I moved.  
Urbis: Have you adopted any markedly different design processes?
BH: Shanghai is completely different to what I was used to back home and so I had to change my approach in order to get the best out of the process. Fortunately, Linehouse has been able to thrive in China because of a strong network of local contractors, manufacturers and suppliers with whom we regularly collaborate. Their support is integral to what we do as it allows us to develop and move quickly.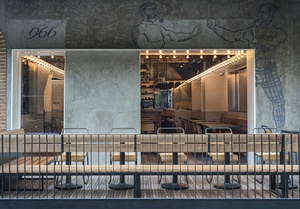 While working in China isn't without its challenges, we've come to embrace the fluidity of the building process. Our quickest project to date took just two months from design inception to construction completion and the only way this could happen was by working with people who understand this process.
Urbis: How does Shanghai's history and culture influence your work?
BH: It's a fascinating city and when I first arrived I was taken aback by the 'performative' nature of Shanghai – private rituals such as cooking and bathing often take place in the street. Boundaries between private and public are blurred and our projects reflect this aspect of Shanghai's urban environment. I'm inspired by the activity I see on the street on a daily basis and in our work we try to capture these everyday moments by playing on the element of performance. 
Urbis: How would you describe the Linehouse aesthetic?
BH: Even though many of our projects are interiors, we have a very architectural approach and constantly strive to create spatial qualities that are compelling rather than decorative. We're particularly interested in using ordinary materials in unexpected ways. In Côte&Ciel's façade, for example, we utilised metal poles purchased from the local market and made the structure distinct by applying five different finishes gradating them vertically and horizontally.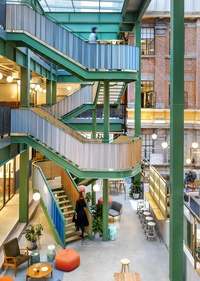 Similarly, in our fit-out for Lone Ranger we used plain rope to create a bespoke light installation that defines the space. We try to do something unique in each project to avoid a signature style. If we can look at the final build and describe it as bespoke, then we're happy with the design outcome.
Urbis: What are the current trends in hospitality and retail design within Shanghai?
BH: When I first arrived in Shanghai the majority of Western restaurants were fine dining. We're seeing more casual eateries opening up now, which are owned by people who recognise the need for good design. Things are changing constantly and this sense of the cityscape's impermanence allows designers to be more playful and experimental with their designs. In regard to retail design, fit-outs are becoming increasingly informal in their schemes also, as more small boutiques open; it's not just about the high-end brands like Louis Vuitton and Gucci anymore.   
Urbis: Which Chinese architects and designers do you most admire?
BH: I really like the work of Neri & Hu and admire their holistic design approach, while Wang Shu is excellent for the way in which he re-contextualises traditional Chinese elements into architectural masterpieces. Deshaus has done some interesting work in regard to Shanghai's urban fabric and Ai Weiwei's work is always beautiful, poetic and culturally challenging. 
Urbis: What is a typical working day in the life of Briar Hickling?
BH: I spend a lot of time on site, as it's really important in Shanghai to be hands-on with the construction process. Something unexpected and curious is always bound to occur because a lot of the coordination and decision-making happens so fast. We also spend a great deal of time sourcing custom-made products and visiting factories and salvage yards, as well as collaborating with local tradesmen.  
Urbis: What projects are you working on now?
BH: We're currently working on an office project for Canadian brand Herschel, a tea house in the art district of Shanghai and the fit-out for street-wear brand ALL SH's second Shanghai store. I'm pretty excited about also starting work on an F&B project located in a new Thomas Heatherwick-designed building.
We recently completed the headquarters for New York brand WeWork, which is in an amazing old brick building that used to be an opium factory. We work on a lot of large projects, but like to mix it up with small-scale projects as well. These have such a fast turnaround and this means we're always able to create something really interesting.