Auckland's picturesque suburb of Devonport is composed of immaculately maintained Edwardian and Victorian villas. Its public library (in theory, there has been one on this site since 1887) is nestled amongst mature pohutukawas, Phoenix palms and an architectonic Moreton Bay fig tree dating back to 1883. To the west, is a tranquil main street – often interrupted by the trotting of a Clydesdale horse-drawn cart – and, to the south, a boat-speckled ocean. "So, what that means is that, as you go around the building, there are different internal and external conditions," says Jon Rennie, director of Athfield Architects (AA), the firm in charge of the library's latest incarnation.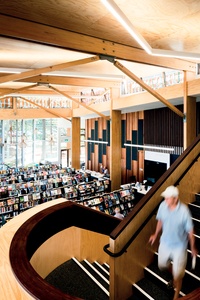 To react to these conditions, AA opted for a Victorian verandah-inspired building, whose various rooms seem to be flushed against its perimeter, following a circular flow as you move from space to space. Past the main entrance, one is welcomed by a fireside living room (the interior sought a domestic rather than an institutional mood) followed to the right, by a bach-inspired community room and, anticlockwise from there, a children's space with sculptural soundproofing and sea views, a glass box housing the staff area, the young adults' section and the raw pine tones of high and airy main shelves. There is a central grand staircase in the middle, which, according to Rennie, "is about being able to experience the height of the space: the ability to circulate throughout the space and not sit outside it the whole time."
There is a huge amount of detail in this building: its furnishings (stunning carpet design), artwork (new pieces and historical) and spatial solutions (a Judy Millar-designed curtain subdivides the library for various uses), as well as its architectural expressions. There are unexpected passageways that allow one to bypass certain areas of the library; clever shelving units abound.
In general, the decor responds to - and in some ways emulates – the leafy surrounds and makes the most out of sea views, light, breezes and sounds. The colour palette of the disparate New Zealand-designed furniture pieces echoe tree leaves in various seasons. The main material here is local pine (both raw and stained) and North American cedar. There are clerestory windows, and natural ventilation throughout the space.
Yet, this library's biggest success is not in its obvious beauty and attention to detail, or in how well it fits within its architectural and geographical context, or in how deftly it navigated a cumbersome public consultation process… but in how well it rids the library of its panopticon.
Rennie explains how, back in the 90s' when AA was researching for the design of the Palmerston North Library, he travelled to Scandinavia. One of the things that he remembers is the region's open library system, where the buildings are staffed during business hours and, after that, members of the public can allow themselves in via swipe cards.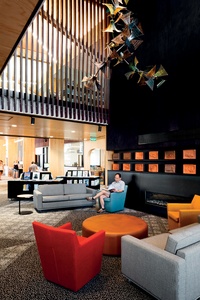 Although, possibly, our local conditions are not ripe for such freedoms, this library does a great job of allowing the public to occupy this space, pushing any reminder of the bureaucratic powers that enabled it slightly more behind the scenes.
The first iteration of this is at the entrance, where the reception desk has been taken out of sight, hence removing that sensation that one is coming into a tightly controlled inner sanctum. "It's about creating a space where people can come in, find themselves, find each other… and not necessarily be confronted with someone questioning why they're there," says Rennie. "For many people a library can be a confrontational place and what we're looking to do is to serve not just the people who are regular goers but also those that wouldn't come here otherwise."
This feeling of self-service permeates other areas of the interior and exterior spaces: there is an outdoor reading area, places for privacy, an additional, un-monitored entry point, the young adults section seems built for theatricality and freedom. By placing the children's section next to the fireside lounge (a favourite for the elderly), there is a nice "custodial relationship" (according to Rennie) being instigated by the interior.
It's been said that an open library is a sign of an open democracy and, if one is to abide by the edict, this interior space succeeds on many levels.