Diverse and dynamic: David Flack
An Australian designer with an affinity for loud, expressive commercial interiors talks to Leanne Amodeo about his inspiration and work.
When David Flack launched his eponymous studio in late 2014 he also introduced the world to some new words. 'Flackify', according to the Melbourne-based interior designer, is a verb he uses – meaning 'to transform a space into an experience'.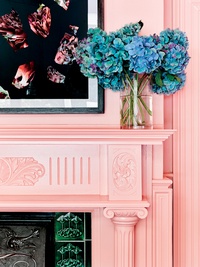 And if there's anyone who knows a thing or two about that, it's Flack, who's quickly built a reputation for delivering high-end hospitality, retail and residential projects of strikingly lush colour and strong materiality. "We're not serving up beige spaces," he says. "It's about challenging myself and the client and also challenging people in general about what design actually is."
Flack approaches every project in the same way to maintain consistent rigour across each of the studio's portfolios. His 'Flacktastic' process can be broken down into four different stages – listen, translate, craft, amaze – and he works closely with his team of six to achieve a customised result.
Injecting each project with a sense of the client's personality is high on the list of priorities. "There's always something in the space that tells us what to do," notes Flack, who studied interior design at Melbourne's Swinburne University of Technology and worked at renowned Kerry Phelan Design Office prior to establishing Flack Studio.
"A client could be an art collector for example, so we might work a space around some of their pieces." Picking up on these cues is the starting point for every project and from there, Flack adds his own particular twist for a contemporary outcome informed by classic Modernist sensibilities.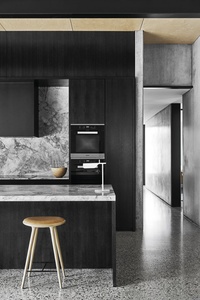 While there's no denying Flack's distinct signature style, there is a marked difference between his residential interiors and commercial work. The latter are definitely more flamboyant than the former which are clean and pared back. Bendigo Residence, a multi-awarded home on three acres of native bush in rural Victoria, perfectly characterises this minimal spirit.
The interior's scheme is uncomplicated, defined by a robust materiality comprising concrete walls, dark-grey terrazzo flooring and black steel ceiling beams. For all its austere appeal, there's still opulence to be found in the highly textural material palette. Flack proves himself a dab hand at selecting furnishings that are nothing short of delicious, too.
All restraint is thrown out the door on his commercial and retail fit-outs, where the designer's own personality is more on show. "I love when materials clash and I love lots of clashing colour. We're definitely pushing boundaries, so our projects aren't cookie-cutter," Flack explains. The red and pink colour scheme of Parisian-style bistro Entrecôte in Melbourne's leafy South Yarra still has people talking after two years.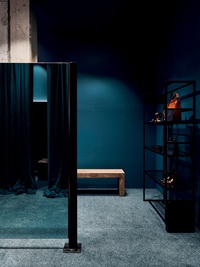 The deep-green-coloured changing rooms of Flack's recently completed fit-out for fashion boutique Ginger & Smart on the Gold Coast is completely unexpected, shifting the benchmark for Australian retail design.
There's an obvious sense of fun and playfulness in these interiors and Flack is the first to admit he doesn't like to take himself too seriously. That being said, there's always formality in the planning and functionality of each space and his material palettes are selected for longevity, as well as aesthetics. Flack's colour choices may seem completely out of left field, but in actuality they are extremely well considered, chosen to withstand passing trends and give customers a memorable experience.
Travel plays a big part in Flack's creative process and his designs are definitely informed by the places he visits. One of his favourite destinations is Palm Springs, for its outstanding examples of mid-century modern architecture. It's such a strong passion that he started his own Palm Springs architecture tour administered by his studio. The next is scheduled for 2018 and, as with previous ones, gives participants private access to some of the desert city's finest homes.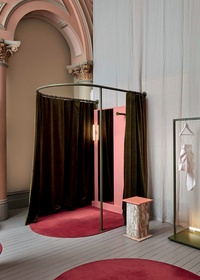 "We speak with people who are connected to the houses we tour so there's more of a personal engagement with each property," he says. "Once we spoke with Ray and Charles Eames' granddaughter and she shared stories about her grandparents for three hours." The tours are a way of building a sense of community amongst creatives and the creatively minded.
It's a type of 'design outreach' that reveals Flack's spirit of generosity and boundless energy, which extends beyond his project work. He's often invited to speak at industry events and although his practice is only emerging, the buzz that surrounds what he does is palpable.
Flack's current works in progress are as diverse as they are dynamic, including a renovation of a Robin Boyd-designed house in Melbourne's Kew and an old homestead just outside of the city, as well as a fit-out for a bakery in Seoul. He's also designing a plumbing showroom that, in typical Flack style, promises to be a plumbing showroom unlike any other.
The beauty in his interior designs is that they immediately engage the end-user and continue to maintain this engagement through dynamic colour and material palettes rigorous in both concept and aesthetic.