Located just 20 minutes north of Dunedin, the township of Doctors Point at the southern end of Blueskin Bay is that rare breed of bush-clad idyll situated within easy commute of the vibrancy of city life – one of the reasons why the former holiday home community is welcoming more and more full-time residents.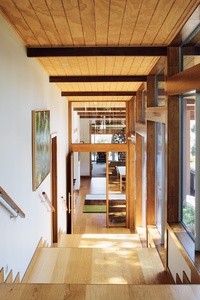 The site chosen by architect Francis Whitaker's clients is north facing, bordered by bush and has a gentle slope that runs down from the roadside toward the estuary. Architect and clients were determined that the house should not overwhelm the surroundings and so the building follows the contours of the site with the roofline barely rising above the canopy.
"The site itself is quite expansive and enjoys all-day sun so there was little need to build up or to clear any more of the trees than was absolutely necessary to provide a comfortable home while still protecting the bush," says Whitaker.
In fact the design of the house was in part determined by a mature tree the owners were adamant about keeping. Other acknowledgements to the natural world include a predominance of exposed timber both internally and externally and a seamless transition between indoor spaces and outdoor areas, themselves connected by a series of landscaped paths.
"Stepping down the site and around the tree, the house follows a fairly linear progression," says Whitaker. "What this allowed us to do was set up a series of outdoor areas – decks and terraces – that can be accessed from bedrooms and living areas, essentially creating a mix of public and private spaces rather than the usual single outdoor entertaining area, which was more in keeping with the integrated approach the owners wanted to achieve."
"Internally, the linear progression is repeated with a hallway acting as a circulation spine running through the centre of the home, with the private rooms to either side, before opening on to the communal areas. All of the rooms look through the gardens or down the site to the lagoon.
"The ceiling plane follows the roofline, setting up a series of changing volumes as you make your way through the house".
Coupled with large expanses of glazing – floor to ceiling in most cases – and the use of a pared-back material palette, stylistically the house is evocative of a mid-century modern aesthetic.
In keeping with this aesthetic the architect specified a limited palette, which externally runs to cedar cladding and longrun roofing. Over time, as the cedar develops a patina, the house will further reconcile with its surroundings.