Eastbourne lies across Wellington Harbour in one of the eastern bays that, not so very long ago, were considered a seaside playground. Today they are more playgrounds at the seaside, as a permanent suburban population has turned holidays into commuting to work. But that doesn't detract from the drama of houses perched like shags on the thin strip of sandy rock that separates the water from the hills.
Katherine Mansfield even wrote about it in At The Bay: "Light shone in the windows of the bungalow. Two square patches of gold fell upon the pinks and the peaked marigolds. Florrie, the cat, came out on to the veranda, and sat on the top step, her white paws close together, her tail curled around." I should hope that Florrie the cat is now long passed, but others like her are easily spotted acting out the same idyllic scene.
Such is the comfortable world one enters in Eastbourne, and any architect that dares intrude upon this inshore enclave had better get their measure of it. Thankfully for the clients of this house, no architect has a better ruler for such matters than Hugh Tennent, as this bright home shows.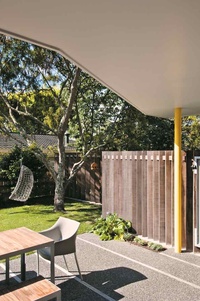 Tucked away from the street, its appearance evokes a weatherboard fort reminiscent of the creosoted boxes a modernist generation sprinkled along these same shores after the war. Concrete blocks, shutter-ish windows and a sharp palisade fence are all considered reminders that even paradise has off-days (as any regular traveller on the commuter ferry will tell you through green lips). But behind the tough exterior is a centre soft in just the right way.
Comparisons to the casual simplicity of the bach are inevitable – perhaps even required – as the kitchen, dining and living areas fold into each other. Bedrooms and wet areas are flung further out – above and along – like washing on a line (privates at the end please). Tennent's architectural touch enters the space like a highly particular Midas, with his finger resting against only the choicest moments.
Above the conversation pit a recessed window frames the surrounding bush ridge-line with the care one might give a religious icon. The regular bedroom windows create landscape canvases during the day and present 'televised' interiors by night. Light and view, and then some more light, make the house glow and nowhere more so than in the glazed annex off the kitchen.
Mansfield might have recognised this as a quintessential bungalow sunroom but I see that other colonial artefact, the bay window, no longer trapped by drab colonial garb. One bay is placed against another and, just to make sure this point is distinctly modern, the canopy juts – creating a baseball-cap brim. Tennent then offers us a final flourish by displacing the glitter of marigolds with a golden column. Mansfield could not have imagined Eastbourne as it is today but she foresaw perfectly the ongoing attraction of living at the bay.