The future of commercial façades is developing at pace around the globe. With the creation of products such as video glass, which transforms standard cladding into projection screens and has the potential to turn whole buildings into viable advertising space, it seems the possibilities are endless.
In the Netherlands, Dutch Delft University of Technology student Murtada Alkaabi has developed a direct approach to improving energy efficiency in building envelopes; he has designed a residential building fitted with moving façade panels, which capture the wind's
energy.
These innovations, although still in their infancy, set the scene for the infinite possibilities for building envelopes.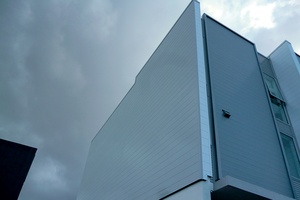 While New Zealand may be a while away from utilising concepts such as these, innovation in the sector is still developing, albeit on our shores the focus is more pointed; our harsh environment is one that often requires specific, bespoke solutions.
New Zealand Green Building Council director of Homestar Leigh Featherstone said there was no one solution that fits all when considering a building's performance. "It's just about making sure you have a really good thermal envelope and how you achieve that," he said.
A building's envelope – the system of materials and components that separates the interior and exterior environments - has a vital role to play in the ability of a building to retain or resist heat, its durability and energy efficiency. All these elements relate to both commercial and residential builds.
Generally, in commercial projects, the building envelope is valued at less than 10 per cent of the total cost of construction, despite its durability and performance having a major impact on the life and future value of the asset.
Because of the small margin in the budget assigned to roofing, cladding and the building slab, performance-enhancing technology is packed into these elements in order to create a temperate and weather-proof environment.
In the commercial sector, unitised building façades are a relatively new innovation with thermal insulation, smoke, fire and acoustic seals integrated into the façade panels to create a high performance solution.
A typical cladding system used on a large-scale building is generally comprised of prefabricated units, which are manufactured off-site. Typically, the width of a glazing bay is one or two storeys high; each panel is fully glazed and sealed off-site, allowing the units to be quickly installed by crane on-site, onto pre-prepared fixings on either steel or concrete frames.
Thermosash business development manager Kent Nixon said New Zealand was considered one of the most demanding environments in the world with high UV, the close proximity of cities to marine environments, seismic activity, flexible structures and very high combined wind and water loading events.
"With all these critical variables you can't order standard windows or cladding from a manual or span table without fear of some form of failure," Nixon said. Thermosash creates bespoke unitised engineered curtainwall systems. With this type of system, the possibilities are infinite and material options almost endless; insulative and performance glass, non-vision panels of stainless steel, zinc, terracotta, porcelain, pressed aluminium or aluminium composite are all options. "This allows designers complete aesthetic flexibility," Nixon said. "Façades no longer need to follow the stereotypical glass box."
While this sort of solution lends itself well to technically challenging commercial projects, in the residential sector a high performing building envelope solution is achieved with cladding on a much smaller scale.
New Zealanders still have a love affair with timber as a cladding solution - a throwback to the early days of villas, bungalows and state houses. Yet it continues to be a popular choice for residential builds despite the drawback of maintaining it.
Timspec managing director Chris Wiffen believes timber cladding is sustainable and long-lasting. "If you look at the housing stock we all drive past everyday, the timber houses from the 1950s and 1960s are by and large in darn good shape. They have stood the test of time – and of earthquakes."
As well as its flexibility (particularly useful for seismic solutions), timber is also a natural insulator and offers good thermal properties.
Alternatively, the use of aluminium cladding, introduced to New Zealand over 20 years ago with an imitative weather-board profile, means cladding and joinery can be provided by one supplier in an integrated system. As a result, there are less possibilities for breaches in the building envelope. Nu-Wall Aluminium Cladding director Dave Hopkinson said aluminium cladding coped well in the diverse range of New Zealand settings. "In harsh environments aluminium is going to be durable and last the life of the building," he said. "When it was first introduced people were enamoured with Mediterranean-style houses. Now there is a swing back to weatherboard but people can have this aluminium, low-maintenance alternative to weatherboard … yes you can have weatherboard but you don't have to have the negative aspects of it."
Ambro Metals sales manager Adrian Ward said further innovation was needed to enable bespoke architectural details to be realised on certain residential builds. Ambro Metals has created terne-coated stainless steel, a weathered-looking metal with similar strong physical and corrosion-resistant properties as copper, allowing more flexibility when developing cladding and roofing solutions.
But Featherstone said it wasn't just cladding and roofing that needed to be examined when creating an effective building envelope in residential builds. "People understand the insulation of walls and roofs but concrete slabs are often overlooked," he said.
With up to 80 per cent of the heat from slabs lost through the perimeter, the current solution for insulating slabs means expanded polystyrene is placed on the outside of the slab, creating a thermal break between the slab and the perimeter wall. However, this sometimes results in leaking of moisture.
Firth architectural manager Bernice Cumming said Firth was looking at new solutions for insulating the outside of the slab but wouldn't reveal yet what they were. However, Cumming said the slab itself played a significant part in retaining heat. "There is a big trend towards polished concrete floors," she said. "They act as a 'heat sink' absorbing heat from the sun. As the ambient temperature changes outside, the concrete will release the heat, contributing to an ambient room temperature."
With continued innovation in building envelopes across the residential and commercial sectors, an ambient interior temperature is likely to be within reach of many New Zealanders in the near future, both at home and in the office.