A selection of eye-catching architecturally-designed staircases to brighten up a wintery Friday (or any day of the week).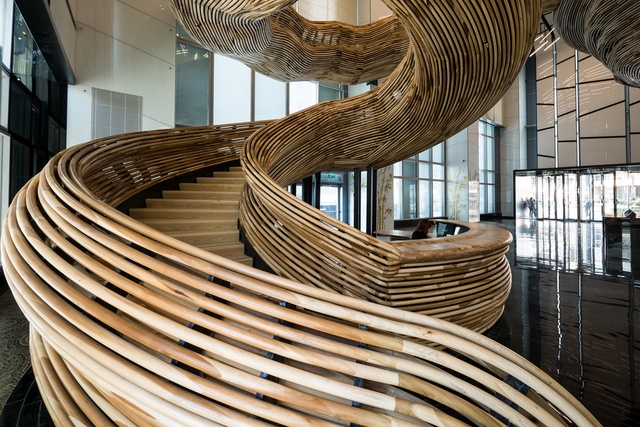 This expressive metal and wooden tornado-like staircase is located in Israel and crafted by Tomer Gelfand. A total of 9,000 meters in length of raw Poplar wood was cut in a CNC machine to create this paradox of creation: while the structure looks completely natural, it is in fact a result of algorhythmic data processing and thousands of interchangeable pieces.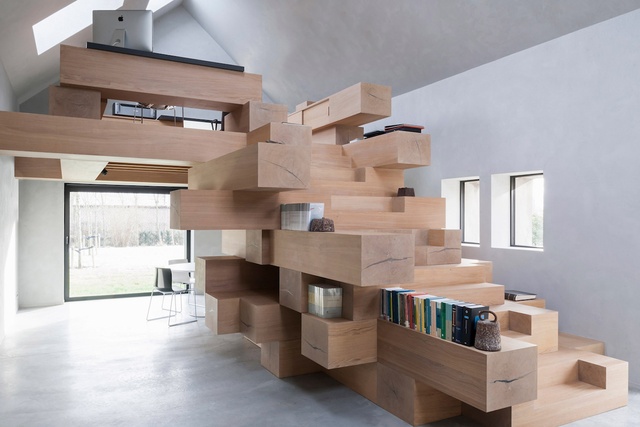 A Jenga-like workspace made up of wooden beams can be found inside a renovated barn in West Flanders, Belgium. Incorporating a staircase, a mezzanine office, bookshelves and a meeting space, this stacking structure cleverly enables a range of functions.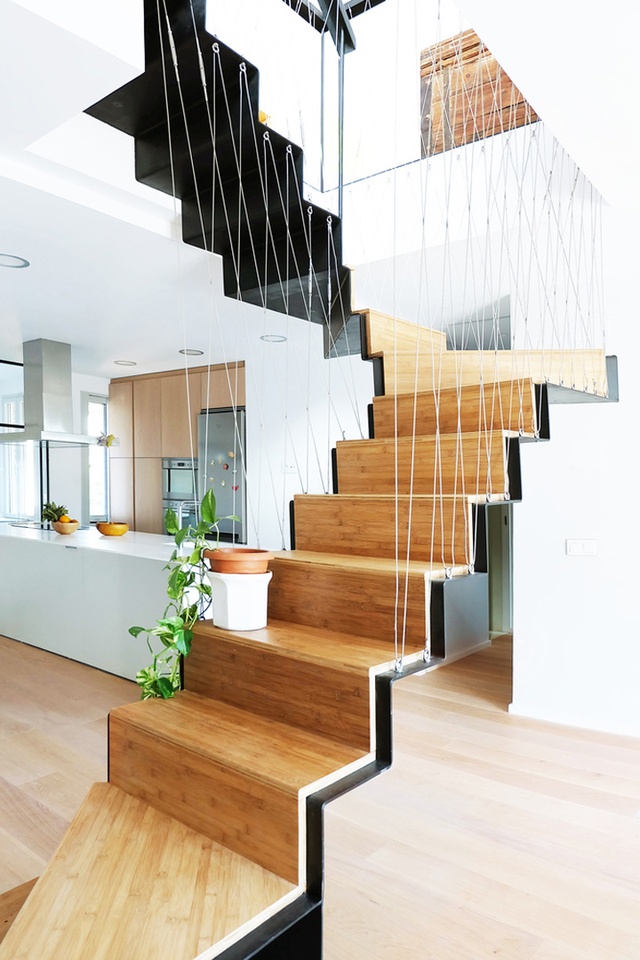 Architects Marta Badiola and Jorge Pizarro designed this duplex in Madrid, which is imagined as a series of interstitial spaces lacking clear boundaries. The striking staircase is made from folded sheet, which is lined with bamboo and sustained with white tensioned steel wires. It plays an integral role in the home by linking spaces and activities.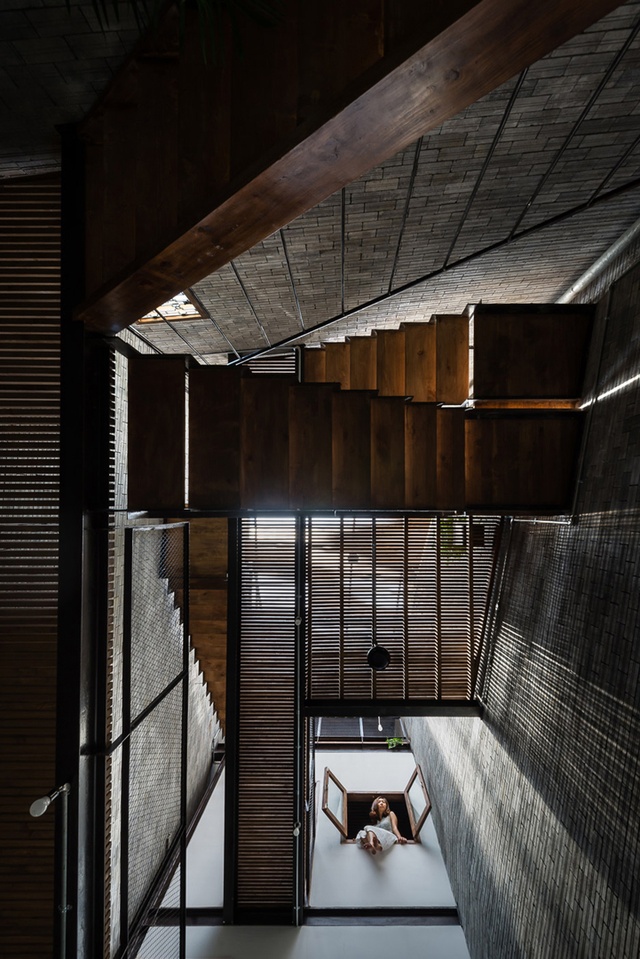 The Zen House in Binh Thanh, Vietnam was built by HA for three Buddhist monks. It is a narrow, four-storey 'tube house', where the dramatic play of light and shadow works well to create a sense of sanctuary. Both the steel-framed staircase and the corridors are enclosed by see-through balustrades, allowing the residents to easily connect and communicate over the different floors.
As part of their refurbishment of the Norwich University of the Arts School of Architecture in England, Hudson Architects have installed an ornately-patterned staircase that references the original balustrade and centrally connects the two levels of the hall. It features finely etched surfaces that were cut using a water jet, and a curving wooden handrail.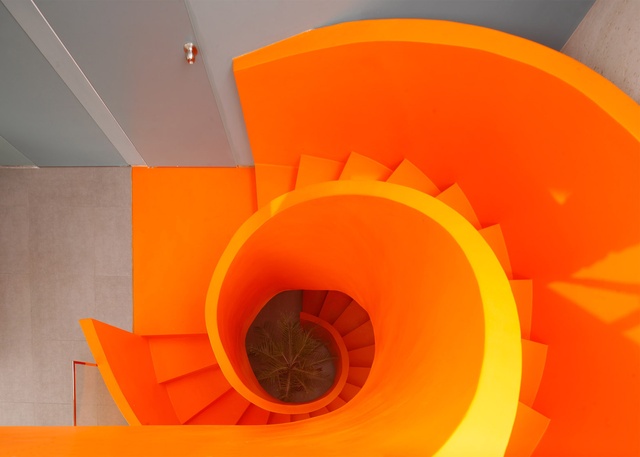 This bright orange spiral staircase, in the Casa Blanca House, steals the show. The home is designed by Martin Dulanto and is located in Lima, Peru. Made from reinforced concrete and coated with epoxy paint, the staircase connects all three levels of the small property. The rest of the house has a largely muted colour palette, in order to let this sculptural feature truly shine.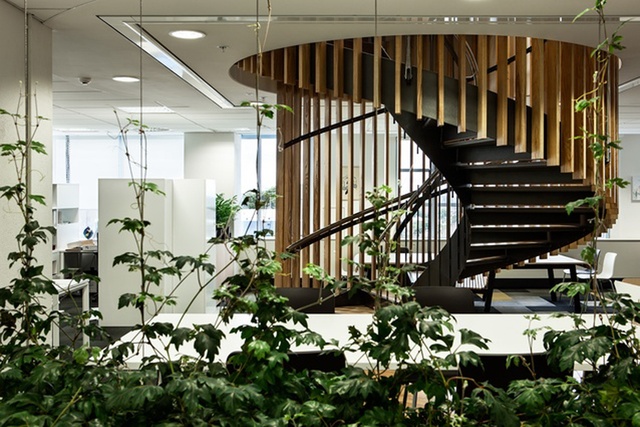 It's not often that you will find a spiral staircase in an office environment. But that's exactly what Wingate + Farquhar have installed at the Norris Ward McKinnon law firm, based in Hamilton. Nicknamed the 'dancing stair', it is framed by greenery and vertically detailed with timber battens.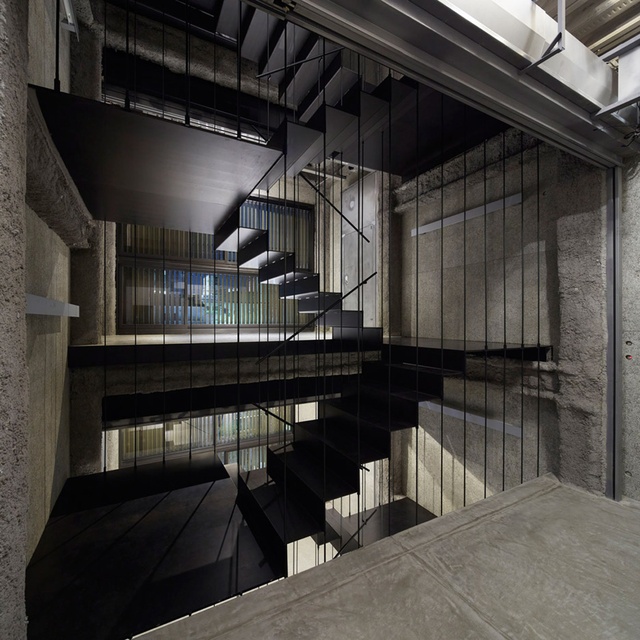 In Kyoto, Japan, you will find a continuous staircase that connects all eight levels of the K8 restaurant and bar building, designed by German architect Florian Busch. Zig-zagging across the structure, the brooding black metal staircase and landings are designed as one, creating continuity and linking the 'in-betweens'.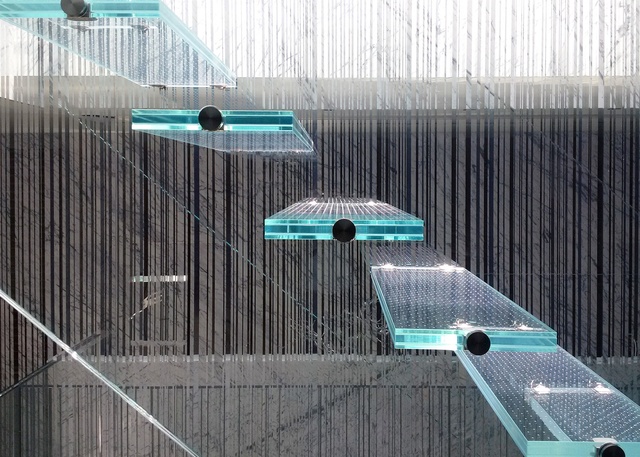 British architect Luke Lowings collaborated with American sculptor James Carpenter to create this unique glass stand-alone staircase that can be found inside a hypermodern Hong Kong apartment. A highly sculptural and almost ethereal element, the staircase rises 5.5 metres and sits underneath a large skylight that brings in natural light and also opens to allow access to the roof.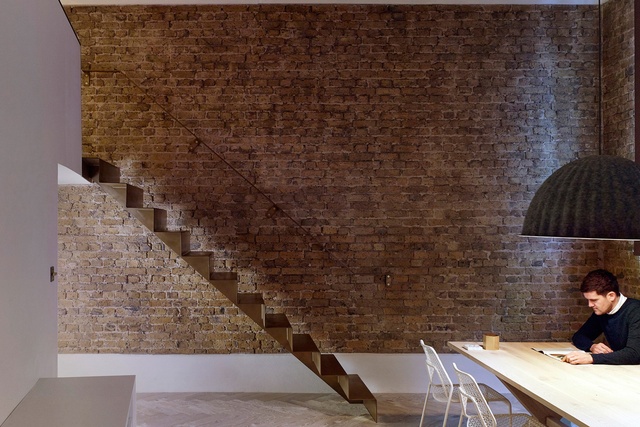 Extremely simple yet highly effective, this folded steel staircase inside a London home was designed by Bell Phillips Architects. Running along an exposed brick wall at the far end of the living area, the delicate-looking stair is constructed from a six-millimetre-thick sheet of steel that was folded and welded before being finished with a coating of atomised brass.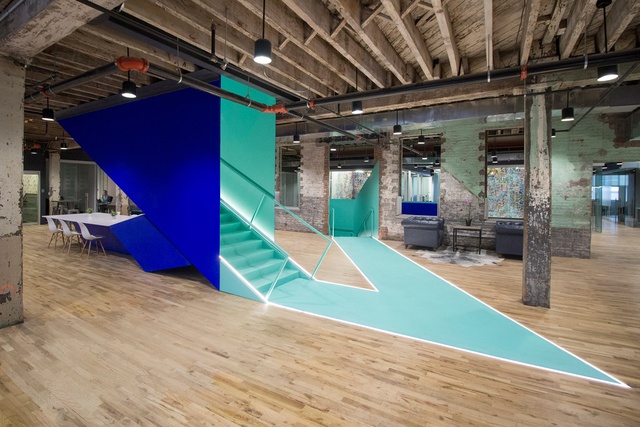 This coworking space for creative professionals in Brooklyn, New York, sits within a former industrial building. Into this converted space, Leeser Architecture has inserted angular stairwells that reference origami through their sharp folds and bright colours: Yves Klein blue on the exterior and teal on the interior.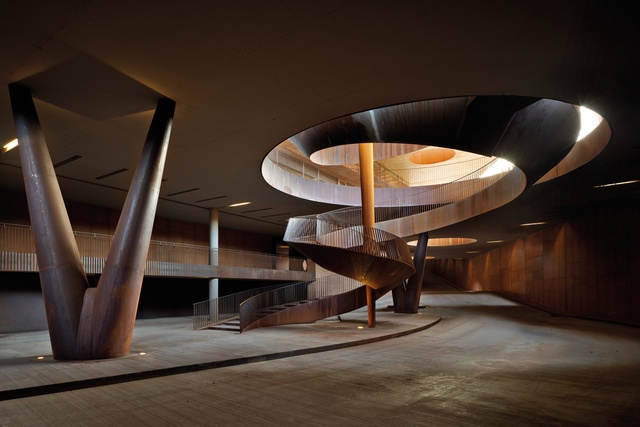 Underneath the Antinori winery in Italy, where the building and landscape merge, you'll find an incredible sinuous staircase that winds down from a large circle cut into the floor plate. Designed by Archea Associati, the materials of the winery express the theme of 'studied naturalness', both through the use of terracotta and by using the energy produced by the earth to cool and insulate the wine.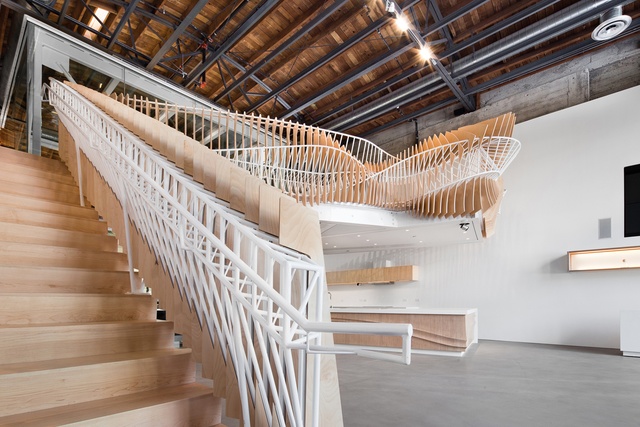 The 3DS culinary laboratory is designed by Oyler Wu Collaborative and is located in Los Angeles. The stripped-back, modern interior contrasts with the original industrial building, and the mezzanine is wrapped in an intricately woven guardrail with volumetric forms that move in and out of one another. Built from hundreds of linear steel elements, along with finished plywood planar surfaces, the structure is a perfect example of the 3D printed technology that takes place inside the lab.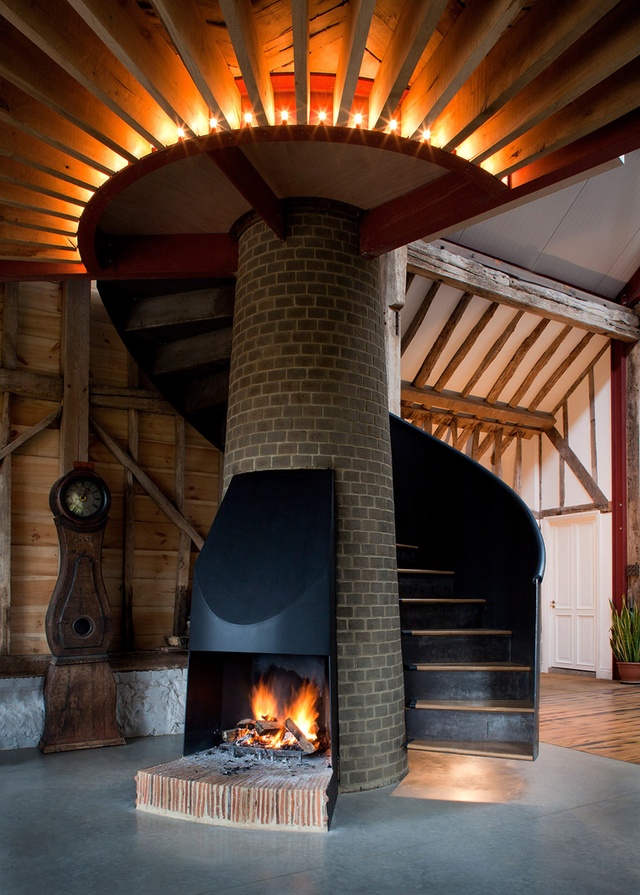 An almost surreal, otherworldly staircase in an 18th century barn that has been converted by London studio Liddicoat & Goldhill into a farmhouse in Kent, England. The tapered brick chimney integrates both an open fireplace and a steel staircase, with the brick, metal and wood combining to create an inviting warmth.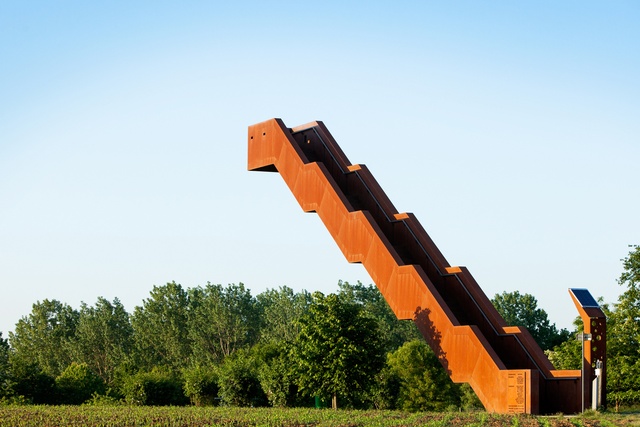 The gravity-defying Vlooyberg Tower was designed by Close to Bone in Flanders, Belgium. Tower, staircase or installation? Whichever you decide, this is an eye-catching weathering steel structure that is vandal- and weather-resistant, overlooking rolling farmland and the Kabouterbos forest.