Frank Gehry's $90 online masterclass
Pritzker Prize laureate Frank Gehry will teach a course in design and architecture for online education platform MasterClass.
Gehry is one of the world's most recognized architects. His work has been described as "sometimes controversial," "iconoclastic" and "rambunctious."
His notable building include the Walt Disney Concert Hall in Los Angeles, USA (2003), the Dancing House (or Fred and Ginger building) in Prague, Czech Republic (1996) and the Guggenheim Museum in Bilbao, Spain (1997). In 2014, Gehry's first Australian building, the Dr Chau Chak Wing business school at the University of Technology Sydney, was completed.
Gehry was awarded the Pritzker Architecture Prize in 1989. "Gehry's work is a highly refined, sophisticated and adventurous aesthetic that emphasizes the art of architecture," the jury said.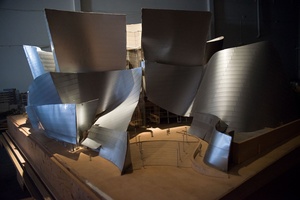 He has received the Gold Medal from the American Institute of Architects (1999) and the Royal Gold Medal from the Royal Institute of British Architects (2000). Most recently, he was awarded the Presidential Medal of Freedom by former US president Barack Obama in 2016.
Gehry has held teaching positions at the Yale School of Architecture, the University of Southern California's School of Architecture and Columbia University.
In his 15-part online course, Gehry will discuss his unconventional philosophy on design and architecture using case studies, progressive models and storytelling. He will also share his insights on the universal lessons he has learnt throughout his career as an architect and an artist.
"I have tried to give the students insight into my process – how and why I did things," Gehry said. "I hope this gives them the wings to explore and the courage to create their own language."
The course will also offer students glimpses of Gehry's previously unseen architecture models and access to his creative process.
The course costs US$90 (NZ$124.50), which grants students lifetime access to the video tutorials.
MasterClass is a San Francisco-based company offering "access to genius" through online courses with celebrity instructors. Its other courses include singing with Christina Aguilera, cooking with Gordon Ramsay and screenwriting with Aaron Sorkin.
Pre-enrolment for Frank Gehry's course has begun. To enrol, click here.